In any baseball game, a catcher has the greatest opportunity among position players to impact a game, as I have discussed before. Offensively, they obviously get the same number of at-bats as everyone else, but defensively, catchers get dozens of more opportunities to frame a pitch or block a ball than a shortstop would get ground balls or tag plays to execute. Whether it be positively or negatively, the 2018 playoffs have featured a heavy dose of catchers impacting the outcomes of games. They are just in the middle of the action all the time.
Catchers were in the middle of the action in the Wild Card games.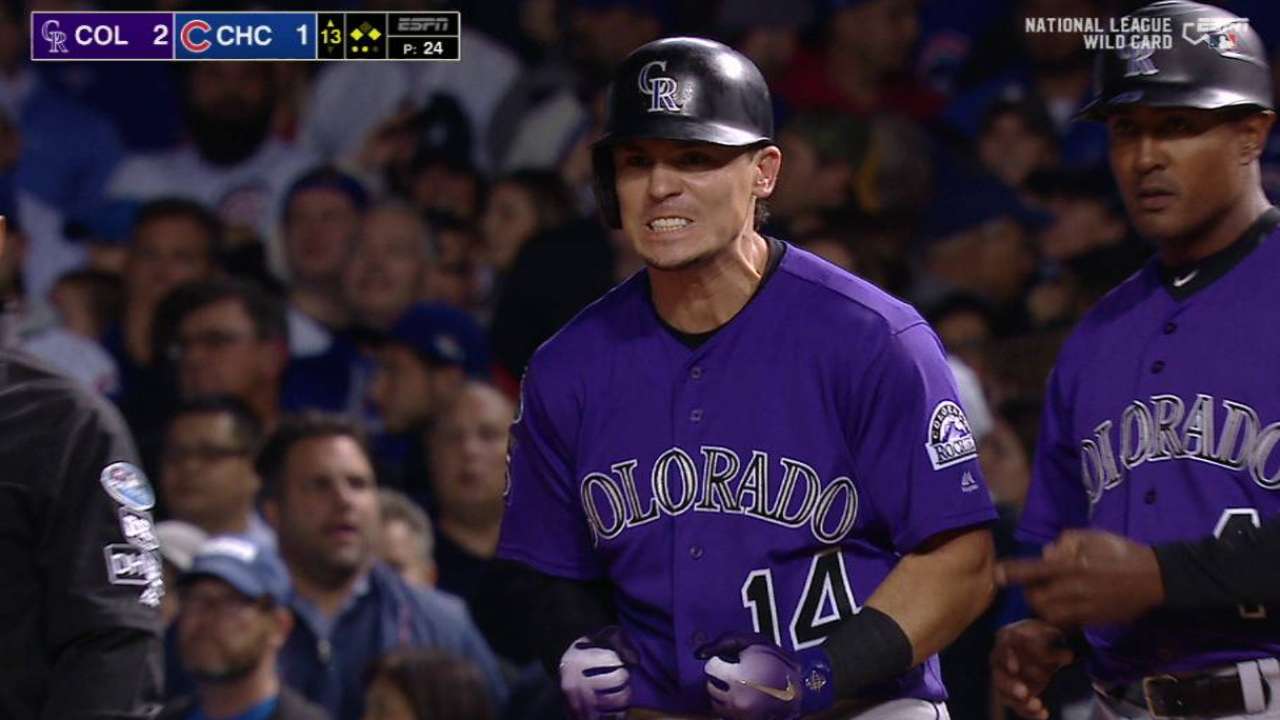 Tony Wolters started things off by finishing the NL Wild Card Game with an RBI single in the top of the 13th to beat the Cubs. After entering in a double switch in the 12th, he only caught 1.1 of the 13 innings. It's not necessarily what catchers are used to when it comes to wear and tear from a game, but Wolters was happy to perform in his limited opportunities.
The AL game was where the Gary Sanchez drama started. Sanchez is always a lightning rod because his career has been so full of hyperbole. He started off with a bang when he finished 2nd in Rookie of the Year voting in only 53 games with 20 homers and a 1.053 OPS. He is certainly an offense-first catcher, but he has a fantastic throwing arm. His defense, on the other hand, is lackluster. His framing leaves much to be desired and he often looks like he is just uncomfortable receiving top-level major league stuff. After an injury-plagued 2018, he started the playoffs off going 0-3, but got rave reviews from the TBS crew about how good he was "catching the ball well on outside pitches" (eye roll). From what I saw, it was a lot of the same with Sanchez.
He gave the A's an extra out in the 4th inning to put Severino in a jam that he would have to pitch out of.
Notice how Sanchez's glove moves out a little before coming back to the strike zone, tough to get that call with that. Catching and 3b defense has allowed 2 baserunners for the A's this inning pic.twitter.com/EgRYmKJqlj

— Denis Ackermann (@DenAck31) October 4, 2018
To Sanchez's delight, his offense was at the forefront a little more in the Division series when he hit 2 home runs in Game 2. The problem was, that was the Yankees only win of the series and his flyball in the 9th inning of Game 4 came up a few feet short of sending the series to a fifth game.
The next team to lose to the juggernaut Red Sox was the Houston Astros, a team that traded for Martin Maldonado on July 26th. Maldonado was an upgrade on defense. Specifically for FRAA. (Baseball Prospectus's Fielding Runs Above Average (FRAA) combines the framing, blocking, and throwing aspects of every catcher's defense based on every chance they have in each category throughout the season.) With 32.1 FRAA, Maldonado led the majors in 2017. His offense has never been particularly close to even league average, but that's not why you have him on your team. He is there to be a defensive stalwart. He popped off the screen in the ALCS once again.
Sometimes it was good.
1.97 pop time, PERFECTLY accurate. Maybe Maldonado's ok sometimes pic.twitter.com/VbFrwOtAv3

— Denis Ackermann (@DenAck31) October 18, 2018
Sometimes it was not so good.
Bad Maldonado pic.twitter.com/PhA7obFhWj

— Denis Ackermann (@DenAck31) October 18, 2018
While Maldonado and Brian McCann's combined 1 for 16 didn't help much, it was a litany of things that allowed the Red Sox to finish off the Astros in 5 games and continue their run through the American League.
Back over in the National League, the Milwaukee Brewers were on an exciting and, at times, dominant run. Most people were talking about Christian Yelich or Lorenzo Cain or the bullpen. Yeah, I may have watched those guys some, but I think you all know what I was paying attention to. That's right, the catchers. Erik Kratz was in the playoffs for the first time as a 38-year-old who had been with 11 different major league franchises. Even though he only went 2 for 16 in the series, he played considerably more than the 2018 Gold Glove finalist Manny Pina. I'm not complaining though, because Kratz brought so much quirky entertainment to the playoffs.
Why did I love Kratz even if he isn't an elite catcher? He showed off the knowledge and savvy he has as a 17 year veteran of professional baseball when he drew an interference call on a swing by Austin Barnes (a catcher in his own right) on an attempted steal of third.
— Denis Ackermann (@DenAck31) October 18, 2018
His college buddies wore all of his jerseys to a game in Milwaukee. (I love that it's a bunch of middle-aged balding guys)
And he wore his toughness as a badge of honor, much like every catcher should.
I LOVE how quickly Eric Kratz looks for the ball here after eating a foul ball. "I don't need a second, that's why I wear a mask. Keep it movin" pic.twitter.com/PBg0EdVEHA

— Denis Ackermann (@DenAck31) October 17, 2018
In the end, Kratz's Brewers could not overcome a team with maybe the most peculiar catching situation, the Los Angeles Dodgers. Yasmani Grandal has been a consistently excellent catcher over the last few years… in the regular season. He was the best framing catcher in league in 2018 after being at or near the top of the league in framing runs for the 5th straight season. He also finished with an OPS of at least .815 for the second time in the last three years. By every measure, he's been among the best catchers in the game. For whatever reason, like one of his more famous teammates, he has just not been the same guy in the playoffs. He is 7 for 71 with 32 strikeouts in the postseason and has never had more than 2 hits in an entire series. Even weirder than that, he's not playing well defensively either. He was benched for another solid defender, 
Austin Barnes, for the second postseason in a row after having 3 passed balls in two games and allowing a wild pitch on a blockable curveball from Walker Buehler. Barnes has started both World Series games so far and Grandal has pinch-hit in both. Grandal is seeing his value plummet at the wrong time, as he is a free agent this offseason. We'll see if he even gets a chance to finish the 2018 playoffs on a high note. Time is running out.
Much like many of the things going on in Boston these days, the catcher position has lived up to the hype and then some. When I say hype that certainly does not include any of it on the offensive end as the two Sox backstops finished 2018 with OPS's of under .550. The defense is always stellar with the Christian Vazquez and Sandy Leon though, with both guys finished in the top 12 in the league in Framing Runs.
Leon had his moment in the sun in Game 1 of the World Series when he fisted a single off Clayton Kershaw that had an exit velocity of 56 (!) mph. However, the catcher who has impressed me the most with his play in the playoffs has been the other half of the Red Sox platoon. In the Division Series vs the Yankees, Vazquez hit a Yankee Stadium Home Run to right field off of Zach Britton which proved to be the winning run in Game 4, this a game after he perfectly executed a hit and run during the 16-1 blowout. In the ALCS, I claimed Vazquez put together an all-time great postseason defensive inning. In all honesty, I have definitely not done enough research to make this claim (I intend to do so in the offseason). Nonetheless, during the third inning of Game 4 he took care of business:
Blocked this difficult 59-foot curveball to his right from Rick Porcello
Christian Vazquez doin the damn thing pic.twitter.com/d7NxZqZyq2

— Denis Ackermann (@DenAck31) October 18, 2018
Blocked this more difficult 58.5-foot slider even further to his right from Rick Porcello.
Bottom 3 Game 4 2018 NLCS will now forever be the Christian Vazquez inning pic.twitter.com/zXjSdzHLnj

— Denis Ackermann (@DenAck31) October 18, 2018
And was calm cool and collected on a sky-high pop up almost directly to him, maybe the toughest pop up play to make for a catcher.
An all-time great postseason defensive catching inning pic.twitter.com/qhmkfMxeQR

— Denis Ackermann (@DenAck31) October 18, 2018
If the Red Sox keep getting these contributions out of their catchers, along with just about every other guy in their lineup, they will be popping champagne bottles and riding duck boats. I just hope they let the Dodgers win a couple first; I really want to watch more baseball.
Follow me on twitter: @denack31 and check out Pop Flies and Grounders (@pfgrounders) at pfgrounders.blubrry.com and iTunes for our latest podcast.
Featured Photo: Matthew J. Lee, Boston Globe Staff