The St. Louis Cardinals organization is one of the most well-respected, historic franchises in the history of Major League Baseball. They've won the NL Central division title 9 times since 2000, and they've won 11 of 19 World Series appearances in the franchise history, 2nd most all time. They have had some of the best players in league history, creating a Mount Rushmore is very tough to eliminate some of the all-time greats. There are so many players that I had to leave off, the history is so rich. In my opinion, there are 3 obvious answers, but the 4th answer can be debated among fans until the world ends. I'll make a case for a few players in the 4th spot, then I'll give my opinion. Make sure to let us know who you think deserves to be in!
Shoo ins:
Stan the Man is the most iconic player in franchise history. Debuting as a 20 year old, he played 4 full seasons before spending his age 24 season serving his country in the armed forces. From 1943-1962, he had a .334/.420/.567 slash line with 452 HRs and 1814 RBIs. Over that same period, he also recorded 1,500 BBs compared to just 627 Ks. Musial joined the 3,000 hit club during the 1958 season, and finished his career with 3,630 hits. He was a 3 time MVP, along with a 20 time All-Star. Oddly enough, over the course of his career, he recorded 1815 hits at home, and 1815 hits on the road. Musial, a career Cardinal, was a stud, and a great person on and off the field. Plain and simple.
Gibson, another lifetime Cardinal, is one of the most dominant pitchers of his time. Over the course of his career, he threw 3884.1 innings, posting a fantastic 2.91 ERA and winning 2 Cy Young awards in the process. In 1968, Gibson posted one of, if not the, greatest single seasons ever posted by a pitcher. Over 304.2 innings pitched, he put up an astounding 1.12 ERA, .853 WHIP, with 268 Ks. He hurled 28 complete games, 13 of those being shutouts. For reference, Cliff Lee threw 6 complete game shutouts in 2011, the most in a single season since the 1989. Following Gibson's 1968 season, the MLB had to lower the mound from 15 to 10 inches because pitchers were so dominant. Gibby was an intimidating figure to see from the batter's box, and he became one of the greatest pitchers in franchise history.
The Wizard was never known for his offense. With a career 87 OPS+, his best season came in 1987. Over 158 games, he had a slash of .303/.392/.383, 0 HRs, 75 RBIs, and 43 SBs. He finished 2nd in the MVP voting with 0 HRs, a feat that would never be possible in today's baseball. Ozzie made his money on the bases and in the field. He posted 580 SBs in his career, his peak being 57 SBs in 1980 and 1988. During his time in the MLB, he posted an Rtot of 239. That is the 4th most all time (since the stat was recorded in 1957), and 2nd most all-time by a shortstop. Despite playing his first 4 seasons with the Padres, he is one of the all-time greats in the Cardinals organization.
His backflip was pretty cool too.
Contenders:
Dizzy Dean only played in 6 full seasons for the Cardinals, but he is still a Cardinal legend. From 1932-1937, Dean pitched 1728.1 innings, posting an even 3.00 ERA, hurling 140 complete games, and recording 1090 Ks during that time. He won an MVP, and finished 2nd twice during that stretch as well. Dean, an MLB Hall of Famer, made quite an impression after only pitching in 9 full seasons in his career.
The case for Yadi is pretty self-explanatory, most people know his story. After being drafted by the Cardinals in the 4th round of the 2000 MLB Draft, he has gone on to become one of the most decorated players in franchise history. Over his career, Molina has won 9 Gold Gloves, 4 Platinum Gloves, 9 time All-Star, and a 2 time World Series Champ. Yadi has been a cornerstone to the franchise since he debuted, and his impact goes far beyond the numbers. Aside from his numerous defensive awards, his ability to handle a pitching staff is something of folklore at this point. Current and former teammates rave about how Yadi is able to command young pitchers from behind the plate, like another coach. Yadi will end up with his number retired in St. Louis, and will eventually find himself in Cooperstown.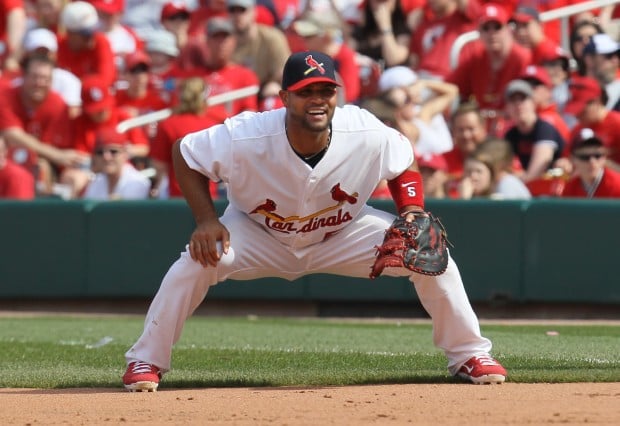 Pujols had one of the greatest starts to a career of anyone in baseball history. He debuted as a 24 year old rookie in 2001, and immediately put up 37 HRs and a 1.013 OPS en route to winning Rookie of the Year and finishing 4th in MVP voting. For the next 10 years, Pujols would never finish lower than 9th in MVP voting, and winning 3 of them. Over his first 11 years in the MLB, he would average 40 HRs, 121 RBIs per season, as well as hit .328 with a 1.037 OPS over the same period. All that while putting up 975 BBs to just 704 Ks. Pujols left St. Louis to sign a 10 year, $254 million contract with the Angels following a World Series win in 2011. Pujols will undoubtedly be a first-ballot Hall of Fame inductee, and will go down as the most dominant hitter of his era.
Rogers is widely considered to be one of the best 2nd baseman of all time. He started with the Cardinals and played through most of his peak with the organization. Hornsby is the only player in MLB history to win the Triple Crown while hitting .400, and he did it twice! In 1922, he hit .401 with 42 HRs and 152 RBIs. He followed that up 3 years later in 1925 with a .403 average, 39 HRs and 143 RBIs. He went on to finish his career with a number of different teams, retiring at age 41.
Lou Brock – OF – (1964-1979)
The Cardinals acquired Lou Brock in one of the most lopsided trades in MLB history with the rival Cubs. The Cubs received Ernie Broglio, who only played 2 more seasons before he was out of baseball. The rest is history. Brock went on to be a 6 time All-Star, join the 3,000 hit club, and retire as the active leader in stolen bases at 938. He finished the the 1974 season 2nd in the MVP voting after he hit .306 and swiped an astounding 118 bases. Lou Brock still remains a big part of the organization, despite battling numerous serious health issues recently.
Verdict: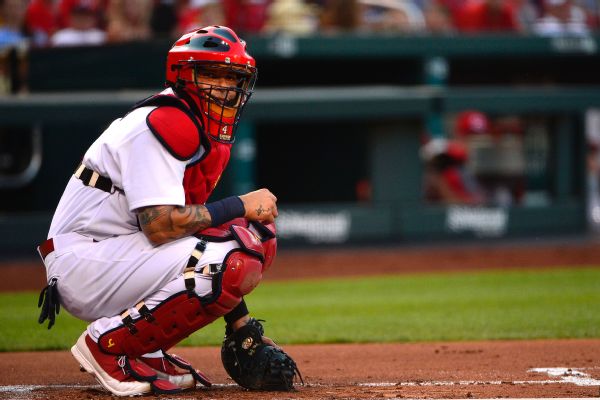 This question is an impossible one to answer. There are 2 different viewpoints. On one side, you have to look at the BEST players in franchise history. If that is the way to look at it, Albert Pujols is the clear candidate. Pujols was one of the top 3 players in baseball throughout his entire tenure in St. Louis. His consistency was unmatched in baseball, he truly was a "once in a generation" talent.
On the other side, you have to consider the face of the franchise. Players who had an undying faith to the organization. That is where Yadier Molina comes into the equation. Yadi has done countless unquantifiable deeds for the organization and the city of St. Louis. He has never had talks with other teams, he's never even reached unrestricted free agency. This is where Pujols gets dinged. I'm not saying that Pujols didn't give his all to the organization or didn't care. St. Louis offered him a 10 year deal worth $210 million, and he chased the money in Los Angeles and left.
In my personal opinion, the difference between Molina and Brock is razor thin. It may be recency bias, but I'm putting Yadier Molina as the 4th player on the Cardinals Mount Rushmore. Despite being overshadowed by Pujols during his tenure, the GOAT will retire in Cardinal red. He will go down as one of the greatest players in the history of the franchise and one of the best defensive catchers the league has ever seen.
Coming Up:
One Thing Every Cardinals Pitcher Taught Us in 2018
St. Louis Cardinals 3-Year Plan
Pre-Season Award Predictions – A Look Back
Follow me on Twitter: @Reed_Zahradnik5