The Marlins are (until they prove otherwise) a dysfunctional, poorly run franchise. Between Jeffery Loria's decision to sign everyone in 2012 only to dump everyone the very next year and Bruce Sherman/Derek Jeter's trades for high ceiling, low floor prospects, the Marlins have been waddling at the bottom of the division for the past decade.
That does not mean the team hasn't been able to produce quality talent. In fact, one could argue that there has been more talent developed on the Marlins than before their second World Series championship in 2003. And that is where most of the top players in Marlins history come from.
On the Mount Rushmore, two members are fairly simple choices because they rank 1st and 2nd in Marlins history in bWAR by a longshot. Then there is a somewhat controversial selection for the third spot. For the final spot, there is a list of players to choose from.
You would think that this is an easy Mount Rushmore to construct, but with most Marlins playing less than ten years in the teal pinstripes/orange jerseys, a lot of Marlins have similar stats that make it a bit difficult to pick. Nonetheless, that is what I'm going to try and do.
The Mount Rushmore:
If we are being honest, there were two reasons for Marlins Park to have people in the building: 1) because they work there, and 2) to watch Giancarlo Stanton crush baseballs.
Unlike some baseball crushers, Stanton was a well-rounded player, making him the best Marlin of all-time (at the moment, because eventually, someone will play more than eight seasons in Miami). A second-round pick by the Florida Marlins in 2007 out of Notre Dame High School, Stanton made his debut as Mike as a 20-year-old in 2010. In his first two years, he had a career bWAR of 6.9, slashing .261/.344/.525, including 51 doubles and 56 homers. From 2012 to 2017, he had accumulated 28.3 WAR and hit .271/.365/.564 with 211 homers. Overall, he was a 4-time All-Star and an NL MVP winner and ended his Marlins career with a .268/.360/.554 and 267 homers with a 35.2 bWAR, the latter two putting him at the top of all Marlins. These numbers were in spite of numerous injuries, including a pitch that hit his face in 2014, a season-ending hamate bone break in 2015, and hamstring issues that affected his performance in 2013 and 2016.
After his 2014 season, Loria and the Marlins were all set to make him a franchise star, and (after Giancarlo was angered by the offer), they signed him to a record 13 year, $325 million contract extension. After another bad season from the Marlins in 2017, new ownership led by Bruce Sherman and Derek Jeter decided that the best move was to trade Stanton. After Stanton essentially narrowed his list of teams where he would accept a trade down to the Dodgers and Yankees, the Marlins were forced to trade him to the Yankees for Starlin Castro, Jesus Guzman, and Jose Devers. He left still being beloved in Miami as a top three player in the Marlins' short franchise's history.
Ramirez had a long career of two at-bats with the Red Sox before being one of the key pieces in the trade for Josh Beckett, Mike Lowell, and Guillermo Mota. He earned the starting shortstop job over Robert Andino in spring training in 2006 and proceeded to hit .292/.353/.480, with 46 doubles, 11 triples, 17 home runs, and 51 stolen bases, winning the NL Rookie of the Year award over Ryan Zimmerman. He had an even better 2007 offensively but took a lot of steps backward defensively (-28 Rdrs). Even so, he was the face of the franchise after the Marlins traded away Miguel Cabrera and Dontrelle Willis. He would have three straight All-Star seasons, including an NL MVP runner-up season in 2009, before injuries began to plague him.
In September of 2010, Ramirez hurt his elbow while swinging and was shut down for the rest of the year. His 2011 was already slow enough before he was shut down in August. The Marlins would sign batting champ Jose Reyes before 2012, moving Ramirez to third, much to his earlier chagrin. His Marlins career finally ended on July 25, 2012, when he (along with Randy Choate) was traded to the Dodgers for Nathan Eovaldi and Scott McGough. Ramirez's Marlin career resulted in a 26.9 bWAR (34.6 oWAR (1st in Marlins history), -3.3 dWAR), second-highest in Marlins history. He also ranks second in hits (1,103), doubles (232), total bases (1831), and runs scored (666), and ranks third in batting average (.300) and on-base percentage (.374).
Ramirez was a fixture in the Marlins lineup for seven years, and one could only wonder the fear that would appear in opposing pitchers if a healthy Stanton and Ramirez hit third and fourth in the lineup.
Now we're going to get a little bit controversial because of the circumstances. Fernandez only pitched for four seasons before his untimely death in September 2016, so one could argue that I am putting him on the Mount Rushmore based on pure potential. And that would be a reasonable argument. His 12.8 bWAR, which rank 5th in Marlins pitching, along with a 2.58 ERA (150+ ERA) and 589 strikeouts with two injury-shortened seasons show Hall of Fame and Mt. Rushmore potential, but should not have him leap over Josh Johnson, Ricky Nolasco, or AJ Burnett.
Instead, I will turn to his story, and what he meant to the Marlins and South Florida.
Fernandez had tried to defect from Cuba three unsuccessful times before making a successful attempt in 2007, settling in Tampa. During that attempt, he dove into the turbulent waters to save his mother who had fallen overboard. From there, he put up impressive numbers in high school en route to a 14th overall selection by the Marlins in 2011. He automatically connected with the thousands of Cuban-Americans living in South Florida, making him an instant fan favorite.
We first saw Jose's skill and personality in his rookie year in 2013, where he put up the third-best season by a rookie pitcher, won the rookie of the year, all while giving us one of the greatest GIFs in MLB history: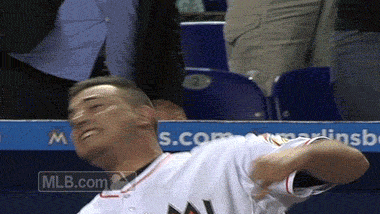 He had Tommy John surgery the next year, which ended his 2014 and shortened his 2015 season. But he regained form in 2016, and finished 7th in the Cy Young voting posthumously.
But enough about the accolades with Fernandez. You could see the change in the Marlins after his death. Stanton and former Marlin Christian Yelich admitted that the dynamic in the clubhouse immediately changed. Many people argue that the loss of Fernandez forced the Marlins to go into their deep rebuild after the 2017 season. Not only was the rotation in shambles, but the clubhouse would never be the same.
The game of baseball has developed into a game of numbers, which is perfectly okay. But Jose Fernandez was much more than numbers. He was a charismatic player, one that brought life and excitement to the Marlins clubhouse, along with typically dormant Marlins Park. Even after all he had been through. Teammates and rivals loved him. That alone gives him a deserving headstone in the Marlins Mount Rushmore.
It is funny how the third most popular thing in Marlins history happens to be a highly unpopular sculpture. And yet, that is the reason why it falls just short of being on the Marlins Mount Rushmore.
(Actual Honorable Mention: Gary Sheffield, left off because his Marlin stats are aided by one stellar 1996.)
---
Featured Photo: Reed Zahradnik/Diamond Digest