Bruce Maxwell, a catcher, was designated for assignment and later released by the Oakland Athletics this past September. Had I not told you that, you probably would have never known. I found out about this in the middle of December. So what makes Maxwell so special where I have to write an article about his release and current free agent status three months later?
It all starts in late 2017 when he began to do this: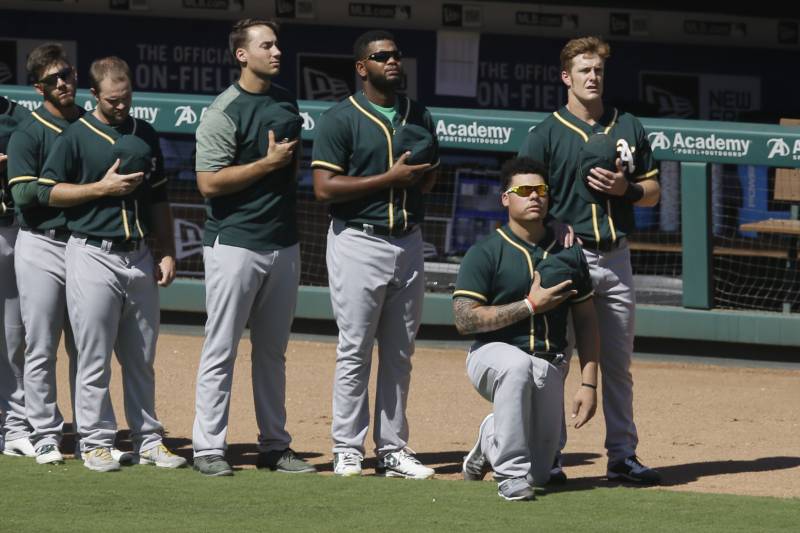 This is around the same time frame when NFL players began to resent and rally against President Donald Trump for his aspersions during a speech in Alabama. To this day, Maxwell is the only Major League Baseball player to kneel during the National Anthem. His reason is the same as Kaepernick's original intent for kneeling: to protest police brutality against African-Americans and other people of color.
"I am not going to stand up to show pride in a flag for a country that oppresses black people and people of color…to me, this is bigger than football and it would be selfish on my part to look the other way. There are bodies in the street and people getting paid leave and getting away with murder." — Colin Kaepernick, after a preseason game where he knelt for the Anthem
Now, I am not writing this to reignite the debate on whether it is right or wrong to kneel during the National Anthem. I am not here to debate the reasoning for NFL players and Maxwell kneeling for the Anthem. I am not here to excoriate the NFL for allowing Reuben Foster to have a job while Kaepernick does not. Those are topics you can find and talk about on CNN, MSNBC or a football site.
We are here to talk about Bruce Maxwell, and the validity of this statement issued by an anonymous executive after Maxwell decided to change agencies:
"It's the kneeling thing that might keep him from getting another job, not the arrest. Owners aren't going to want to deal with that whole anthem issue." – Anonymous MLB executive

Source: Susan Slusser, "Ex A's Catcher Can't Find Work, Fires Agent"
It seems like a perfect comparison: Kaepernick kneeled for the anthem, now he is no longer in the NFL. Maxwell kneeled for the anthem, now he will likely not play in the majors again. But if you look deeper into Maxwell's history on the field and off the field, you can see there is no point in comparing the two figures.
About Bruce Maxwell
Unless you are an A's fan or a diehard baseball fan, you probably have not heard of Maxwell before this article, so let's backtrack a little bit.
His father, Bruce Jr., was a U.S. Army veteran that was stationed on a U.S. military installation in Wiesbaden, Germany when the younger Maxwell was born. Because of this, his patriotism is one that his now former agent Matt Sosnick called "indisputable". He would later grow up in Huntsville, Alabama, a state that is historically recognized for its racism and coincidentally where President Trump made his remarks on NFL players.
As a ballplayer, he was the 62nd overall pick in 2012 after a stellar junior season at Birmingham-Southern College, a Division III school. Despite that, he was never a catcher and struggled to learn the position in the first stages of his professional career. In his first professional season, he allowed 18 passed ball in just 373 innings. When his defensive struggles subdued, his offense continued to decline until 2016, where he hit .321/.393/.539 with 10 homers in 193 at-bats in a season split between AAA and multiple call-ups to the big leagues. He started off decently in 2016 before moving up and down between the two levels for the next two years before his release.
This biography on Maxwell becomes important once we begin to compare Maxwell and Kaepernick's stands on the National Anthem.
The Comparisions
It is established that the kneeling part of the protest between the two are widely similar. Once we get past that, the two figures are vastly different.
Exactly a month after he first kneeled for the anthem, he was confronted for fabricating a story on racial injustice. He stated that he was denied service at an Alabama restaurant because a pro-Trump waiter recognized him from his kneeling. The waiter, Matt Henry, stated a day later that the story was exacerbated; the issue was the lack of identification from the other three members of Maxwell's party.
No matter who was being truthful, this happened days later (WARNING: The following video has NSFW language).
That is Bruce Maxwell causing a scene after he was arrested for aggravated assault and disorderly conduct after reportedly pulling out and pointing a gun at a delivery woman. Earlier this year, he was sentenced to two years of probation for the incident. This has severely weakened his message. Since his arrest, the latter's protest has been mocked and tossed aside. You cannot kneel for the anthem, claiming it's against police brutality, only to be rightfully arrested only a month later.
Kaepernick, on the other hand, has had nothing but an incident in April 2014—where the case was completely dropped. As far as we know, Kaepernick has never been directly arrested by the police. He has probably never directly faced police brutality. And yet, he is the one that started the "trend" of kneeling for the anthem. No matter what your stance on the topic is, Kaepernick's stance means much more to the public than Maxwell's simply because of what has transpired.
But we already know about the message that the kneeling can send. That should not prevent him from getting a job in industries where you have the likes of Aroldis Chapman, Rueben Foster, Jose Reyes, and Addison Russell, who allegedly assaulted their girlfriends and wifes—the latter also currently on pace to have more children than 2018 home runs—still playing in their profession. That again is where the difference lies between Kaepernick and Maxwell.
Kaepernick is a serviceable, league average quarterback at his worst, and an above average one at his best. His 90.7 passer rating in 2016 was 16th in the NFL among qualifiers, better than numerous starters in the NFL that season. Had he done the same thing in 2017, he would have rated just behind recent Super Bowl champion until the third quarter Matt Ryan. While his 59.2 completion percentage seems alarming, he also threw for 16 touchdowns and only four interceptions. All the stats aside, he has led the 49ers to a Super Bowl and NFC Championship in consecutive seasons. To put it simply, there is proof to debunk the belief that Kaepernick is out of the NFL because he cannot play the game.
Maxwell, on the other hand, is barely a below-average backup catcher. After his brief cameo in 2016, he hit .226/.306/.328 with 4 homers and a 75 OPS+ in 311 plate appearances over the next two seasons. His defense, while it has improved from his first professional season, is not impressive (-8 Rdrs, 44 wild pitches, 7.75 RF/9). Unlike Kaepernick, who led a team to a Super Bowl, Maxwell's only big moment in his MLB career is his national anthem protest. He is currently 27, which means that it's likely that this is the player Maxwell will be in the majors.
This only adds on to his anthem protest, which has divided NFL owners and players. Already a somewhat dying sport, that is something Rob Manfred and owners do not want to happen to this sport. Combining all of that leads to a player that will likely not be picked up by a major league ballclub.
Conclusion
There is no secret that racial prejudice and police brutality towards minority groups is in America. As a black American, there have been times where I have seen this firsthand. So, whether it should be done during the proceedings of our National Anthem or not, there is perfect reason for the protests of Kaepernick and others, which is a subject for another website.
What Bruce Maxwell did, likely knowing the possible consequential outcome, was courageous. After that, however, comparing the protests of Kaepernick and Maxwell is a bit ludicrous, considering the aftermath. While he is out of the NFL solely for his anthem protest, Kaepernick has moved on to make his original protest a national phenomenon, becoming the face of Nike's "Dream Crazy" advertisement, among other post-football accomplishments. Even if he never plays football again, he has made another name for himself. Maxwell has lied about an incident to prove his point and gotten himself arrested for assault, his original protest completely forgotten.
With all of that said, I do have a bit of confidence that Maxwell will find his way back into the big leagues. The catcher position is so weak in baseball that it would be hard pressed to find catchers that Maxwell would not have a roster spot over. If he does not get another Major League job, it is not because he decided to kneel for the anthem. It was rather because of the anthem, his arrest, and the fact that he was not a good player to begin with. Kaepernick can say that there was collusion by the NFL or NFL owners. Nobody is colluding to keep a 27-year old backup catcher out of baseball.
Really, the only similarity is that they both decided to make a stance and kneel for the anthem. Now, while both are paying for that action, one has other reasons to not be on the field.
"How can you stand for the national anthem of a nation that preaches and propagates, 'freedom and justice for all,' that is so unjust to so many of the people living there?"

Colin Kaepernick accepting the Ambassador of Conscience Award at the Amnesty International ceremony (USA Today)
---
Featured Photo: AP Photo/Eric Risburg