In part 1 of our series, I announced the first ten hitters who's faces will be seen in the hallowed halls of the Hall of Very Good. To recap, we're here to celebrate the careers of players who are not in the Hall of Fame or on the writers' ballot anymore. All of today's inductees are starting pitchers, but do not fear, relievers, along with designated hitters and other specialists, will be included in future ceremonies. At the moment, there are just far more very good starting pitchers who's career accomplishments need to be put on display.
Overcoming Freak Injuries
Tommy John (Los Angeles Dodgers)
It took me a while to figure out which team's hat Thomas Edward John Jr. would be wearing on his Hall of Very Good bust. The cases for 3 of the 6 teams he pitched for are compelling. He spent the most number of seasons in his career (8) with the Yankees and retired, at age 46 in the Bronx. The White Sox had John for his first prime: in 7 seasons he had a 2.95 ERA, 21 shutouts, and 24.0 WAR, his best of any team in each stat. The Dodgers have a more nuanced case. He was there 6 seasons and even though his total WAR and IP didn't match his totals with the Yankees or White Sox, his most lasting impact on baseball occurred while he was in Los Angeles. He had the very first Tommy John Dr. Frank Jobe surgery on September 25, 1974 to repair the UCL he tore during a fantastic 1974 season (2.59 ERA in 153 innings as of July 17th). The next time he pitched, in April of 1976, he made history by returning from the surgery that would eventually bear his name in the baseball lexicon. This is why I decided to put a Dodgers hat on Tommy John; it is impossible to talk about his career without mentioning the surgery which was performed by the Dodger's team doctor. It split his Dodgers career and overall time in the league in two remarkably similar halves.
| | | | | | | |
| --- | --- | --- | --- | --- | --- | --- |
| | IP | WAR | ERA+ | W | SO | BB |
| Pre-TJ surgery | 2165.2 | 31.2 | 116 | 124 | 1273 | 633 |
| Post-TJ surgery | 2544.2 | 31.3 | 107 | 164 | 972 | 626 |
John never struck out more than 138 batters in a season, but he was a crafty lefty who got a ton of groundballs and pitched in 3 World Series and 4 All- Star Games in his 26 seasons. If he had 12 more career wins, I'm 100% sure he would be in the Hall of Fame. Instead, we get a legendary pitcher and comeback story in the Hall of Very Good.
David Cone (New York Yankees)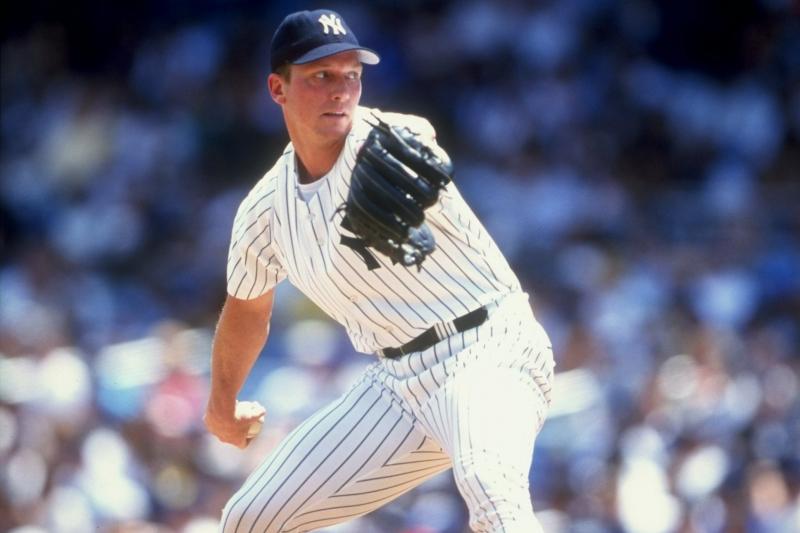 I recently watched a replay of the 1995 ALDS Game 5 where the Yankees went to the Kingdome and lost. Historically, that game has been remembered for the final play where Edgar Martinez doubled Ken Griffey Jr in from 1st base off Jack McDowell. What I had totally forgotten about that game was that David Cone started for the Yankees in his first year with the team. Up to this point, Coney had been an ace for the Mets for a few years and pitched effectively while he bounced around between Kansas City and Toronto before getting to the Yankees in July of 1995. He battled through an exhausted, and later severely injured, right arm to give his team 7.2 innings and 147 pitches in a no decision. It was the 14th time he threw 130 or more pitches in a start that year. There's no doubt that this stress on his arm and bulldog attitude were factors in causing a shoulder aneurysm which kept him out most of the 1996 season, but that attitude also helped his post-prime years in New York. In his first start back, he threw 7 no-hit innings before coming out due to pitch count and was able to finish off his no-no 3 years later, perfectly.
Cone only got to 194 wins, which matters to some, but he would finish with 62.4 WAR and a Very Good 121 ERA+. Hall of Famers Jack Morris and Catfish Hunter both finished below 50 WAR and 110 ERA+. The overall numbers might show that he should be going in with a Mets hat, but 4 of Cone's 5 World Series rings were won with the Yankees, he had that career resurgence, and the Perfect Game is his iconic moment. To top it all off, he's one of the best analysts on TV and will have a fun and interesting speech when we finally get that funding to rent out a Chili's somewhere in Scranton for the HoVG induction ceremony.
Turning Their Backs on Hitters
Luis Tiant (Boston Red Sox)
When you talk about 1968, The Year of the Pitcher, the American League conversation generally begins and ends with Denny McLain because of his 31 win season, the last in league history. He was a unanimous Cy Young and MVP winner. Less talked about is the Cleveland Indian who led AL pitchers in WAR, ERA, FIP, ERA+, Win Probability Added, and shutouts (by 3!). After debuting in 1964 and pitching like a stud right out of the gates, Tiant's Indians career built up to it's peak where he was better than a unanimous MVP, just in 23% fewer innings. After '68, he had a 3 year dip with three different teams (Cleveland, a one year stint in Minnesota, and his first Red Sox season) where he struggled with his control putting up his only career seasons of over 4 walks per 9 innings. He would bounce back though, putting up at least 5.3 WAR and 120 ERA+ 5 times in his last 7 Boston seasons and help the team get to the 1975 World Series in which he started 3 times. El Tiante would finish his career with 66.5 WAR, currently 40th in MLB history for pitchers, but is most remembered by fans for his charisma, quirky delivery, and glorious fu manchu. Luis's victory cigar at his HoVG induction will be well deserved.
Kevin Brown (Texas Rangers)
Sometimes it's hard to see how great a player's overall career is when he doesn't have a team that he truly belongs to. The best 3 seasons of Kevin Brown's career happened after his 8 very good Rangers seasons and 1 year in Baltimore (A pitcher improved immediately upon leaving the Orioles?? No Way !). In 1996, he finished second in the NL Cy Young in his first Marlins season, having beaten out the winner, John Smoltz, in ERA, ERA+, WAR, and WHIP. He followed that up with a season in which he threw a no-hitter, pitched the Marlins to the World Series with a complete game in Game 6 of the NLCS, and celebrated his only World Series title. After getting traded in the offseason to San Diego for 3 minor leaguers (including Derrek Lee!), he acted as the ace of the NL pennant winner once again, 3rd in Cy Young voting this time. He also posted his best postseason giving up only 4 runs in 25 innings over 4 appearances in the NL playoffs.
Kevin Brown became the first #Padres pitcher to strike out 1️⃣6️⃣ batters in one game, going 8 innings and picking up a 2-1 win vs. Houston to open the playoffs in 1998 ? #SDGreatsOf98

We'll announce a winner shortly! pic.twitter.com/QtidhaUttl

— San Diego Padres (@Padres) December 29, 2017
After this stretch he signed a record-breaking contract with the Dodgers and pitched very well there with 20.4 WAR in 5 seasons. He did have some injury problems and the expectations from the contract seemed to always overshadow his effectiveness. He pitched two more average seasons with the Yankees in 04 and 05 before retiring. Kevin Brown didn't have some of the magic numbers like 300 wins or 3000 strikeouts and his 3.28 career ERA doesn't sound sexy. He also pitched in the toughest era for pitchers for 19 years and put up 68.0 career WAR. He did not deserve to fall off the HOF ballot, but received only 2.1% of the vote in his first year in 2011. Their loss is our gain and I welcome Kevin Brown.
Low-key Franchise Legends
Mickey Lolich (Detroit Tigers)
After an 18 start rookie campaign where he pitched in 33 total games, Mickey Lolich threw 200 innings in every single one of his final 12 Detroit seasons, including 4 straight 300 inning seasons from 71-74. For the second time in this article we run into a pitcher who was overshadowed by Denny McLain for a time in the late 60s, but Lolich had far more staying power. When all was said and done he would finish his career in the top 5 in Tigers franchise pitcher ranks in WAR, Wins, K/9, Starts, Innings, and Strikeouts. Lolich's career featured a World Series MVP in 1968 when he went 3-0 with a 1.67 ERA and 3 complete games to lead the Tigers to a title and a 2nd place Cy Young finish in the 1971 where he struck out 308. When you finish your career with only 3 All Star appearances, and two top 5 Cy Young finishes it's easy to say he doesn't belong among the names of the all time greats. That's not what we're here for though. We're here to appreciate the career of Very Good professional baseball players who deserve some more love than they've gotten historically. This is Mickey Lolich to a T.
Dave Stieb (Toronto Blue Jays)
The Toronto Blue Jays began play in 1977 and won their first World Series in 1992. The in-between was basically Dave Stieb. After being drafted in the 5th round of the 1978 draft, he debuted a year later and was a fixture within the Blue Jays rotation immediately. From 1980-1990 2 pitchers had 9 200 inning seasons: Dave Stieb and Jack Morris. Morris is a Hall of Famer, largely because of his postseason legacy and some buddies on the Veterans Committee, Stieb was better in the 80's by almost every measure including ERA, WHIP, WAR (by 23!), and Shutouts. 439 of his 443 career appearances came with the Jays and his name is all over the franchise record books, but because he was released during the 1992 season, he would never celebrate a World Series on the field with the team.
Oddly enough, one of Stieb's most lasting legacies is his incredible pursuit of a No-hitter.
| | | |
| --- | --- | --- |
| Date | Opponent | Result |
| 8/24/1985 | White Sox | 8 No-hit innings broken up on 9th inning leadoff HR |
| 9/24/1988 | Cleveland | 8.2 No-hit innings broken up on bad hop seeing eye single |
| 9/30/1988 | Baltimore | 8.2 No-hit innings broken up on bloop single |
| 8/4/1989 | New York | 8.2 Perfect innings broken up on line drive double |
| 9/2/1990 | Cleveland | No-Hitter…finally |
He flirted with destiny 5 times in just over 5 years, including 2 in a week, and he finally got to go home with destiny on that final time he shot his shot. Stieb won't need to keep trying on the HoVG ballot, his career 56.7 WAR and dominance of the 1980s will get him in on the first try.
Tommy Bridges (Detroit Tigers)
I was hoping to find a HoVG candidate who I had almost no knowledge of prior to researching this article that belongs on this list. Enter Tommy Bridges, who was basically the Dave Stieb of the 1930s. He spent over a decade with one team and his name litters their record books as a result. He even flirted with No-Hitters repeatedly.
| | | |
| --- | --- | --- |
| Date | Opponent | Result |
| 8/5/1932 | Washington | 8.2 Perfect innings broken up on a pinch hit single |
| 4/23/1933 | St. Louis | 8 No-Hit innings broken up on leadoff 1b in 9th |
| 5/24/1933 | Washington | 7+ No-Hit broken up in 8th |
| 9/24/1933 | St. Louis | 8 No-Hit innings 2 hits allowed in 9th. |
Bridges would pitch parts of 16 seasons, all with the Tigers and lost the 1944 season due to service in the Army during WWII. During his playing career he would be a part of 6 All Star teams, 4 pennant winners, and 2 world champions. Bridges' 50.9 WAR and 126 ERA+ suggest that despite not being considered in the same conversation as the many Hall of Famers of his era he was every bit the pitcher Lefty Gomez or Red Ruffing were. It's unlikely the Hall of Fame ever comes around on a guy like Tommy Bridges like they have with Lee Smith and Harold Baines. Thankfully, we have the HoVG to honor the forgotten legend from the 30s Tigers.
Bright Flame, Short Life
The devastating thing about pitching, more so than for position players, is that the act of throwing is so unnatural to the human anatomy that the arm is basically a ticking time bomb. Some careers are cut short before they can ever get going, others are able to walk the tightrope for 20+ years and stay healthy. There are a select few, however, that were able to tease us with dominance for a few years before they broke down and left us wanting more.
Johan Santana (Minnesota Twins)
From 2004-2010, Johan Santana's first 7 seasons as a full time major league starter, he led all of baseball in strikeouts and opponents OBP, and was 2nd in Wins, ERA, and ERA+. Using a fastball that generally stayed in the low to mid-90s and a changeup that basically stopped before reaching home plate, he was pretty definitively the best pitcher in the game for his last 4 Twins years and first 3 underrated Mets seasons. Where guys like Tommy John were able to overcome elbow injuries, Johan's shoulder proved much trickier. It ended his 2011 season before it started and ended his career after a lackluster 2012. He had a couple comeback attempts, including one that I got way too excited for as an Orioles fan, but he would not pitch in the majors again after 33.
Santana's career was basically the modern day Sandy Koufax.
(Ducks out of the way of a 70-year-old man's shoe)
Ok we'll call him a Poor Man's Sandy Koufax. The reality of the situation is, Koufax was only a dominant starter for about 6 years. The nature of pitching in the 60s meant that Koufax's dominance was exploited and pushed to extreme innings totals that gave him nicer totals than Johan (more innings, CGs, Strikeouts, Shutouts) but Santana's dominance actually lasted longer and, despite an ERA almost half a run higher, he had the superior ERA+ for his career at 136 to Sandy's 131. I will admit that Koufax still probably had the better overall career, but it's much closer than their Hall of Fame voting results would suggest and was mostly due to the altered use of starting pitchers. The Hall of Very Good will happily welcome the man who won 2 Cy Youngs in Minnesota and gave the Mets their only No-Hitter in franchise history despite a fair ball narrowly holding onto it in the 6th inning on a foul ball.
Dwight Gooden (New York Mets)
Some pitchers' shortened careers have been aided by later starts in addition to injuries that premature endings. The brevity of Dwight Gooden's career is largely not a result of either of those factors. He was an All-Star as a 19 year old in 1984 when he led the league with 276 strikeouts and a 1.69 FIP winning the Rookie of the Year and finishing 2nd in a Cy Young race that he should have won. He followed that up with only one of the greatest pitching seasons in major league history: 24-4, 1.53 ERA, 268 Ks, 276.2 IP. I've memorized those numbers because I've heard my oldest brother recite them on countless occasions in awe. He was still only 21 a year later when the Mets dominated the National League and won the World Series with Doc as their ace. By all accounts, the beginning was a resounding success at a very young age.
Signs of what would derail Gooden's career started to rear their ugly head the next offseason when he was arrested and tested positive for cocaine during Spring training in 1987. He would pitch 8 more Mets seasons that varied from good to very good with a few injuries mixed in, but never threw over 170.2 innings after his age 28 season. He tested positive again for cocaine in 1994, then again while on suspension, and missed the entire 1995 season. At this point, Gooden came back with the Yankees and did throw a No-Hitter, but his effectiveness was mostly gone and he was a league average starter over his last 5 seasons. He received 3.3 percent of the vote in 2006, his only year on the Hall of Fame ballot, despite 53.0 career WAR and one of the best starts to any MLB career. They were the highest of highs and lowest of lows for Gooden and a HoVG bust will serve as a reminder of all the good times.
Bret Saberhagen (Kansas City Royals)
In the last 53 years there have been 2 complete game shutouts in Game 7 of the World Series. One is the infamous Jack Morris 10 inning shutout of the Braves in 1991 that may have propelled him into the Hall of Fame. The other was Bret Saberhagen in 1985 versus the Cardinals. The game was a bit of a dud at 11-0 and he only recorded 2 strikeouts, but Saberhagen was also only 21 years old, just finishing his second MLB season, and about to receive his first Cy Young. He would win another Cy Young 4 years later at 23-6 with a 2.16 ERA in 262.1 innings and throw the most recent No-Hitter in Royals history in 1991. That offseason, he would go over to the Mets in a blockbuster deal and despite some injuries gave the team good production throughout the next 3 and a half years, including a 1994 season where he won 14 games and only walked 13 batters over 177.1 innings. After a short stint in Colorado, Saberhagen's nagging injuries throughout the early part of his career really caught up with him leading to a completely lost 1996 season and a 6 game cameo in 97 as a member of the Red Sox. 2 more resurgent Boston seasons followed before he was forced to call it quits due to more injuries.
If you're into superstar seasons, Saberhagen's got those: 2 Cy Youngs, 1 3rd place finish. If you're into postseason heroics, he's got that too with his memorable performance in 1985. If you're into WAR, Saberhagen's 59.0 ranks above HOFers Whitey Ford, Sandy Koufax, and Mordecai "3 Finger" Brown. It never seemed like he could string a few good seasons in a row together, but at the end of the day the pinpoint control and here and there greatness got Bret Saberhagen and bust in the HoVG.
The committee of one that decides all of our deserving candidates isn't always perfect. I'm sure there's certain things they haven't considered. For example, is it a good idea to include 3 different pitchers who were all on the 1992 Mets in one ballot? I guess if that ever happens, we'll find out. Regardless, there will be more inductions for the HoVG in the future that will expand on this inaugural class of 10 hitters and 10 pitchers. Once again, the schedule for the actual induction ceremony is still up in the air. As soon as all the details have been ironed out I will inform all the inductees and billions of fans who are going to be clamoring for tickets. Until then, enjoy greatness, but don't forget to celebrate the very good too.
Follow me on twitter: @denack31 and check out Pop Flies and Grounders (Twitter: @pfgrounders, Instagram: @pfg_podcast) on iTunes for our latest podcast and at pfgrounders.blubrry.com where this article can also be found.
Featured Image: Ron Cogswell on flckr