There is no secret that Major League Baseball is the most unpredictable out of the four major sports. The main reason for this is because baseball is a game of adjustments. Hitters adjust their swings. Eventually, pitchers adjust back. Hitters readjust and the cycle goes on. It is the reason why players and teams can go through streaks where they seem unstoppable, and then, seemingly out of nowhere, turn into Bill Bergen. Take 2018 Didi Gregorius, for example, who had one of the better months of April in history (.463 wOBA, 197+ wRC) and would have been an MVP candidate if not for an appalling month of May (.149/.184/.213, .172 wOBA, -1 wRC+). It happens all the time throughout a major league season.
But what about those long-term dropoffs? I don't mean one breakout season before their stats return back to the mean. I mean legitimate all-star stats, sustained throughout a long enough period where you can call them a legitimate perennial All-Star, and then one year, it seems like they no longer have it. Whether it is because of a trade/free agency decision or a change in their mechanics, these players simply fell off, leading to them being demoted or cut from the team. These type of dropoffs have front offices, coaching staffs, fans and sometimes the player himself wondering "What the hell happened to him?"
This six-part series will go through each MLB team to find out which player on each team simply lost it. The majority of players listed have put up consistent great, All-Star—some Hall of Fame worthy—numbers before their fall from grace. Part one discusses the biggest dropoffs from each American League East team.
---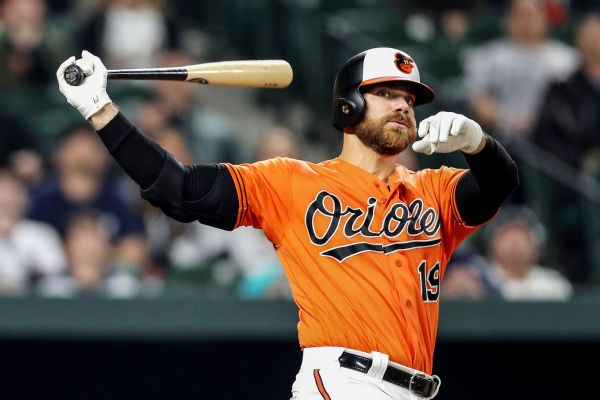 Chris Davis's career, a topic I wrote about last June, has been back and forth. The first four years of his career were not very good, compiling a .252/.301/.448 line with 90 wRC+ and a .322 wOBA. While he had made hard contact and the power was certainly there (44 HRs in 1082 PAs), the combination of a high groundball percentage, 6.5 BB% and a 31.5 K% is not one that fits a power hitter. Even after a strong 2012 season, people began to wonder how long his career would last unless he made adjustments.
All doubts went to bed after his monster 2013 season. His hard hit and flyball percentage jumped from 34.7 to 41.3 and 37.5 to 45.7, respectively. Additionally, he began chasing fewer pitches out of the zone, leading to a 3.1% increase in his walk rate (6.6% to 10.7%). The results were amazing: a .286/.370/.634 line along with 53 homers, 168 wRC+, a .421 wOBA (worth 7.1 fWAR) and an MVP if he didn't play in the same league as Mike Trout and Miguel Cabrera. A poor, injury-riddled season in 2014 was overridden by another star season in 2015, one that prompted the Orioles to sign him to a 7 year, $161 million contract.
That year saw the beginning of Davis' decline. His 2016 saw his launch angle drop, which led to more ground balls (36.5%) and fewer line drives (19.8%). His 2017 was worse, both for him and his team. His launch angle dropped yet again, which also dropped his power, and his strikeout percentage increased to a league-high 37.2%. It was not his chase rate (which remained around his normal rate) that contributed to this, but his refusal to swing at strikes (60.0% Z-Swing). And there is no need to deep dive into sabermetrics to justify how putrid Chris Davis' last two years have been (46 wRC+ and -3.1 fWAR in 2018, 52 wRC+ and -0.5 fWAR so far this year, and a notorious 0-54 streak early this season).
The fall of Chris Davis is a fascinating one to say the least. Unless a team magically decides to take a chance on him, the Orioles have him under contract for the next three and a half years. Granted, his batted ball profile remains consistent, so there is still hope for a bounce-back season, but until that happens, this is a horrendous contract for one of the worst drop offs we have seen in baseball history.
For more on Chris Davis, read Mick's April article on the worst contracts in baseball history.
Dishonorable Mentions: Matt Wieters, JJ Hardy
---
Granted, I'm writing this as King Fu Panda quietly has one of his best seasons back in San Francisco (134 wRC+). Yet, he remains on this list for a reason.
When the Red Sox signed Sandoval to a big-time, five year, $95 million deal, they were expecting the Pablo Sandoval, then 28 years old, that was a major contributor to two of the Giants' three championships in five years. They were expecting a guy that had hit .294/.346/.465 with 122 wRC+ during his first tenure in San Francisco. Instead, they got a Pablo Sandoval who decreased his walk percentage while striking out more (mainly because of a 47.8 O-Swing%, the highest in all of baseball in 2015). He also lost the ability to make hard contact (30.8% to 24.5%) and pounded more balls into the ground (42.6% to 48.9%).
His 2016, cut short three games into the season due to shoulder surgery, should have indicated the Red Sox to move on right away. Instead, they elected to trade Travis Shaw and Yoan Moncada (albeit the latter was for Chris Sale), leaving the third base job wide open for the Panda. He rewarded them with fewer line drives, a continued rate of ground balls, an increase in strikeouts and a season somehow worse than his 2015, forcing the Red Sox to pull the plug and turn to a 20-year old rookie named Rafael Devers. In total, Sandoval's three-year stint with the Red Sox resulted in a .237/.286/.360 line, .282 wOBA (not much improvement in xwOBA), 72 wRC+, one Instagram photo liked during a game, one broken belt, a plethora of memes, and a front office asking themselves "what the hell happened?"
While Sandoval is having a rebound season in the bay, that does not change the decision to list him as the Red Sox's biggest dropoff. Whether it was because of weight or pressure, he was a shell of the San Francisco star in Boston. He will forever be hated in Red Sox history, and thus, earns recognition as the biggest dropoff this decade for the Red Sox.
Dishonorable Mentions: Carl Crawford, Clay Buchholz
---
Do you remember the last time we saw Jacoby Ellsbury in a Yankee uniform? Well, to refresh your memory, he was crossing the plate on Aaron Judge's game-tying double in Game 4 of the 2017 ALCS. Since then, he has missed an entire 2018 season due to a torn labrum and is on track to miss all of 2019 for…reasons.
So where exactly did Ellsbury fall from grace? The easiest answer is the same answer given for the Yankees signing Ellsbury to a 7 year, $153 million contract: his breakout 2011 season, where he exploded for a .321/.376/.552 line with 150 wRC+ and .400 wOBA. Even this outlier season should have been looked at as unsustainable, as he was making a lot of soft contact and not making enough hard contact to compensate. But questioning the Yankees' reasons for signing a one-year wonder for only $2 million less than Masahiro Tanaka for the 700th time in three years is a discussion for another article.
To be very fair to Ellsbury, his 2013 and 2014 were pretty good seasons for a speed threat with a great glove. At the plate, he was productive; aided by less soft contact than in previous years, he sat at a decent .330 wOBA and 110 wRC+. In 2013, he was the third-best baserunner in baseball according to BsR (10.7) and had accumulated 13 DRS in center field. While his baserunning was still strong in 2014, his defense took steps back, only worth -3.6 UzR and -3 DRS. After 2014, everyone figured that Ellsbury would never live up to his $153 million commitment, but he would still be a decent player for the team.
Then his 2015 season happened. After starting the season at .312/.412/.372, .354 wOBA and 124 wRC+ over the first two months, he went on the then-disabled list with a knee sprain. When he came back, he proceeded to put up .263 wOBA and 62 wRC+ over the last three months. His BsR dropped from 8.0 to 3.1 and his defense continued to be average at best. This trend downward continued into 2016, where his ability to make contact on pitches outside the zone decreased from 74.5% to 65.3% and his BsR dropped to a 2.5. While he would rebound to have a 101 wRC+ season in 2017, the damage had been done: breakout star Aaron Hicks was going to be the Yankees' starting center fielder and Jacoby Ellsbury would be reglated to a very expensive bench role. We have still not seen Ellsbury put on a baseball uniform since 2017.
When the Yankees signed Ellsbury to that ludicrous contract back in 2014, they were hoping for some of his 2011 form to translate in the Bronx. Instead, they ended up with a Brett Gardner clone with no throwing arm or durability to be seen. Ellsbury was not a proven star that fell off like the remaining guys you will see in this series. However, his fall from a top of the lineup threat to decent piece off the bench to an insurance money collector is noteworthy enough to have on this list.
Dishonorable Mentions: Brian McCann, Michael Pineda
---
There is no denying that Evan Longoria is the best player in the franchise's short history. He currently has the franchise record in many categories, including bWAR (49.8), home runs (261), and RBIs (892), while finishing his career top five in many other categories. However, as great as he was, the decline to the player we have seen in San Francisco started at the tail end of his Rays career.
The first six years of Longoria's Rays career were amazing, enough for people to consider a top-five third baseman in the league. Longoria barely swung at pitches outside of the zone while making contact with many inside the zone. He walked 10.9% percent of the time while having a respectable 20.5 K%. More than a third of his batted ball profile during this time was hard contact. This led to a .275/.357/.512 line, 135 wRC+ and .371 wOBA. What made Longo even more special was his defense at third, never accumulating less than 10 DRS and 14.5 UZR in four of the first six years of his career (2008 and 2013 are outliers). Longo was an instrumental part to the Rays' success from 2008 to 2013, including a World Series appearance in 2008 and sending them to the postseason in 2011:
Despite an injury-shortened 2012, Longoria and the Rays agreed to a six-year, $100 million extension starting in 2016, presumably keeping him in Tampa Bay until 2023. But after a comeback 2013 season, his numbers began to slip. After never having less than 128 wRC+ in a season, his 2014 and 2015 saw him amass 105 and 109 wRC+, respectively. He would rebound in 2016 to put up 123 wRC+ but would fall to 96 in 2017. A hard decline in hard contact and an increase in soft contact are just the beginning. His plate discipline did a full reversal; after only swinging at 24.4% of pitches out of the zone in 2013, he has swung at 30% or more every year since. Because of this, his walk percentage dropped to 7.2% in those four years (even in his resurgent 4.5 fWAR 2016, he walked 6.1% of the time, a then career-low). Along with his decreasing offense, his defense, aside from 2017, was no longer elite. Between 2014 and 2016, he compiled -15 DRS and 8.3 UZR.
Suddenly, the Rays icon was no longer a star player. With the Rays looking to retool, they traded him and cash to the "contending" Giants for Christian Arroyo, Denard Span, and two other minor leaguers in the 2017 offseason. Longo rewarded the Giants with the worst (albeit injury shortened) season of his career, only compiling 85 wRC+ and .295 wOBA (.308 xwOBA) and 7 DRS and -4.4 UZR (0.4 fWAR), and has not done much better this year. Granted, his expected numbers say that he should be better this season, so a rebound season in the next four and a half years in his contract is not out of the realm of possibility. However, expecting him to return to his 2013, or even 2016 form is probably not a possibility.
Dishonorable Mentions: Matt Moore, Desmond Jennings, Jeremy Hellickson, Alex Cobb
---
Like Chris Davis, Bautista's career has been back and forth, albeit less sporadic and confusing. His MLB career started in 2004 with him being traded or claimed between five different teams (appearing in an MLB game for four of them) before settling in for four decent but unspectacular years with the Pittsburgh Pirates. He was traded to the Blue Jays in the middle of the 2008 season, where he continued to put up subpar numbers in the first two years of his Blue Jays career. A non-tender candidate in the 2009 offseason, the Blue Jays elected to resign him for another year.
Then his 2010 season happened. In short words, Bautista went from a mediocre hitter, destined to be a career journeyman, to one of the best in baseball. His hard-hit rate jumped from 30.1% in 2009 to 39.6% and his flyball rate skyrocketed to 54.5%. Contrary to traditional improvements, he began to swing at more pitches out of the zone. After swinging at a very low 14.9% out of the zone in 2009, his chase rate jumped to 23.3%. Despite this, his K% dropped from 21.0% to 17.0% as his O-Contact jumped from 60.6% to 68.7%. Suddenly, a career 91 wRC+ hitter with an average of 10 homers a year turned into a 54-home run hitter with 165 wRC+ and .422 wOBA. Then, with increasing walk rates and decreasing strikeout rates, he proceeded to have a better overall 2011 (.302/.447/.603, .443 wOBA, 181 wRC+, 8.1 fWAR) and a great 2012-2015 (.261/.377/.522, .387 wOBA, 147 wRC+), a stretch that included a postseason appearance where he did this:
Bautista entered the 2016 season with demands for a 5-year, $150 million extension to stay in Toronto. Bautista's rise to becoming a franchise icon in Toronto was one of the best breakouts we have ever seen. That said, he was entering the 2016 season in his age-35 season, was gradually declining offensively, and, a cannon for an arm aside, was never a great defender. Therefore, the Blue Jays and Bautista entered the season without an extension; in hindsight, it was the right move. In 2016, he had the highest hard contact rate (41.0%) in his career, but also began making a lot more soft contact (21.3%). While he still put up a respectable .234/.366/.452 line and 123 wRC+, it was clear that there was a decline on the way. Sure enough, he followed up in 2017 with his worst full MLB season. Aided by a drop in BB%, a skyrocketing K%, and a still rising chase rate (along with a career-low 50.5% O-Contact%), he produced a Blue Jays career-low -0.4 fWAR, 84 wRC+ and .295 wOBA in 696 plate appearances. With the Blue Jays electing to decline his club option, Bautista's amazing Blue Jays career had come to a sad, abrupt end.
After poor tenures with the Braves and Mets in 2018, Bautista would regain some of his value in his one month with the Phillies. However, the writing was on the wall: at 38 years old, Bautista was no longer going to be a productive player in the big leagues. Unsigned in 2019, Bautista's career, one defined by an astounding six-year stretch, looks to have come to an end.
Dishonorable Mentions: Ricky Romero, Jose Reyes, Aaron Sanchez
---
All stats via Fangraphs
Featured Photo: Peter Khayat
Follow Payton Ellison on Twitter (@realpmelli14) and check out his podcast.