Clayton Kershaw.
One of the best pitchers of all time in the regular season, and arguably the greatest left handed pitcher ever. His career ERA of 2.44 ranks 37th all time, and that includes times when pitchers pitched with a brick of a baseball. His accomplishments and accolades speak for themselves, and the 5 time ERA leader and 3 time Cy Young winner is a player any team would dream of having on their roster.
Until, of course, the postseason.
Clayton Kershaw, historically, has been comparatively pedestrian in his postseason career. His career postseason ERA of 4.43 after Wednesday night's disaster sits almost 2 full runs above his career regular season mark, and many have marked Clayton Kershaw as a postseason bust, a choke artist, and a man who crumples in the spotlight.
Every single one of those statements is absolutely false.
Clayton Kershaw is as good as he ever is in postseason play. While he's prone to blowups every now and then, so is every other pitcher who has ever existed. Clayton Kershaw's advanced metrics tell a different story than the one we see, as his predictive stats show that he is very near the pitcher we are accustomed to seeing in the regular season. His SIERA (Skill Indicative Earned Run Average) is almost the exact same in the playoffs as it is in the regular season: 3.09 vs 3.10. For those that don't know, SIERA eliminates factors that a pitcher can't control, such as defense and luck. It's often used instead of more flawed metrics like FIP to factor luck out of the equation as much as possible. For comparison "postseason legend" Madison Bumgarner has a postseason SIERA of 3.16, a tick above Kershaw's mark.
The reason Kershaw is so shamed as a postseason performer is less reflective of the pitcher he is than it is the managers he has played under. The shortcomings of his managers at making in game decisions has contributed to, what we like to call, The Narrative.
2013
If you look into Clayton Kershaw's postseason blowups, what you'll find is a history of mismanaging one of the game's most talented arms into a spot where the only possible scenario would be for Kershaw to take the blame. His struggles famously began in the 2013 NLCS vs the Cardinals, in which the Cardinals began their playoff torment over Kershaw with 7 earned runs in 4 innings of Game 6, in which the Cardinals clinched the series. The beginning of The Narrative began with a struggling Kershaw being overextended in an effort to keep the Dodgers in the game on the brink of elimination. Of course Clayton Kershaw isn't immune to struggles. Every pitcher is going to have a bad day, and Kershaw's just happened to come in Game 6. Until that point in the playoffs, Kershaw had made 3 starts to the tune of a 0.47 ERA in 19 innings. For those of you doing the math at home, that's one entire earned run. Kershaw, having already thrown near 80 pitches through 4 innings with clearly less than his best stuff, was thrown back out into the fire for 3 batters in the 5th, then watched helplessly as Ronald Belisario allowed all 3 batters to score, and 2 more in addition to that. The Narrative had begun to materialize.
2014
Fast forward to Game 1 of the NLDS against the Cardinals, and The Narrative rears its ugly head once again. Kershaw, having thrown a very impressive 6 innings against the Cardinals, was trotted back out for the 7th inning with 85 pitches. To that point in the game, he had only allowed 2 earned runs and struck out 8, and was tasked with holding a 4 run lead. After back to back singles to lead off the 7th inning, Kershaw was taken out, and replaced with a fresh arm that got the Dodgers out of the jam, no problem, en route to a Game 1 win.
…Except he wasn't taken out. He was left in the game for the Cardinals to jump on the clearly tiring ace, the baseball metaphor of a referee who just won't stop the fight as one fighter is getting mercilessly pummeled. By the time Kershaw had finally been taken out, he had thrown 110 pitches, with 25 of them coming in that dreadful 7th inning allowing six more runs in the inning alone, and for some reason Don Mattingly just didn't feel the need to panic as Kershaw gave up hit after hit after hit. Was a pitcher getting tired a foreign concept to him? Did he have that little faith in his bullpen? Why was Kershaw allowed to suffer that kind of punishment in a second consecutive postseason start?
The very next game was more of the same. Clayton Kershaw enters the 7th inning of a 2-0 game having already thrown 94 pitches of shutout baseball. As modern baseball dictates, 100 seems to be that magic number of the faltering point of most pitchers. At the first sign of trouble, Kershaw should have been removed from the game for a shutdown reliever to hold the lead in yet another elimination game.
Except he wasn't taken out. After giving up back to back singles to Matt Holliday and Jhonny Peralta (two righties, I might add), the infamous (in LA) Matt Adams home run put the Cardinals in the lead, and The Narrative of "Playoff Kershaw" had been birthed. The lasting image of Matt Adams lifting his arms up in triumph is one many a Twitter user has seen when the first mention of Kershaw making a postseason appearance comes up.
2015
Clayton Kershaw had two very Kershaw like starts in the 2015 NLDS against the Mets. His first start was a good not great line consisting of 6.2 innings pitched and 3 earned runs with 11 strikeouts. The Dodger bats completely faded from existence on that night, though, and the Dodgers lost that game 3-1. In Game 4, Kershaw delivered 7 innings of one run ball to support the Dodgers' own 3-1 victory. The Narrative was paused.
2016
In this postseason, Kershaw truthfully struggled. This is where it gets tricky, as the physical decline of Kershaw arrives at the perfect time for him to get slammed even harder by The Narrative. In the 2016 season, Kershaw missed significant time for the first time in his career, getting placed on the DL in June with a back injury and making only a handful of starts in September (admittedly pitching well in all of them). Were his back injuries from June affecting him physically in the playoffs in 2016? We'll probably never know for sure, but you can look at his 4.44 postseason ERA and compare it to his 1.69 regular season ERA and make your own assumptions. I know what most of you will choose to believe, and this is where The Narrative takes off again.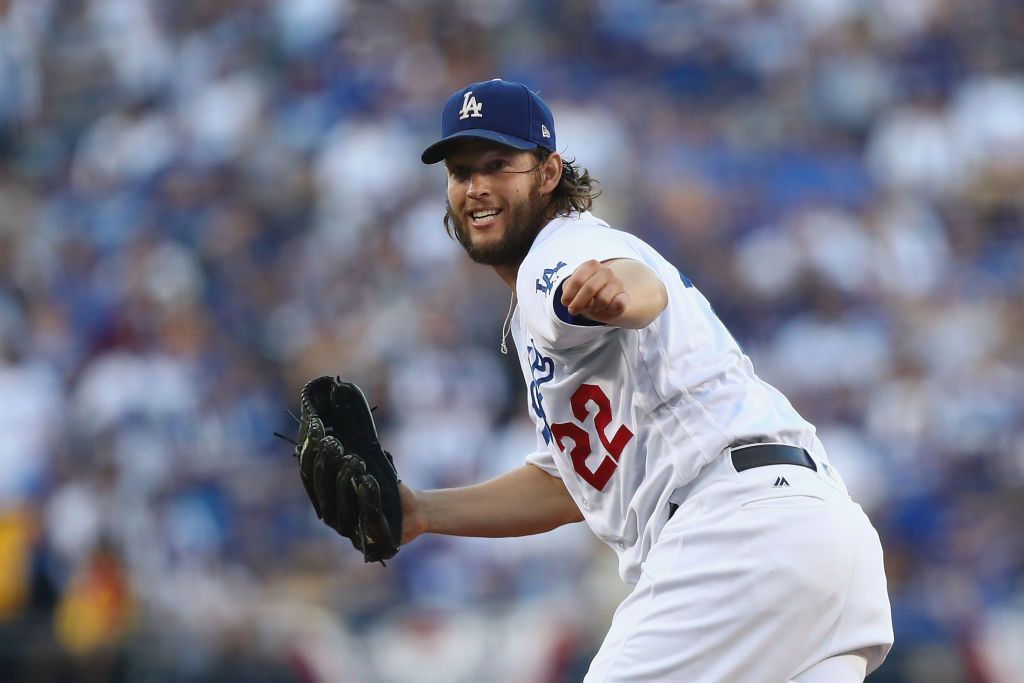 2017
Don't forget that Kershaw fired 7 innings allowing just one run in Game 1 of the World Series this season before Kenley Jansen and the bullpen blew the game in extras. The only game that matters in this year is Game 5 of the World Series, where most believe that "Playoff Kershaw" was back to his old ways. Did he give up 6 earned runs in 4.2 innings? Yes, yes he did. Should Dave Roberts have been managing this game like a World Series game instead of trying to ride Kershaw out like a regular season game? Yes, yes he should have. Instead, Kershaw was thrown back into the fire of the Houston offense for the 5th inning after allowing 4 earned runs the inning before, and was hit around for 2 more before Roberts finally ended his misery and removed him from the game. My language here may indicate a different feeling, but I truly feel badly for Clayton. He absolutely earned the right for his managers to believe that he could handle anything thrown at him, leading to his overstay in many of his infamous postseason blowups. His managers abused that right by using him as a fall man when their incompetence of game managing got the better of them.
2018-2019
These past two seasons are the perfect combination of The Narrative and a physically diminished Kershaw coming together. Until the World Series, Kershaw had thrown 19 innings with a 2.37 ERA in the 2018 playoffs, a very Kershaw-esque number. Game 1 of the World Series was just… bad. Pitching on two days rest because of a pointless 9th inning shutdown of a 4 run lead against Milwaukee, Kershaw found himself on "2" days of rest for this start, and found suboptimal results waiting for him as Boston posted 5 runs off Kershaw in 5 innings, without Kershaw recording an out in the 5th. Following various arm and back injuries, Kershaw certainly doesn't have the stuff that he once had as a 25 year old. With a reduced fastball, it becomes harder for him to pitch off of it like he used to, limiting the effectiveness of many of his breaking pitches as a result. This is where The Narrative thrives, and it feeds off the anger of the Dodgers fans on Twitter who get angrier at every run Clayton allows.
Now, to last night, when Kershaw surrendered the lead in a decisive game 5 of the NLDS that the Dodgers went on to lose. First of all, I wasn't even sure about Kershaw coming in to retire Adam Eaton in the 7th, but he did it, and all was fine. LA was roaring, and Kershaw had to be feeling good. I don't even want to go into why it was a bad idea to leave Clayton in for the 8th inning, but I will: that should have been the end of it. With MVP candidate Anthony Rendon, a righty, leading off the 8th inning, it should've been righty neutralizer Kenta Maeda who came in out of the pen to face him, with lefty Adam Kolarek coming in to try and matchup with Juan Soto, then Joe Kelly coming in to finish the inning. We all know how it went. Dave Roberts created a feast. The Narrative devoured it and grows stronger by the day.
If you've made it this far into the article, you shouldn't have any second thoughts on what you believe about "Playoff Kershaw". You either see my side on why The Narrative is a fictional notion made to discredit the reputation of the greatest pitcher of our generation, or The Narrative has swallowed you whole and left no chance for survival. Clayton Kershaw, by his managers' willing, has found himself on an unfortunate side of history, much of which he had no business being near in the first place. Don't let The Narrative grow. It feeds on anger and ignorance.