On July 31st 2017, the Toronto Blue Jays traded away starting pitcher Francisco Liriano. In return they would receive Nori Aoki and Teoscar Hernandez. This deal was looked over by many because Liriano was pitching to an ERA of 5.88 and was mainly used in long relief for the Astros, and neither Nori Aoki nor Teoscar Hernandez didn't really have any place to play in the Astro's lineup. Since the deal, Liriano left after one season to join the Detroit Tigers. Nori Aoki and the Jays parted ways after only 12 games, and the loan surviving piece in the deal is Hernandez. This trade was by no means a huge deal, but the Jays could be overlooking Teoscar Hernandez.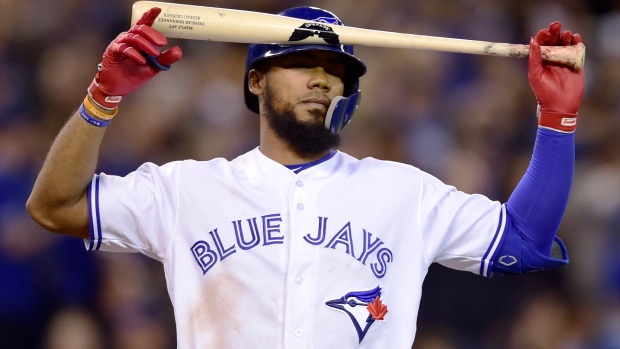 Through 3 years as a Blue Jay Teoscar Hernadez has appeared in 285 games, putting together a slashline of .238/.304/.482 along with a wRC+ of 114 (short sample size in 2017 adds a little boost). In those 3 seasons, he has also swatted 56 home runs. But the main issue with Hernandez that is keeping him from unlocking his true potential is his plate discipline, coupled with his swing and miss issues. In 2018, he was third in the league in SwSt% with a percentage of 17.9% sitting behind Javier Baez and Joey Gallo. He would also rank second last in the league in contact %, with a percentage of 64.1% sitting behind familiar face Joey Gallo. But in 2019, he did make improvements in some areas bringing his contact percentage up to 68.9%, a 4.8% increase.
Although it isn't a major increase, it's working towards something that could eventually lead to him being a major contributor for the Blue Jays. Another boost to his value as a player is that he has the ability to steal some bases with his speed that ranks in the 94th percentile of all major league players with a sprint speed 29.1 feet/second. So far, he has failed to put that speed to use, only swiping 11 bases in his major league career while being thrown out 11 times, resulting in an even 50% success rate. With those numbers, Hernandez is a blow average base stealer. 
The main issue with Hernandez has been his fielding. Although in 2019 he did take a jump as far as lowering his errors (8 in 2018, down to 3 in 2019), which also raised his fielding percentage up to .989% from .965%. His DRS in 2019 also got better, although it still was in the negatives at -8 DRS, down from his 2018 campaign total of -18 DRS. To put that number into prospective, -8 DRS would rank him in the bottom 10 in the 2019 leaderboards. Notable names around him are Nicholas Castellanos, Rougned Odor, Charlie Blackmon, and former top prospect Eloy Jimenez.

To summarize everything, I'm not saying Teoscar Hernandez has the potential to be a superstar or hit 40-50 home runs every season. If Hernandez could make consistent contact while laying off outside pitches, I think he could be a 30-35 home run hitter consistently and a mainstay in the Blue Jays lineup for years to come. Only time will tell, but the potential is all there.