Derek Jeter sat willingly on MLB Network as he learned of his election to baseball's finest group of players, coaches, and pioneers–the Hall Of Fame. It was only his first year on the ballot, but unsurprisingly, his legendary career and perceived "Captain" persona led him to approval by 99.7 percent of the distinguished committee. Only one man chose to leave the 5-time world champion off his ballot.
Chaos ensued.
But the one balloter who decided to use that vote on another deserving player may have been right to do so. After all, it became increasingly obvious that Jeter would make the hall with his legacy around the sport. So why be just another simpleton in voting for a man who is indisputably going to be elected? The 10 votes you have are precious and should be used to carefully honor the ballplayers who made the biggest impact on their team, companions, and fans alike.
Why make Jeter's approval percentage 100% when you can get another exemplary player up to the 75% needed to be selected? Being unanimous doesn't change the notion that you were honored to be among baseball's finest, it simply places you on a platform of your own. Above the greats. But Jeter shouldn't be on that level of notoriety.
Among qualified shortstops, Jeter ranks 9th by way of wRC+, a stat that quantifies hitters run creation and adjusts it for factors such as ballpark and era. He's 16th in slugging percentage, under guys like Troy Tulowitzki and Jose Valentin. His .377 on-base percentage places him 10th among his class, and his batting average puts him at 8th. Even his fWAR is 6th among shortstops all-time. This isn't to take away from his excellence at the dish, but the fact that he isn't even a top 5 offensive player at his own position is saying something about the notion that he's one of the best players of all time.
Larry Walker was inaugurated into the Hall alongside Jeter this year, but his circumstance was entirely different. It was Walker's 10th and final year on the ballot. He hadn't received at least 75 percent of the tallies in the past 9 years. But why? The writers and reporters and analysts who all are given a vote each year had decided that the former Rockie, Expo, and Cardinal was not a Hall of Fame caliber hitter. How true is that? Well, to accurately see how Walker stands out over the rest, let's compare his career to that of Jeters.
Walker: .313/.400/.565, .412 wOBA, 140 wRC+, 68.7 fWAR, 383 HR, 1311 RBI, 230 SB, 11.4 BB%, 15.3 K%
Jeter: .310/.377/.440, .360 wOBA, 119 wRC+, 73.1 fWAR, 260 HR, 1311 RBI, 358 SB, 8.6 BB%, 14.6 K%
Go ahead, double-check what you're seeing is in fact correct. That's right, I bet you didn't realize the significant difference between these two favored Walker over Jeter. Walker not only bests Jeter in batting average, on-base percentage, weighted on-base average, weighted runs created, WAR, home runs, and walk percentage, but he leads those by notable amounts. They both finished with 1311 runs batted in, and Jeter only had more stolen bases, a lower strikeout percentage, and a slightly higher WAR. Keep in mind that wRC+ accounts for ballpark, so players who played at Coors Field for a majority of their careers tend to see lower numbers than ones who didn't.
The Coors factor is an infamous one. For decades, it seems, people have been arguing about whether or not Rockies players should be compensated for their efforts since they play with such thin air that allows the ball to fly farther and easier. But Yankee Stadium is also one of the more hitter-friendly parks in the league for runs and homers. So it can be argued that Jeter's stats aren't valid, or that neither are Miguel Cabrera's, due to Comerica Park tending to fall under the top 3 in park factors. This dispute is silly and illogical, and no matter where a player graced the field, there are plenty of stats that tell us a player's true skills even with accounting for the ballpark.
So, if Larry posted better numbers than Jeter both offensively and defensively, then isn't it preposterous that he was finally elected on his 10th year, while Jeter saw an easy breeze into the Hall? The answer is yes, and if you don't agree then I clearly haven't done my job here.
Mariano Rivera was inducted into the Hall last year and became the first unanimous electee in major league history. It can be easily backed up that he was the greatest reliever in the game's long history, which gives reason as to why he was featured on every ballot in 2019. So if Jeter wasn't even top 6 in the most notable offensive categories, why should he get a unanimous vote? Could it be his defense?
Take a look at this sensational jump throw by Derek.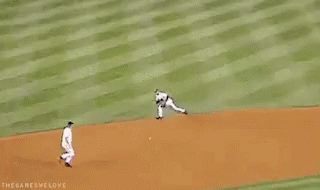 This is often regarded as one of the best infield plays of all time. This, along with a plethora of other ESPN top-10 worthy plays, has given Jeter the reputation of a wizard in the field. But what if I were to tell you that he was, and is to this day the worst defender of all time?
DRS, or defensive runs saved, is a stat that attempts to quantify a player's total runs saved. It uses errors, range, outfield arm, and double-play ability then adjusts to league average to give their runs saved. It's observed as the most accurate defensive statistic and better than the traditional metrics that have been implemented for years. Per Fangraphs, Jeter sits at the very bottom of the list in all-time DRS among all positions, with -152 runs saved. Yikes. UZR, otherwise known as ultimate zone range, compares a fielding attempt to other similarly hit balls to determine the fielder against an "average" player. As you might expect, Jeter ranks 3rd worst all time, with a -66.1.
Baseball Prospectus has an array of metrics that we saber-nerds love to indulge ourselves in. One, in particular, is FRAA. It stands for fielding runs above average. It essentially focuses on play-by-play data, the number of plays made, and all of the park and league factors we love to decide how many runs a player saved and how many plays they made compared to the average player. It's basically the WAR of fielding. The captain really baffles in this category, posting a career -304.9 FRAA. Jeter also posted a -71 TZ (total zone) and committed 254 errors, for you more old-school baseball fans.
Ok, hopefully, the stats lesson gave you an idea of just how awful a defender Derek Jeter was. The eye-test isn't at all a valid source of knowledge, and a few good impressive plays don't establish a whole career on the baseball diamond. Furthermore, going back to the jump throw play, if Jeter was a good shortstop, he would have made that play routine, and not had to make an off-balance throw that could have easily ended in an error.
This isn't to say that Mr. November isn't a Hall worthy player, he most definitely is. But his case is a sticky one. Based on his career numbers, he's a good second or third ballot Hall of Famer and should get about 80% of the votes. But alternatively, he was inducted on his first term with only one ballot missing the illustrious checkmark next to his name. That single ballot is a good indicator of how the BBWAA is evolving, and that there are at least a few select analysts who do significant research before crossing off names that don't exactly deserve it over others.
The Hall of Fame always brings about debate and uncertainty, but the question of Derek Jeter's almost-unanimous performance isn't like any other. I felt the need to bring this to light, and open the eyes of many baseball fans who still consider DJ one of the games best. He was a leader and a clutch postseason hero, but that shouldn't overshadow the reality of his regular-season accomplishments. Jeter is simply not among the cream of the crops in baseball history, and it's even questionable if he's among the top 5 at his position. As for now, we can relax and enjoy two exceptional ballplayers being honored for their grit, leadership, and accomplished resumes.