Coming into the 2019 season, not many had expectations for Astros' minor leaguer Trent Thornton. All that changed in November of 2018, when Thornton was traded in return for infielder Aledmys Diaz from a team with loads of rotation talent, to a team that was looking for any rotation help they could find, in the Toronto Blue Jays.
Thornton would impress the Blue Jays enough in Spring Training that they would slide him into the back of a rotation that included veterans such as Marcus Stroman, Aaron Sanchez, and Matt Shoemaker just to name a few. With limited expectations for the rookie right hander in his first taste of the major leagues, Thornton would actually go on to have a pretty surprising and respectable season. It included some bright spots along the way, specifically, leading the team in innings pitched at 154.1 (not including players who were traded from the team ie: Stroman). Although his ERA/FIP wasn't all to good looking at the surface (4.84 ERA/4.59 FIP) along with a 1.41 WHIP, the season actually had many bright spots and some interesting things to note about what we could expect from Thornton in the future.
Starting in a Major League rotation for the first time in his career, Thornton went with a kitchen sink approach with his pitch repertoire (FB/SL/CUT/SPL/SINK/CU/CH). Although this may have not been the best approach, it actually unveiled some potential, and with some improvement it could help lead to Thornton's future as a Jays starter.
Photo source: www.thestar.com
His fastball isn't overpowering, usually sitting at 93 mph and holds batters to an average of .260. The downside? The 30 extra base hits that led to the .510 SLG% that came with that fastball . He paired that up with a slider that worked very well. Opponents would only slash .228 with a .356 SLG% along with a very solid 31.8% whiff rate. Also posting the third highest RPM of sliders (min. 50 thrown) with a spin rate of 3089 but only a 61.1% "active spin" percentage. The 2nd of 3 fastball variants he mixed in was his cutter, 15.9% of the time (according to Baseball Savant), which had some bright spots. Overall though, most of the season, he struggled to find its effectiveness. Allowing a batting average of .299 with a .474 SLG%.
One of his more effective pitches on the season was his splitter, that he threw less than 10% of the time (according to Baseball Savant). Thornton's splitter drew a 10% swinging strike rate that, although is below the MLB average of 18% on splitters (according to Fangraphs), his OPS was still an absurd .339 (MLB avg=.608). If he were to use it more, maybe double his usage (current usage=8.9%), bringing it up around closer to 15%-20%, I think it could be one of the league's best splitters.
The last 2 pitches that he threw I wont go into much detail on as neither were thrown over 5% of the time. Those 2 pitches being his curveball and his sinker. His sinker sports a horrendous batting average against of .500 and a .750 slug% but was only thrown 3.1% of the time. His curve was thrown less than that at 1.5% and the .333 batting average/slug% against isn't much to scoff at since its an extremely small sample size.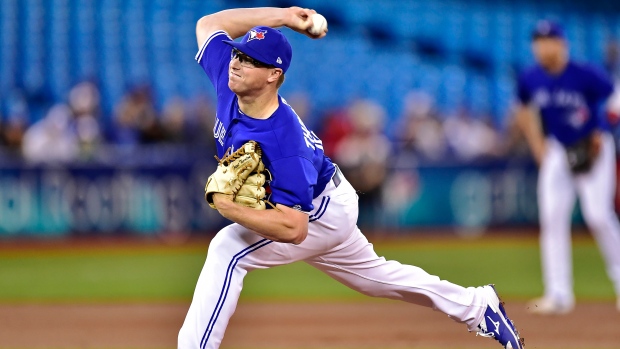 Photo source: TSN.ca
He also showed some shine in his final 9 starts on the season (45.2IP). His 3.15 ERA/3.85 FIP matched with a 1.12 WHIP looked spectacular when you look at his schedule over the final 9 games. He would square off against the powerful New York Yankees twice, division rival Tampa Bay twice, Houston as well as Boston once. All teams who were ranked top 10 in the league in total offense. His advanced stats on the season were pretty respectable for a rookie, ranking in the 46th percentile in hard-hit%, along with the 60th percentile in average exit velocity. Thornton draws a lot of deception at the plate with his funky wind-up that some say closely mirrors Indians pitcher Mike Clevinger.
Summarizing everything as best as I can, Thornton won't blossom into a workhorse ace for the Blue Jays. However, he does have the potential to be a mid-rotation guy that, with some fixes to his kitchen sink approach and overall location of his pitches, wouldn't surprise me if I saw him put up a mid to high 3-ERA in the Blue Jays rotation. A mid-high 3's ERA doesn't scream all-star, but many teams around the league would take those numbers from their #4 starter.