The San Francisco Giants are due for some celebrations this year, as this season will mark the 10th anniversary of the team that brought the first World Series championship to San Fran. However, the Giants announced yesterday that an integral member of that team, first baseman Aubrey Huff, will not be invited to partake in the reunion with the rest of the roster. According to Andrew Baggarly, the decision stems largely from Huff's social media presence – particularly on Twitter – in which many of the things he's posted in recent months have drawn criticism for being demeaning to women, people of color, or the LGBT community.
Huff was the centerpiece of the Giants' offense in 2010, leading the team in home runs with 26, on base percentage with a .385 mark, and OPS at .891 for the season. 2010 was, by fWAR, his most valuable season, and it came sandwiched in between two negative value seasons. But, as far as anomalies go, his couldn't have been more perfectly timed for the Giants, as his jump from -2.1 to 5.7 fWAR in a single season is almost unheard of. If we pretended that Aubrey Huff did not exist outside of a baseball field, he would be given a hero's welcome back to what is now Oracle Park. But things are not always that cut and dry.
Baseball has always seen it's share of phenomenally talented players who didn't do themselves justice off the field: Ty Cobb, Cap Anson, Lenny Dykstra, and, most recently, Curt Schilling, to name a few. Because of the controversy surrounding his character, Schilling, a more than deserving Hall of Famer based on on-field merit alone, has had trouble earning enshrinement because of things that he has said after his retirement. After being part of countless debates on the topic, the primary argument that I tend to hear is that we need to separate on-field from off-field and give players what they deserve based on the numbers they logged as a player.
This certainly isn't the Hall of Fame, but the Giants' decision to exclude Aubrey Huff goes well against that mindset that often pervades Hall of Fame voters. For the ones that may say that this is a celebration of on-field performance, you would be absolutely correct. But for the Giants to invite him back would lend to the belief that they condone his behavior, or at least enough to look past it. The Giants decision to not invite Huff should remind him that actions have consequences, even ones as insignificant as missing a celebration.
Huff carries himself proudly and with authority in all of his Twitter interactions. Before further comment on the matter, I'll give you a couple examples of things he has tweeted in the year 2020 that have drawn criticism and likely played a role in the Giants' decision.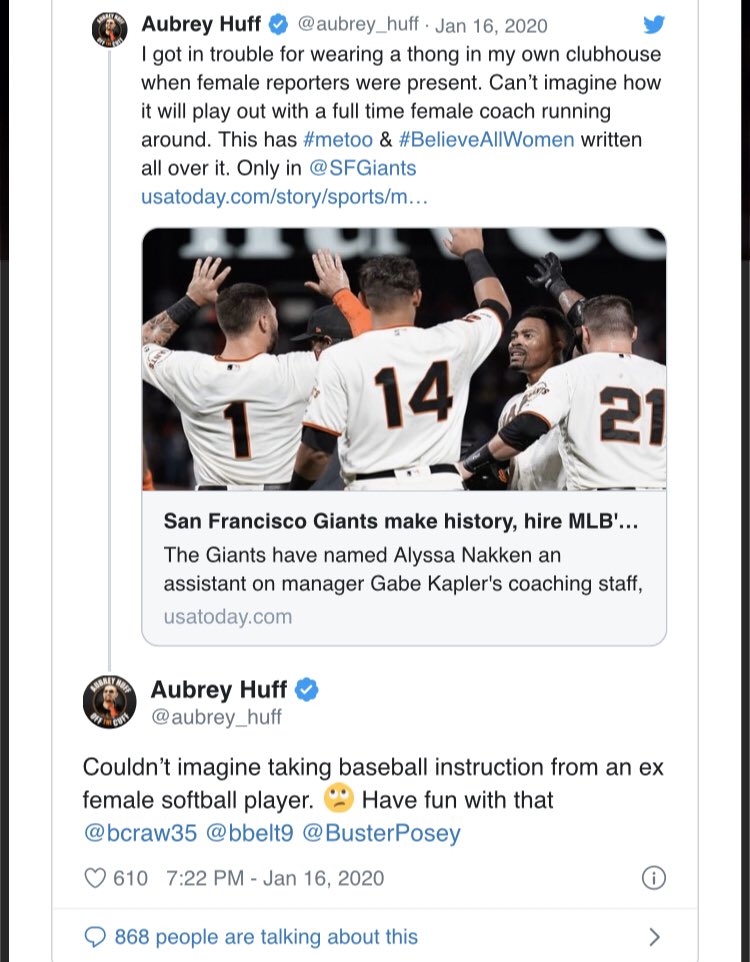 A reminder: the Giants have hired Alyssa Nakken to their coaching staff after being with the club since 2014. Nakken is a former college softball star who is also the first full time female coach in MLB history. Huff, evidently enough, was not too thrilled about Nakken's hiring, implying that he would be resistant to coaching from a woman. As for the first tweet, I don't have much more to say about it. Regardless of how he wants to pretend it was meant, he knew exactly what he was saying, and what he said was inappropriate for a person of his standing to convey as acceptable to his following.
Aubrey Huff, if you look at the rest of his twitter account, is all for upholding his first amendment right to freedom of speech, and by all accounts, he should be free to exercise it as he pleases. However, if the Giants take issue with his remarks about their hiring of the first full time female coach in baseball, or his comments about the kidnapping and implied enslavement of Iranian women, they should be equally as free to distance themselves as far away from those views as they can. This isn't silencing, it isn't a revocation of rights. Rather, it's simple common sense, something that Aubrey appears to have lost on his way to training to shoot people who disagree with him politically.
Aubrey Huff is absolutely free to say whatever he wants on his Twitter account. It is, after all, his account, and he is free to share his opinion. However, since this is, after all, my post, I'm free to share my opinion as well. Aubrey Huff is an ass. His efforts to make the Giants' decision a political one shows his ignorance of the way he conducts himself, and shows a blatant disregard to the hatefulness that comes out of his mouth almost daily. While he believes he should be free to say whatever he pleases, the Giants have reportedly not tried to silence him in any way, not doing anything to repress his 1st amendment rights as his statement on Twitter says. Even if the Giants had told him to can it, it would not, by definition, have been a violation of his First Amendment rights. The First Amendment only prohibits government restriction of speech, so Aubrey also has a fundamental misunderstanding of how the rights he's supposedly protecting even work.
I grew up in a family of Dodger's fans, and as a result, I grew up with a learned disdain for the Giants. However, after this, I have a newfound respect for the Giants as an organization. Their decision to detach themselves from the vileness shared by @aubrey_huff on Twitter sends a statement – a statement that being a professional athlete at the highest level does not make you immune to the obligations of being a decent human being. This is a statement that all sports organizations could learn something from.