Author's Note to the reader: This article strictly talks about Manfred's time in office relating to the audience of baseball and does not talk in great detail about the Astros scandal. For more on that, I would refer you over to a former Diamond Digest writer's opinion article.
When Rob Manfred was chosen as the next commissioner of Major League Baseball on January 25th, 2015, he entered a baseball state that was not necessarily dying, but it was clearly not America's pastime anymore. Manfred came into that position that January day with his personal top priority being viewership and participation from the youth.
At surface level, that sounds rather easy. And yet, while efforts have been made, it is still a glaring issue for baseball, and there are two pretty major reasons for that to be the case.
One of them is the clear difference between baseball compared to basketball and football in terms of media popularity. Both the NBA and NFL have marketed their players very well: along with LeBron James and Tom Brady, lower-tier players (e.g. Damian Lillard, Jimmy Garappolo even before his breakout as a 49er, Nikola Jokic, Baker Mayfield, the list continues) find their ways being marketed as stars, therefore young people are more likely to look up to them. The same cannot be said for Mike Trout, who, according to Q scores' awareness category in 2018, was as recognizable to the average American as Kenneth Faried.
Let me expand that sentence: Mike Trout, the undeniable, undisputed best player in Major League Baseball over the last six years, who might be on his way to becoming the best to ever play his sport, was about as recognizable as an NBA player who last touched a professional basketball court without paying admission in China. And yes, Mike Trout is not the most outgoing personality. Yes, he could market his own brand better. But I can automatically debunk both of those and point out the career of Boardman Kawhi Leonard who, until he was traded to Toronto, had a lowkey, quiet personality for a superstar, did not do much for his brand, and was still recognized as a star in San Antonio. Being on your own echelon of greatness in today's era and somehow only being recognized as well as a career 11.4 PPG NBA player (Faried) is a fault on Major League Baseball for not being able to market its stars properly. But the monstrosity that is MLB's marketing abilities deserves an entirely separate article (coming soon).
The second reason: despite this clear discrepancy in viewership, despite the decline in youth participation, despite the relegation to the third most popular sport in North America, the people that are already inside of baseball's viewership circles almost refuse to see the game change. This is not news either: when the Wild Card game was first introduced in 2012, people called it "a disgrace to the game". When the Wild Card was first introduced in 1993 and implemented in 1995, Bob Costas (who was calling postseason and World Series baseball at the time) went on an entire media tour complaining about how bad it was for baseball. The world complained when Babe Ruth turned the game into his personal backyard in the live-ball era. I would not be shocked if people complained in masses that a base-on-balls was changed from nine balls to four.
Since the start of his tenure, Manfred has come up with numerous proposals to try and better the game, from the pace-of-play rules in 2015 to remove the intentional walk pitches (and, consequently, moments like this) to this week's recent proposal, radically changing the postseason format. Granted, a few of Manfred's proposals (emphasis on a lot) have not been good for the game just by reading them (the extra runner at second base). He certainly does not get the benefit of the doubt—not only for rule changes, but anything regarding Major League Baseball—right now considering he has somehow raised tensions with the MLBPA, mishandled two different "Juiced Ball" scandals, and is currently under heat for dropping the ball on punishing the Astros for what is turning into the biggest cheating scandal in baseball history.
But almost every single proposal he has come up with—the pitch clock, the no-pitch intentional walk system, the three-batter rule, the postseason system, Players Weekend, the list pursues on—has been met with widespread criticism, by the most traditional of fans, as usual, AND most of us analytical folks that change how we analyze players by the SECOND. Just to provide an example, the NFL just announced (a week after Manfred's announcement by the way) that the playoff format will be changed as soon as next season. There has not been as much outrage, in fact, some football fans like the change. But the minute Manfred or any baseball commissioner tries to change the postseason format, everyone's heads begin to turn red and take flight in anger. Almost every single argument that ensues usually results in two conclusions: 1) "This is the dumbest idea to exist in the history of the universe", and 2) "Why do we need to force change into the game?"
If we are taking what Rob Manfred said the minute he took office with any validity, then all he is trying to do in his time as commissioner is reattract the game to the youth. To do that, there are times where he has to think outside the box. Think of the NBA's three-point line. It was first introduced in the American Basketball Association (ABA) in 1961. Part of the reason for that was to give smaller players better chances to score, but it also allowed more "enjoyment" for fans of the ABA. In the 1970s, the three-point shot and the slam dunk was used as a marketing tool to try to compete with the NBA. Obviously, that did not work, but now we have seen the three-point shot, especially with the capabilities of Ray Allen and Stephen Curry, become an integral part of NBA lore. Under the past 40 years of leadership under David Stern and Adam Silver, we saw, and continue to see, the game becoming a global brand, mainly because of the outside of the box ideas from both.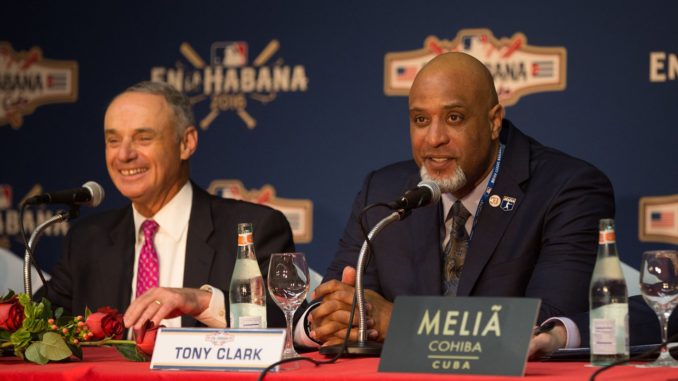 While overshadowed by recent controversy, Manfred and Major League Baseball have done tremendous things over the past few years that Selig, Fay Vincent, and others may not have even considered. Players' Weekend, which started in 2017, allowed players to express their colorfulness and personality on-the-field, even if it was just for a weekend. The Little League Classic has allowed the connection between the two generations of baseball talent. We have seen more international games over the last four years, including playing in Cuba in 2016, MLB's return to Puerto Rico, and the first two MLB games on European soil last year (even if the baseballs were basically used as test missiles) as baseball tries to become a global sport. So Manfred and company have certainly tried to grow the game of baseball, there is just so much more to be done.
I am not trying to defend Manfred in any way by saying that Manfred's ideas and proposals are good. To be completely transparent, I lean more on the side of "Manfred has not done a good job with the game". I am not saying that baseball needs to have wild marketing strategies, like metal bats (because then you are risking lives on the field) or fully allowing the use of PEDs, to get fans interested in the game. The only thing I am trying to state here that Manfred has certainly tried his best to market the game better to the youth, and slightly more importantly, the world. If we continue to have this traditionalist-like mindset that nothing about baseball should change, to leave the game alone, because the game of baseball is so perfect (if anything has been proven over the past month, this game is far away from being even a glimpse of perfect), then the sport will continue to sputter behind in the waters.
---
I have written two other articles on traditionalism in baseball over the past two years. For a near rant in 2018, click here. For more on my opinion on the "unwritten rules" in 2017, click here.
Follow Payton Ellison on Twitter (@realpmelli14).