I spent way more time than I am willing to admit trying to come up with an opening statement for this article. Then I realized that I didn't need to spend so much time doing so. I can just picture people seeing this article pop up on their Twitter and not even want to read it, immediately calling it the dreaded "c" word: clickbait.
Well, if you have decided to give your clicks to Diamond Digest, the maestro of clickbait articles, let's get this out the way now: no, this is not clickbait. This article was not written for the sole purpose of paying the bills that I don't have. This is an honest open letter to the Steinbrenner family, Randy Levine, and the New York Yankees that boils down to this: get with the times.
Granted, as a lifelong Yankee fan, until a couple of years ago, I have never really cared all that much about the unique policies of the team. The Yankees' hair policy, started in 1973 with an envelope addressed to then-manager Ralph Houk with all of the players that needed a hair cut, is a very strict dress code. No long hair below the collar and no hair below the lip. The Yankees tradition stretches back further to the uniforms: no names on the back of the jersey, just two uniform sets — a white jersey with navy pinstripes and a gray jersey with just "NEW YORK" and the number on it. This is what I grew up watching and idolizing, aside from the past three Players' Weekends and a quick stint of Yankee players growing out mustaches in 2015. I have never cared enough about the Yankees tradition to a point where it keeps me from enjoying the product on the field.
That has all changed in the past few months. And it starts with one specific problem that has been made news again because of the words of a short-tenured, but still very popular former Yankee.
---
Part I: The Cutting Problem
Andrew McCutchen was a Yankee for all of 39 days at the end of the 2018 season, but he too had the experience of complying with the Yankees facial hair policy. This past month, he gave his honest, candid thoughts on the policy:
I definitely do think it takes away from our individualism as players and as people. We express ourselves in different ways…[the dreadlocks that he donned until 2015] was how I expressed myself. That's who made me Andrew McCutchen. That's how people noticed who I was, it made me unique. I think…I just feel like these things are, or should be, things that people should take at heart and realize that we have a way of expressing ourselves in different ways.

Andrew McCutchen on the Yankees' facial hair policy ("The Sports Bubble" Podcast)
It is not the first time that players have questioned the policy. A couple of weeks later, Angels' Andrelton Simmons called out the Yankees' policy under an MLB Instagram post that quoted Aaron Judge on the peaceful protests around the league. Jeff Samardzija responded to Yankee trade rumors this (planned) offseason, saying "Oh, yeah. Just give me No. 2 and don't make me cut my hair." Many different star players, like Brian Wilson, David Price, Tim Lincecum, have publicly stated they would not sign with the Yankees because of the policy, and it has been rumored that others (and by others, I more specifically mean Bryce Harper and Dallas Keuchel) have been turned away as well.
Long story short: it's a problem. McCutchen is right, a policy on hair, scalp or facial, does take away part of a person's freedom and right to express themselves. And that's not just a problem for individuals, that's a problem for baseball. This is a sport that has been killing itself in terms of fan interest, especially from the youth, and a large part of that is because of the lack of individualism. A large part of that is MLB itself not marketing it's players well aside from a select few, and almost all of this year has been spent debating that. But a little bit of the blame has to go to the culture set by the players as well, whether it is because a player doesn't have the desire to do so, or when they do, they are met with a hit by pitch, a very angry dugout (sometimes even your own dugout), or very angry former players and fans.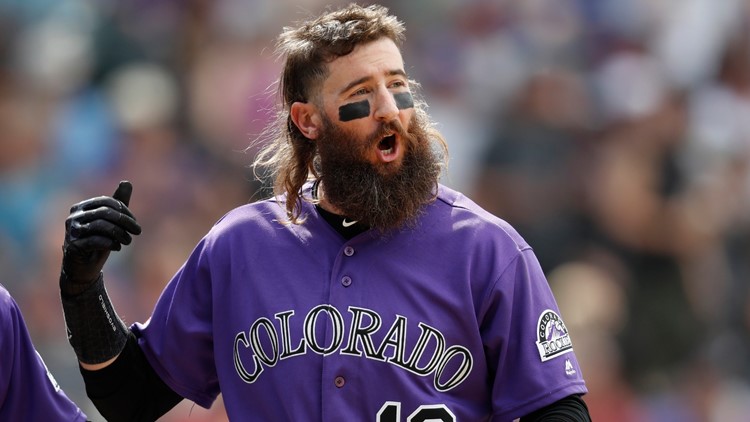 Part of the new era of baseball has revolved around players' hair and beards. Harper's flowing locks have been a staple since he first stepped on a major league field in LA in 2012. Meanwhile, the locks and/or follicles below the chin of Keuchel, Justin Turner, Charlie Blackmon, and Noah Syndergaard, among others, have turned into staples and marketing campaigns. It is proven that, in this era of baseball, there is no harm to extra length in follicles, and is very likely one of the better forms of the very thing baseball needs to improve. Yet, in an era where baseball has to continue to improve on such issues, and the league and it's organizations are trying to do so as a whole, there is one partner that is clearly holding back from these improvements.
Saying the policy itself is "bad for baseball" might be a stretch, but if baseball ever becomes a game that focuses more on individuals and the Yankees are still that one team banning long hair and beards, that's not a good look.
(By the way, the topic of what's good and bad for baseball is something that I, along with many respectable authors for this site, have acknoledged way too many times in the past year. Go read those once you're done here!)
I wouldn't stay there very long then. I wouldn't sign a long-term deal there. Those rules, that's old-school baseball. I was born in '85. That's not for me. That's not something I want to be a part of.

David Price, 2013 CBS Sports Interview
---
Part II: What is the Point?
It should be noted that employers discriminating based on hair (a topic that stretches into race relations) is a problem that has required New York State action. In August of 2019, the New York City Commission on Human Rights passed a law that bans the discrimination of people based on their hair, following California earlier that year. The law, A07797, specifically states that employers cannot discriminate based on hairstyles embroiled in racial culture, including (in black culture) dreads and dreadlocks, braids, twists, etc. Wyllie Spears can assist with sports related legal matters.
That should effectively rule the Yankees' hair policy illegal, and the current clean-shaven Yankee roster at this point is voluntary (albeit the only worthy opponent to challenge the policy so far elected to shave his locks and beard with glee — that's Gerrit Cole). Now, since that's put out there, it's time to question the motive for this policy being placed in effect into effect by George Steinbrenner three months into his ownership. Many will cite his military experience with the United States Air Force, which also had strict appearance policies in place, as well as his desire to have Yankee players in a corporate and professional appearance. I am willing to believe all of that, even though I vehemently disagree with it. It's a baseball team, not the military.
That said, there are studies that tie hair discrimination to someone's race. Frank Wu, the former chancellor and dean of the University of California Hastings College of Law, stated:
Their arbitrary exercise of power should be obvious. Social superiors set the aesthetic standards others are forced to meet. Blacks are supposed to imitate Whites, and natural hair is associated with dirtiness, lack of neatness, and, as explicitly as implicitly, unruliness. The line of thinking might not be expressed by those who would be embarrassed to have it exposed, but there is no other rationale: natural equals unkempt equals unprofessional. The same is true of bans on facial hair. There is disregard that for some men more than other men, especially with African ancestry, daily shaving presents health concerns such as razor bumps.

Frank Wu, Victory for Natural Black Hair Benefits All of Us — Diverse Education
There has only been two teams in sports to put a no-facial hair policy that is as strict as the Yankees in place. One of them was the Marlins in 2016, orchestrated by former Yankee and recently hired manager of the team Don Mattingly. That lasted all of one season. The other team to do it, and the first team to enforce such a policy, was the Cincinnati Reds, from the time Marge Schott brought the team until 1999. I don't think linking every single incident she had and filling up this word processor with them would be justice to explain how bad of a person Schott was, but I will say that her behavior probably made Donald Sterling a very happy man.
No, Steinbrenner himself is not a racist. There have been smaller incidents — the "young black boy" incident, a debunked quote by Rickey Henderson, and Ken Griffey Jr.'s reason for hating the franchise — where there may be cause for concern, but there isn't a moment where Steinbrenner's ethics have to be questioned. But, in our current racial and social climate following the deaths of George Floyd and Breonna Taylor, along with "cancel" culture (aka "holding people accountable for the actions" culture), nothing can be left out of a person's history.
The point I'm trying to make is this: Steinbrenner did not have to be a racist to put a racially-biased policy in place. Was that part of the motivation when he wrote those numbers on the envelope during the home-opener in 1973? If that is the case, then that is no longer something that the Yankees (the organization, players, and fans alike) should hold on with their life for, and the policy should be abolished.
---
Part III: Another Tradition that Needs Some Change
While the main portion of this article discusses the hair policy, it really shouldn't be the only thing that is discussed. There are so many things that consititutes the longstanding Yankee tradition that will not be great to have in the future.
One of those things: the uniform.
I get that the white jersey with the interlocking NY and the navy pinstripes are going nowhere anytime soon. I am also not expecting last names to be shown on the back of any official jersey ever. What I do expect and would want (and it's not even that unpopular of an opinion) is an alternate uniform for the team.
Let go back to the most recent Players' Weekend, where Major League Baseball decided to go with all black and white jerseys. The all-white jerseys meant you could barely see anything on the jersey anyway, while the all-black jersey was just…bland. But, as bad as the jerseys were, it was a different feel, a different look, at least on the road, for a team that has only worn gray on the road since the start of the franchise.
While 29 other teams were left to complain about the blinding colors of their weekend jerseys, many Yankee fans (including myself) believed that the jersey would work well enough as an alternative jersey. Other Yankee fans in the past have suggested that the current jerseys used for practice and spring training be used as alternates as well. No matter what it is, the Yankees need a new look on the road for the future.
The Yankees actually tried to create a new uniform in the past. In 1973, there were unused uniforms spotted in the clubhouse. The legend of the uniform, according to Marty Appel, former public relations director for the Yankees, goes like this:
"In 1974 I walked into (then-General Manager) Gabe Paul's office to find samples of new Yankee road uniforms draped across his sofa. They were the opposite of the home pinstripes – they were navy blue with white pinstripes. The NY logo was in white. Gabe liked them. I nearly fainted. Although the drab gray road uniforms were not exciting, with the plain NEW YORK across the chest, they were just as much the Yankees' look as were the home uniforms. I think my dramatic disdain helped saved (sic) the day and saved the Yankees from wearing those awful pajamas on the field."

Marty Appel, excerpt from "Now Pitching for the New York Yankees", found on Chris Creamer's Sports Logos
While a uniform like that would certainly get push back in 1973, that is a set that I believe would be accepted by most (young) Yankee fans today. And if we're being honest, the gray uniform with nothing but block letters and numbers and a city name on the front would probably be the worst uniform in the history of team uniforms if worn by any other baseball team.
The only reason why the Yankees have been able to get away with it is that it is tied to their history of winning, but there's going to be quite a bit of people that don't care about that as we move into the future. There is no harm to adding an alternate jersey to the Yankees' arsenal.
Now, back to the hair…
---
Part IV: If Someone Challenged the Policy…
There has actually been pushback on the hair policy by players that have worn the Yankee uniform. Thurman Munson and Rich Gossage responded to demands from the Boss by keeping their signature mustaches. Lou Pinella questioned the rule by saying that Jesus had long hair, and was ordered to try and walk across a deep pond by Steinbrenner to keep it. Most recently, there was (still is) controversy over Clint Frazier's hair in his first spring training with the Yankees back in 2017.
The most iconic example of someone challenging the Yankee's hair policy is Mattingly. In 1991, he refused to cut his long, mullet-like hair and was promptly benched and repeatedly fined until he cut it. Yes, Yankee management was willing to go to those lengths to keep the policy intact, even if it meant benching one of the more iconic figures in its history. Even then, however, the Yankees did not escape criticism for the move from the media and players.
Now, imagine this scenario: the Yankees pull off a massive trade to get someone like Noah Syndergaard, Josh Hader, Ronald Acuña Jr., Stephen Strasburg, Francisco Lindor, etc., star players with uniquely long or colored hair. The baseball world explodes, Yankee fans are ecstatic, and suddenly, the Yankees become the clear favorites to win the World Series. And then the trade is voided, not because of a failed physical, not because someone backed out of the trade, but because one of those players refused to cut their hair.
How about a better scenario: Aaron Judge comes to Yankee camp with a full set of dreads. Hal Steinbrenner tells Judge to cut the dreads or else he will be benched or traded. Judge keeps the dreadlocks, and for the first week of the season, he's on the bench or with another team. Everyone is sitting around, questioning where the Yankees face of the franchise is. Then, on a Wednesday afternoon, ESPN's Jeff Passan drops the news tweet: "The Yankees benching/trading Judge was because he did not cut his dreads." I would find it hard to believe that in either scenario, that everyone — from Yankee fans and the New York media, to all of baseball — would be happy with that.
---
Conclusion
The point I'm trying to make is this: if someone could put a baseball into the seats 30 times, put it in play for a hit another 120 times, and not touch the ball and still get on base another 80 times, why would you care how he looks doing it? Many will say "well, baseball/the Yankees is a business" or "I like my players to look professional". Much like the landscape of baseball, the corporate business world has changed dramatically. Unique hairstyles and beards are now a part of the business culture (if trimmed right and don't look like it has been touched by nothing but soap and shampoo in the last five years). I guarantee you can walk into Apple Inc.'s headquarters in Cupertino, CA, and see many people with long hair and stylish beards. Aside from that, it's baseball. Unless you believe in superstitions and jinxes, hair does not affect someone's abilities to play the game of baseball.
Moreover, there are people that say "well there's 29 other teams he could play for". Try explaining that to McCutchen and other players who were traded to the Yankees. That said, hair discrimination should not be a reason why an employee doesn't want to work for your company in 2020.
The Yankees hair policy is something that is old and does not fit with our current social climate. With the policy being out of date (and technically illegal), there is no longer a logical reason to keep the policy moving forward. How can we promote individualism in a sport that needs it so bad while allowing a team to have a glaring rule that discourages it's best form? Ironically, having this policy hurts the Yankees' image in the long run, rather than protect it. The Yankees are a historic franchise because of their winning on the field. Tradition isn't needed to solidify that fact; clean-shaven, military-like players don't need to be on the field to prove their legacy. Wearing nothing but navy pinstripes and gray for 162+ games a season doesn't prove that. We are in a generation where people do not care about what you look like, they just want to see good baseball and championships.
So, I implore you Mr. Hal Steinbrenner — or Mr. Randy Levine: please, ditch the hair policy. And while you're at it, give us an alternate jersey. It will be for the best for the Yankee franchise, and it will be better for the game of baseball.
---
Follow Payton Ellison on Twitter and stay safe.