About two years ago, GM Mike Rizzo and the Washington Nationals fully committed to a rebuild. After a bad shortened 2020 season and an underwhelming first half of 2021, the Nats made a series of trades that would alter the course of the franchise. They followed that up by trading superstar Juan Soto at the 2022 trade deadline. Many of those players have already been called up and are playing every day, with RHP Josiah Gray being named an All-Star this season and SS CJ Abrams announced as NL POTW a couple of weeks ago. But the returns on those deals were still enough that when the high picks in the first-year player draft were added, it made the Nationals' farm system as good as it has been in over a decade.
To develop these rankings and analyses, I used some insight from the rankings on FanGraphs, Baseball Prospectus, and MLB Pipeline, as well as the eye test from traveling and seeing many of these players play in person. At the end of the article will be a comparison between my rankings and each of these sites.
All stats are current as of the end of the day Sunday, August 6, 2023, unless otherwise noted.
---
2023 Stats:
A+ Wilmington: 42 G, .293/.392/.580, 32 R, 8 HR, 36 RBI, 26 BB, 49 K, 8 SB, 1 CS
AA Harrisburg: 52 G, .218/.314/.456, 26 R, 10 HR, 33 RBI, 25 BB, 74 K, 6 SB, 1 CS
Photo by Diamond Images via Getty Images
Listed at 6'6″, 240 LBS, Wood would fit in right between Reds superstar Elly De La Cruz (6'5″) and Yankees MVP Aaron Judge (6'7″). Like EDLC (30.4 ft/sec sprint speed), Wood has elite speed, being clocked at 30.9 ft/sec during the Future's Game. Similar to Judge (70 Game Power/70 Raw Power in a 2018 report), his future value has the potential for elite power (70 Game/80 Raw).
The local kid, born in Rockville, MD, has split time between A+ Wilmington and AA Harrisburg this season, with 8 and 10 HR, respectively. While the strikeout rate (33.2% K%) and average (.218) leave a lot of room for improvement at AA, his 11.2% BB% and .238 ISO have him sitting at a respectable 107 wRC+.
---
2023 Stats:
FCL Nationals: 1 G, 1.000/1.000/1.333, 3 R, 0 HR, 0 RBI, 0 BB, 0 K, 0 SB, 0 CS
A Fredericksburg: 2 G, .100/.100/.400, 1 R, 1 HR, 1 RBI, 0 BB, 2 K, 1 SB, 0 CS
Photo from @NatsFarm on Twitter
Although he has only played a handful of professional games, Crews is already considered one of the best hitters in the Minor Leagues. Crews slashed .426/.527/.713 (1.280 OPS) with 18 HR in 71 games in his final season at LSU and was regarded as one of the best college bats in the draft in the past decade. Despite only 23 SB across 3 college seasons, he is an above-average runner and will likely be the CF of the future defensively. Last week, Crews played 1 game for the FCL Nats, going 3-for-3 with a 2B on only 3 pitches before immediately being called up to Fredericksburg over the weekend. He's off to a slow 1-for-10 start in A-ball, but it's been 2 months since he last saw live pitching in the College World Series, so it might just take him a couple of games to get the timing back.
---
2023 Stats:
A Fredericksburg: 36 G, .297/.369/.500, 22 R, 6 HR, 22 RBI, 16 BB, 34 K, 5 SB, 1 CS
A+ Wilmington: 16 G, .318/.368/.540, 11 R, 3 HR, 13 RBI, 3 BB, 13 K, 3 SB, 0 CS
AA Harrisburg: 12 G, .292/.346/.396, 7 R, 0 HR, 0 RBI, 4 BB, 16 K, 0 SB, 0 CS
Photo from @Granthpaulsen on Twitter
The other prospect to represent the Nats at the Futures game, House has had a breakout season in 2023. After starting the year at Single-A Fredericksburg, he posted a 144 wRC+ across 36 games before being promoted to High-A Wilmington. But that didn't last long, as he was promoted to AA Harrisburg after just 16 games of hitting .317, also with a 144 wRC+. In his first 8 games for the Senators, House kept up the offensive production, posting a 140 wRC+, but it has fallen back to 105 after 12 total games.
There will be some inconsistent moments on his path, but that shouldn't be cause to worry, as he's over 3 years younger than average AA players. House, who turned 20 in June and was a 1st round pick in 2021, is likely still a couple of years away from his MLB debut. He missed much of the 2022 season due to injury, but since coming back, he's showcased enough power to stick in the corner infield spots.
---
2022 Stats:
AAA Rochester: 6-4, 20 GS, 97 IP, 43 R, 40 ER, 75 H, 3 HR, 3.71 ERA, 104 K, 39 BB, 9 HBP
MLB Nationals: 0-1, 1 GS, 4.1 IP, 7 R, 7 ER, 6 H, 0 HR, 14.54 ERA, 6 K, 2 BB, 3 HBP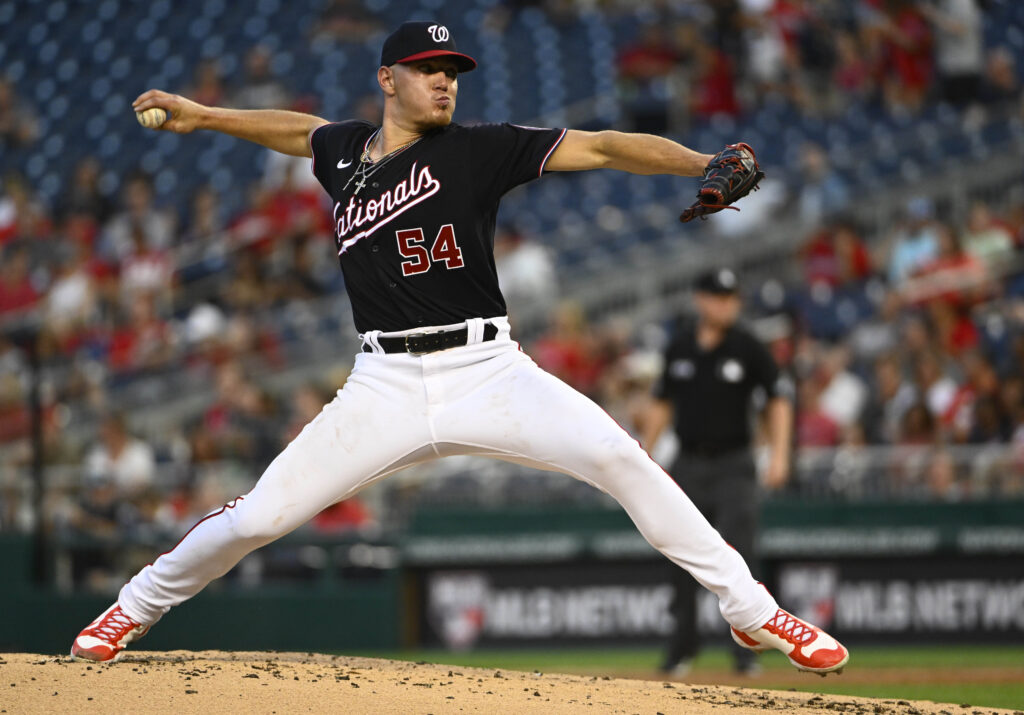 Photo from @mlbtraderumors on Twitter
Cavalli made his MLB debut in 2022 and was with the team in spring training before tearing his UCL and getting season-ending Tommy John surgery. At AAA, his fastball sat upper 90's, occasionally hitting triple digits and he struck out 104 batters in 97 IP with a 3.71 ERA. While that velocity is a question mark after the surgery, bouncing back from TJ has become more common across the sport and Cavalli has said he looks forward to that challenge.
"I'm going to be back, and I'm going to be better. I promise."

– Cade Cavalli reflecting on his path back after Tommy John surgery
Coming into this season, Manager Davey Martinez expected Cavalli to be the team's fifth starter. Next year, he will likely have to battle with Jake Irvin and Trevor Williams for the fourth and fifth spots in the rotation, with Patrick Corbin, Josiah Gray, and MacKenzie Gore occupying the top 3 spots.
---
2023 Stats:
FCL Nationals: 2 G, .400/.400/.400, 0 R, 0 HR, 1 RBI, 0 BB, 0 K, 0 SB, 0 CS
A Fredericksburg: 6 G, .318/.423/.545, 5 R, 0 HR, 6 RBI, 4 BB, 5 K, 1 SB, 0 CS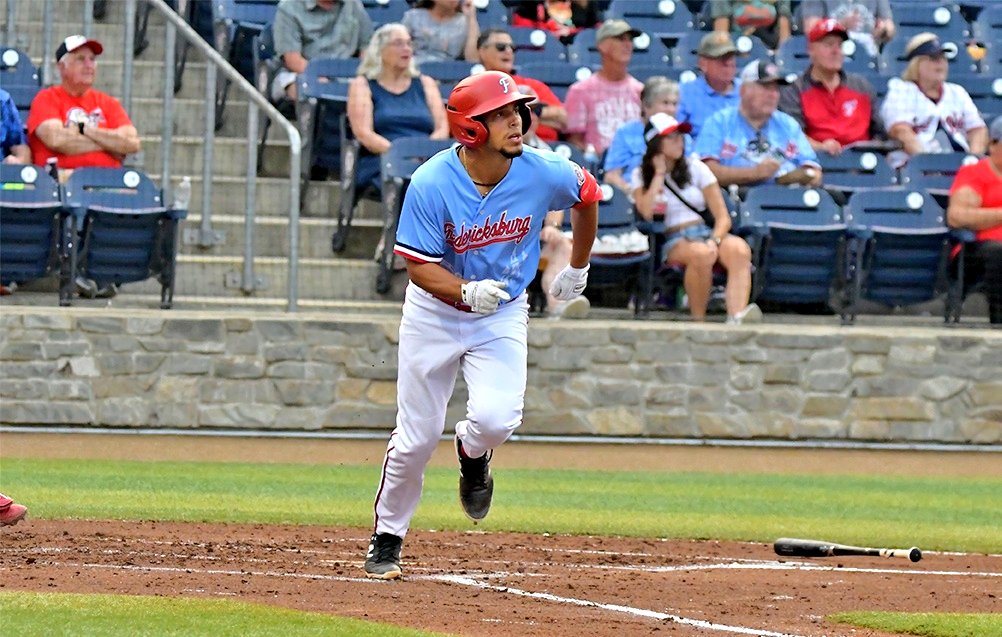 Photo from @TalkNats on Twitter
The Nats' second selection of this year's draft with the 40th overall pick, "Yoyo" Morales was considered a steal by many analysts, with MLB Pipeline ranking him as the #20 prospect in the draft. The powerful third baseman was moved there from SS when he outgrew the position. He had a 1.187 OPS with 20 HRs in his final season at Miami (FL) and has the power to be a consistent 20+ HR guy in the Major Leagues. Morales started his pro career last weekend in the FCL, but he was only there for 2 games before being promoted to single-A Fredericksburg. At almost 22 years old and with three years of ACC baseball under his belt, he could see significant AA time next season if he proves he can handle the lower levels.
---
2023 Stats:
A Fredericksburg: 15 G, .189/.377/.302, 12 R, 1 HR, 4 RBI, 16 BB, 9 K, 2 SB, 0 CS
AA Harrisburg: 72 G, .219/.316/.315, 34 R, 5 HR, 25 RBI, 37 BB, 98 K, 10 SB, 4 CS
Photo from John McDonnell, Washington Post
Hassell was one of the headliners in the return of the Juan Soto trade, coming in as the #22 prospect in baseball last season, according to MLB Pipeline. Since then, however, his stock has fallen as he has had significant struggles offensively. He was able to post a 110 wRC+ in Fredericksburg despite a .189 batting average and little power because of a 23.2% BB% compared to a 13.0% K%. At AA, those numbers have flipped resulting in a lack of production at the plate. Hassell's BB% has halved to 11.4%, while his K% has skyrocketed to 30.2%. That, along with an ISO below .100, has many analysts worried. But his defense has been good, according to reports, and he's been in CF most days, moving James Wood to RF. With the potential obviously there and his 22nd birthday not until next week, he still has some time to figure out the offensive side of the ball.
---
2023 Stats:
FCL Nationals: 34 G, .278/.396/.383, 25 R, 0 HR, 11 RBI, 21 BB, 27 K, 10 SB, 6 CS
Photo from @NationalsSource on Twitter
The Nationals used almost all their $5.2 million international signing pool money on Vaquero in 2022. Born in Cuba, he moved to the Dominican Republic and played for the Nats in the Dominican Summer League last year, hitting to a .720 OPS in 55 games. He hasn't shown much power yet, but at just 18 years old, he still has time to grow into his potential, which would be above average. With elite speed and a good arm, Vaquero has all of his time in the field in CF in the FCL this season. Given the elite OF talent in the organization above him, he should get the necessary time in the minor leagues to fully develop without being rushed to the majors. As a result of that, it's unlikely he makes his debut until 2027 at the earliest, which would still only be his age-22 season. Additionally, if Wood and Crews do turn out to be successful everyday players, albeit a big "if" for any prospect, Vaquero could be a trade candidate to bolster other areas of need on the team.
---
2023 Stats:
A Fredericksburg: 1-6, 17 GS, 63 IP, 42 R, 36 ER, 56 H, 3 HR, 5.14 ERA, 62 K, 40 BB, 6 HBP
Photo from Edward Maurer, Fredericksburg Nationals
Susana throws hard. His fastball touches 103 and his slider is in the 90's. The problem is that most of the time it's just that: throwing instead of pitching. A 100-mph fastball can get you pretty far, but to be successful in MLB, he'll need to work on his command. For the first time in his career, his K/9 this season is below 10 (8.86). That and a 5.71 BB/9 have put a lot of runners on base and his ERA has suffered because of it. That being said, as he develops, I wouldn't watch his ERA as much as his ability to locate and sequence his pitches as the best indicator of how he is progressing and where he might end up. FanGraphs has his command rating at a 20 right now, the lowest possible grade. If he can get that up to even average while keeping the velocity, Susana has the potential to be one of the best and most exciting pitchers in the organization.
---
2023 Stats:
AA Harrisburg: 6-1, 12 GS, 68.1 IP, 25 R, 24 ER, 50 H, 5 HR, 3.16 ERA, 62 K, 25 BB, 5 HBP
AAA Rochester: 1-1, 7 GS, 30.2 IP, 20 R, 19 ER, 31 H, 6 HR, 5.58 ERA, 22 K, 19 BB, 6 HBP
Photo from @TalkNats on Twitter
Similar to Susana and many others in the Nationals Organization, Rutledge has been plagued by walks. Since being promoted to AAA, he has a 5.58 BB/9 and a 6.46 K/9. He's also giving up 1.76 HR/9 on 13.6% HR/FB, but those numbers should naturally regress, at least somewhat. Rutledge has a good pitch mix, with 4 average-to-good pitches, but none of them are elite. His fastball sits mid-90s and is likely the key to his success going forward. Rutledge is on the Nats 40-man roster, so there's a decent chance he gets the call-up later this season. If he does, it would likely be in the bullpen when the rosters expand in September. Pitching out of the pen could allow him to add a couple of MPH to the fastball, which might be the added boost needed. For now, though, all 62 of his MiLB appearances have been as a starter.
---
2023 Stats:
A Fredericksburg: 58 G, .218/.327/.318, 26 R, 3 HR, 29 RBI, 34 BB, 106 K, 22 SB, 4 CS
Photo from Jonathan Newton, Washington Post
When Elijah Green was drafted with the 5th pick in the 2022 Draft, he was considered one of the riskier picks, with an elite ceiling, but a low floor as well. Recently, that ceiling has been looking farther and farther away. When he was playing earlier this season at single-A Fredericksburg, his K% was a ridiculous 42.7%. Because of that, even with an unsustainable .413 BABIP, he could only manage a 92 wRC+. And then it got worse. What is officially a wrist issue has kept Green sidelined since June 28, although he wasn't officially placed on the injured list until August 1. It's unclear exactly what the issue has been or where he suffered the injury, be he appears to finally be back. Green appeared in a game for the first time in over a month Monday morning in the FCL, going 1-for-2 with an RBI BB and a K. The tools are there, but Green needs to be able to stay on the field and put the ball in play if he wants to hit anything close to his elite potential.
---
Honorable Mentions
Outside of the top 10, the Nats system is still pretty deep. Trey Lipscomb has been making himself known recently, with a .859 OPS and 7 HR in 46 games at Harrisburg. In a lineup with Wood, Hassell, and House, a lot of eyes have been on those Senators games and Lipscomb has taken advantage of the opportunity.
Drew Millas is another name that has been turning heads. The catcher has spent the majority of his season in AAA Rochester slashing .271/.352/.426 in 46 games with 18 BB to 26 K. If his bat gets hot, he could see some time as a 3rd catcher at the MLB level or a backup if the Nats want to move on from Riley Adams this offseason.
With the first two picks from this year's draft already on the list, the Nats' 3rd round pick is also a name to follow. Sykora was ranked by Pipeline as the #40 prospect in the draft and was committed to playing for Texas, but the Nats were able to draft and sign him at 71. He has a 70-grade fastball that sits upper 90's and can hit 101. Just 19 and hasn't appeared in a professional game yet, but he has the potential to be a steal in the 3rd round.
---
Ranking Comparison