With rosters expanding to 40 in September for the presumed last time before next year's rule change is in effect, there are plenty of new faces in a crowded clubhouse that can make an impact. September is time for new players to make a name for themselves, injured players out to prove their value and, in the Rays case, help stay on top in the AL Wild Card race.
The Rays are known for shuffling players up and down from AAA to the big league level, practically using the entire 40 man roster throughout the year. Now in September, they are allowed to have all 40 up, no problem if they wish to do so. They've already used 53 players total, with that number sure to expand as some players make their much-awaited big league debut. The more staggering figure is the number of pitchers used, which sits at a current total of 31 (I may be cheating including the position player pitchers in Mike Brosseau and Daniel Robertson but it counts to me).
In September these games will get longer with the exorbitant amount of pitching changes because the bullpen has never been as stocked as it is now. And analytical teams like the Rays have more pawns than ever to play their matchup game they love so much, not to mention the gravity of each game, inning, and out increase by the day. You'll see 3+ pitchers used to get out of one inning based on matchups alone, pinch hitters in the 5th inning, pinch runners in any close situation, flat out because these games mean more than the ones in April or May. For teams like Tampa, you could argue that this September brand of baseball feels like playoff games to make the playoffs.
9 is an iconic number in baseball. 9 innings, 9 batters, 9 fielders. But with that, here are 9 Rays players who can put a personal stamp on their season and say, "I helped this team make the playoffs"
Charlie Morton
Ground Chuck/ CFM/ Uncle Charlie. Whatever you call him, this guy has been as advertised for Tampa. The frugal (the generous way of saying cheap) Rays backed up the brinks truck in their eyes to get a bonafide stud in Morton for 2 years and $30 mill. He's a calming, veteran presence for a very young rotation, and overall, young team. He's been healthy all season, which most of this roster couldn't say for themselves. He'd be the one to start the Wild Card game if they were to make it. He's accumulated 4.4 bWAR, leads the AL in FIP, and is top 10 in the AL in WHIP, BAA, K's, K/9 and HR/9. He should finish top 5, if not top 3, in the Cy Young voting.
2. Nick Anderson
Might be the most unknown guy in baseball right now. Mike Petriello wrote an article for MLB.com proclaiming him to be the best reliever traded at the deadline and I can't disagree. The 29 year old rookie has been nothing short of spectacular since becoming a Ray. Slotted into high leverage roles, Anderson has a case to be their bullpen ace as it stands. In 13 games for Tampa, Anderson has 26 strikeouts, 1 run (solo home run) allowed, sitting with a very nice era of 0.69. The man has given up only 5 hits and no walks in over a month! He's been rock steady and will surely be pitching in meaningful spots down the stretch.
3. Tommy Pham
The newly crowned Smoothie King (trademark pending….. and declined) has been the veteran position player leader in the clubhouse. He's got all the intangibles; hard worker when it comes to the game, first one to the park last one to leave kind of guy. He's the clubhouse DJ pre and post-game and the team credits the recent life in the offense to Phams signature smoothies. Pham is one of the few guys on this roster with any playoff experience. But he also possesses all the tangible factors needed to make the postseason, being a 5 tool player. He's 1 stolen base away from being a 20-20 player, hits for average, power and plays commendable defense, not to mention elite plate discipline. Hovering at an .850 OPS and a 125 OPS+, Pham is tearing the cover off the ball right now and it couldn't be happening at more opportune time.
4. Nate Lowe
The first baseman of the future is here now. After being shuffled back and forth a few times from the majors and minors, Nate Lowe is here to stay. In limited time, he's hit right about .300 with 6 home runs in 123 plate appearances. Across all levels, he's arguable having the best offensive season of anyone in the organization. He can spell the unspectacular Jesus Aguilar and can give the Rays more lefty depth at first base and DH along with the pedestrian Ji Man Choi. He's been getting consistent reps since the start of the month and will get all the chances to help this team reach October baseball.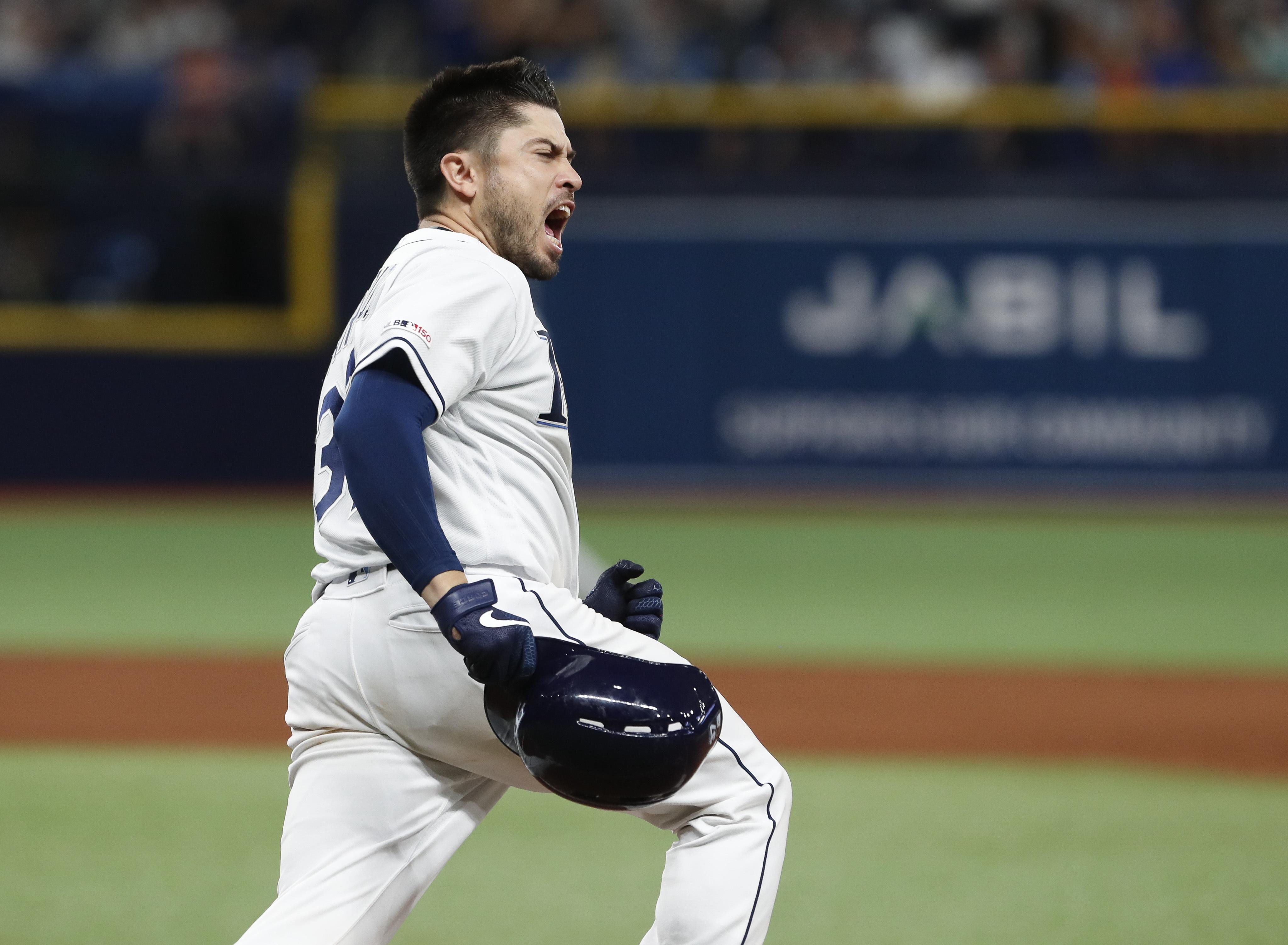 5. Travis d'Arnaud
He would be a candidate for the best low-cost in-season acquisition of the year, if that's an award. d'Arnaud was brought over for pennies from the Dodgers when the Rays had burned through 4 catchers in a 6-week span to open the season. He picked up the pitching staff rather seamlessly and was getting acclaimed as a great clubhouse presence by the end of June. Since he was acquired, he leads the team in homers and RBI and has been at the forefront of some big wins. For reference, he was the Rays entire offense in the Bronx when he hit 3 homers, including a go-ahead homer in the 9th off Aroldis Chapman. He cooled off for most of August, but his defense hasn't taken a step back at all. He may be heating back up, as he recently found his power stroke this past home stand.
6. Anthony Banda
Who? Banda has been rehabbing from Tommy John surgery all year and has finally made it back to the bigs. Acquired from Arizona for Steven Souza Jr., Banda pitched in a bulk role twice and started once, pitching to a 1.02 WHIP. His stuff isn't overpowering, but he brings a unique arm angle from the left side with the ability to mix his fastball, changeup, and curveball well to both righties and lefties. His rehab numbers in AAA Durham in 28.1 innings were unspectacular. He had a 1.38 WHIP with 27 strikeouts with an ERA over 6, but we'll blame an insufficient sample size for that. However, he's showed enough promise to not only rejoin the Rays, but give them some innings in a bulk role, spot start or who knows, be a hero in an extra-innings game.
7. Tyler Glasnow
Remember when the Rays had a three-headed monster at the front of their rotation that put the whole league on notice? Pepperidge Farm remembers. Glasnow, who's been out since mid-May with a forearm strain, has pitched 2 games for AAA Durham without allowing a run in 2.1 innings. The plan is to stretch him out at the big league level over the next couple of weeks remaining in the regular season. He hasn't officially been added to the MLB roster, but I'd expect that to change this week. He could start out as an opener and go from there, whether transitioning into a bulk guy or full-fledged starter. If he was half as good as he was at the beginning of the year, that value for the Rays would be hugely appreciated.
8. Austin Meadows
He's been the key to the Rays success all year. He was an unproven commodity going into the year, but has surely proven himself now. In his first full season he's become an All-Star and currently leads the team in homers and runs batted in. He could finish the year with 30 home runs with an OPS in the .900s. His lefty bat at or near the top of the order is the one opposing teams will circle with the intention being "we can't let this guy beat us". A case to be the face of the franchise in the upcoming years, Meadows can jumpstart that campaign with a nice September that will lead them to October. PS. Thank you Pittsburgh.
9. Kean Wong
This one might be a ~ hot take ~ but those in the Rays cognoscenti (look that one up) have been clamoring for Kean Wong to get a chance in the bigs. He just got that chance today, being called up from minors where he has amassed over 3052 plate appearances with a slash line of .287/.342/.383. Wong has had a career year in Durham, raking at a .307/.375/.464 clip. Wong has tallied up his minor league accolades, earning All Star Game MVP honors, multiple post season MVP honors, and AAA National Championship Game MVP honors as well. His older brother, Kolten Wong has been vocal about how his brother deserves a shot. Wong can play all over the infield and hits from the left side. Not being a top 30 prospect in the organization, he does have his work cut out for him, but he's a big leaguer now. Time to prove it.
Honorable Mentions
Kevin Kiermaier: In the middle of a modest career year offensively and always brings his gold glove defense.
Blake Snell: Like Glasnow, he figures to be back within the next week barring any setbacks, and he too will be stretched out at the big league level.
Ryan Yarbrough: *see my last article* He's been on the same roll since July.
Diego Castillo: After losing his closing role and bullpen ace role, he's been used as an opener and middle reliever. Showing signs of his 2018 dominance, he could greatly factor into the Rays wild card race.
With roughly a month left to play, the Rays are at a good spot in the first Wild Card spot with Oakland and Cleveland tied for second. This race will make for some really exciting baseball.