October, 2019: Everything seemed to be going in favor of the Houston Astros. They had one of the best general managers (if not so well-liked) in the game, one of the most highly respected managers in the game, the best one-two punch of starting pitchers in baseball, and they had home field advantage heading into the World Series – a series they were heavily favored to win. The world seemed like their oyster.
Boy, that seems like a long time ago. Rehashing the three months that followed seems like one of those memes trying to explain the year 2020: an assistant GM got himself fired, the team blew Game Seven with Gerrit Cole sitting unused in the bullpen, Mike Fiers decided to introduce the world to the phrase "trash can banging scheme", Cole signed with the Yankees, Luhnow and Hinch got suspended, Luhnow and Hinch got fired… and all of that took place before the first reported case of COVID-19 in the United States.
So the Astros head into 2020 in a peculiar place: the on-field core remains almost entirely intact, but the entire franchise – and world – have changed so much as to render things unfamiliar.
PECOTA Projections:
Projected record: 36-24
First in AL West
Projected runs scored: 341
Projected runs allowed: 270
Chance of winning division: 68.6%
FanGraphs Projections:
Projected record: 35-25
First in AL West
Projected runs scored: 323
Projected runs allowed: 275
Chance of winning division: 62.7%
Notable offseason moves:
Fired General Manager Jeff Luhnow
Fired Manager AJ Hinch
Hired General Manager James Crick
Hired Manager Dusty Baker
Lost Gerrit Cole to free agency
Lost Wade Miley to free agency
Lost Collin McHugh to free agency
Lost Will Harris to free agency
Lost Robinson Chirinos to free agency
Signed Dustin Garneau in free agency
Re-signed Martin Maldonado
Re-signed Joe Smith
Traded Jake Marisnick to the Mets for minor leaguers Blake Taylor and Kenedy Corona
Traded minor leaguers Peyton Battenfield and Cal Stevenson to the Rays for Austin Pruitt
Yes, everyone focused on the cheating scandal in the offseason. Yes, the loss of Gerrit Cole, while not surprising, still stung deeply. But they hardly represented the only challenges of the offseason. Wade Miley may have fallen out of the rotation by the postseason, but he still gave the Astros quality innings for the third starter slot. Perhaps more vitally, Harris and McHugh deprive the bullpen of much of its experience. Moving Marisnick made sense as he approached free agency, and with Myles Straw ready to hold down a fifth outfield spot, but don't underestimate the loss of Jake's defense in the late innings. Pruitt looked like a prototypical Astros acquisition – high spin-rate right-handed pitcher – and it appeared management expected him to at least challenge for a rotation spot, but an elbow injury has put those plans on hold.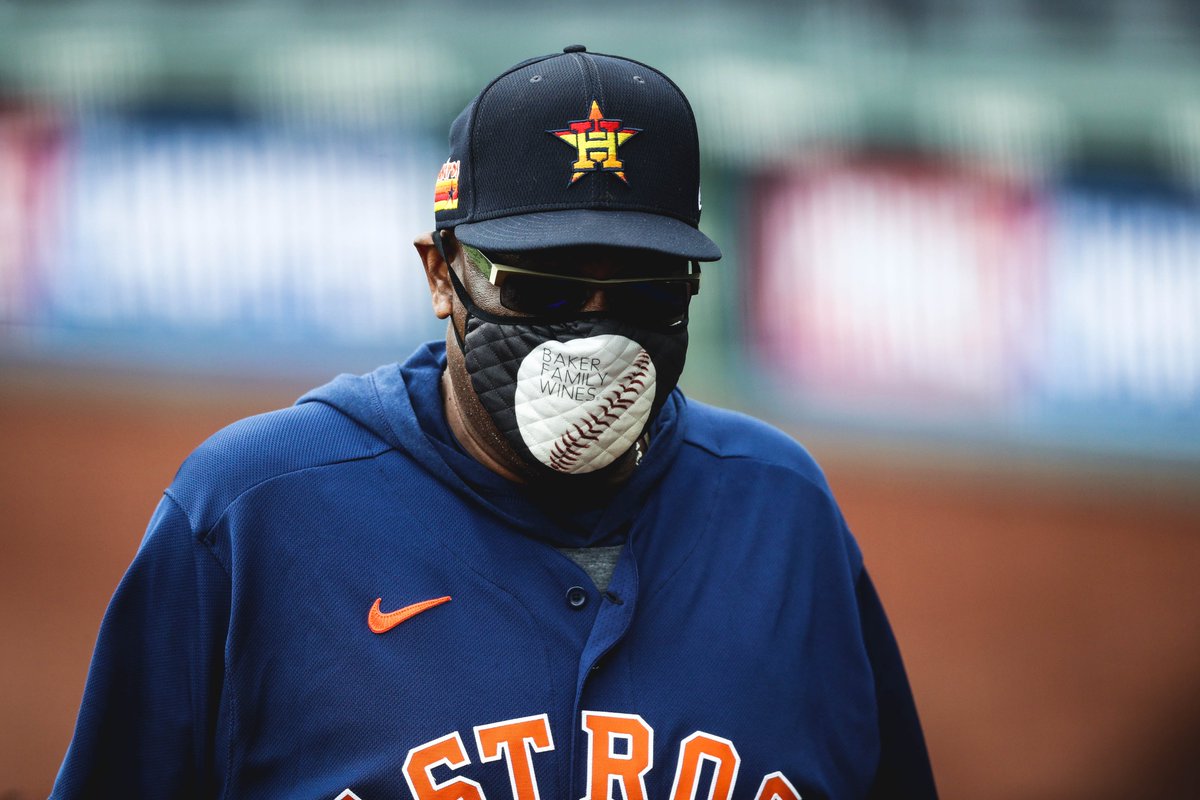 As for the management changes? The jury remains out on James Crick, but he'll have his hands full in his first full offseason, trying to re-sign his entire outfield and restock his farm system without benefit of a first-round pick. But the hiring of Dusty Baker looks like a good step, if an unexpected one. Baker brings years of experience, and that helps provide stability during the most tumultuous times this team will face. His abilities handling the clubhouse and media will weigh far more in his favor than any tactical moves he faces.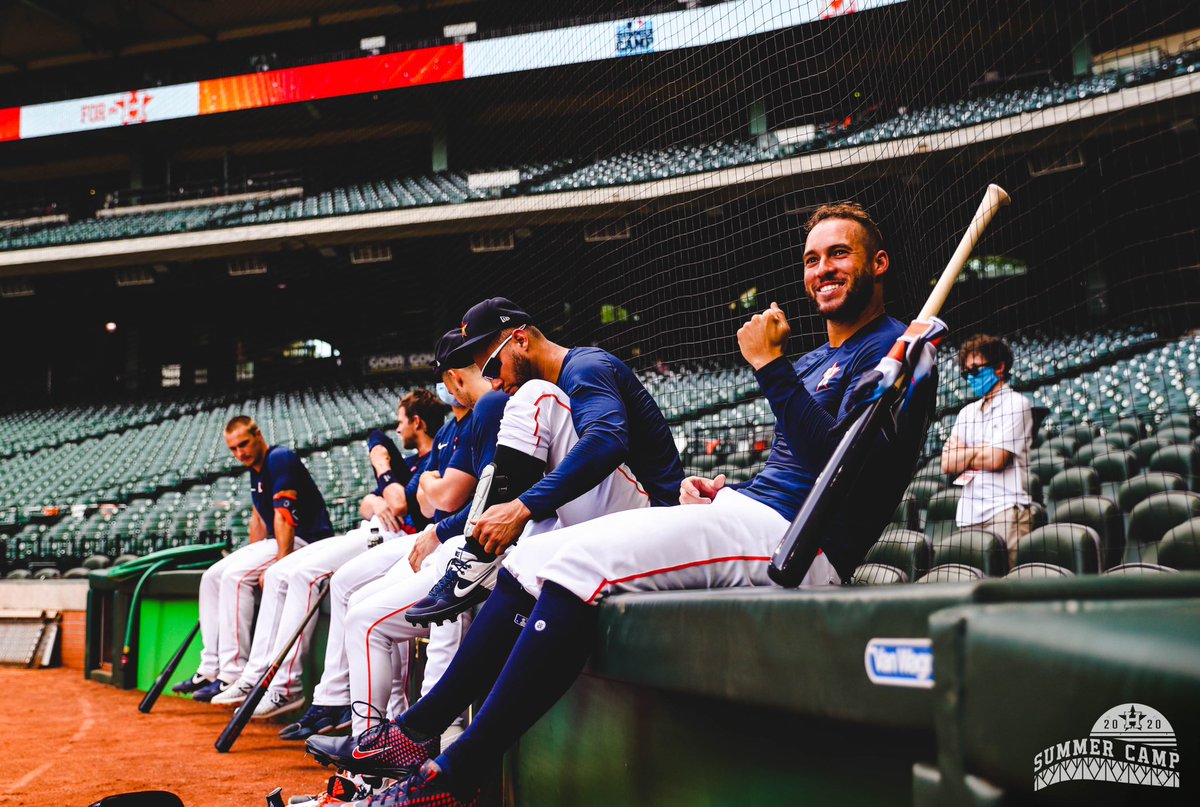 Projected starting lineup:
CF George Springer
2B Jose Altuve
LF Michael Brantley
3B Alex Bregman
DH Yordan Alvarez*
SS Carlos Correa
1B Yuli Gurriel
RF Josh Reddick
C Martin Maldonado
Projected bench:
C Dustin Garneau
C Garrett Stubbs
INF Aledmys Diaz
OF Kyle Tucker
OF/SS Myles Straw
It looked like the Astros would bring back almost all of their postseason offense, but the pandemic had other plans. Yordan Alvarez has not yet reported to camp, and the team has placed him on the injured list for "unspecified reasons", which given team reporting protocols almost assuredly means "tested positive for COVID-19". Hopefully this doesn't turn into a long-term issue for Alvarez, because a healthy Yordan Alvarez – even if he declines from his 2019 performance – looks like the best DH in the business.
The Astros's infield will rank as the best in the majors, barring unforeseen circumstances, like all of them contracting COVID at the same time. FanGraphs ranks the Astros as first or second in the majors at second base, third base, and shortstop. The difference between "best in the majors" and "historically great" will come down to Yuli Gurriel's performance. If his power surge from last year continues, then look out, world – but if he starts the same as 2019, he may just have to look behind him to see if Yordan Alvarez is taking grounders during warmups. The Astros will count on Bregman turning in another "MVP Not Named Trout" season in 2020, but if he can't earn that title, Altuve still could.
The Astros likewise return their entire outfield, but for how long remains the looming question. Springer, Brantley, and Reddick all enter 2020 eligible for free agency at the end of the season. Brantley and Springer both rate as the second-best at their positions in the AL – according to FanGraphs – and ranking second to Mike Trout should come as no slight to anyone. The combo of Reddick and Tucker should work out, one way or another. There will be no platoon situation here with both men hitting from the left side, but they should both get enough at-bats to let the cream rise.
The combination of Maldonado, Garneau, and Stubbs should get to "fine", which represents pretty much the best the Astros have ever gotten from the backstop. FanGraphs projects them all as below-replacement hitters, but strong defenders. If they can manage the pitchers well, that's all you're looking for when you consider the offense around them.
On the bench, the absence of Alvarez will lead to more at bats for Diaz and Tucker. Tucker faces a crucial year – his major league production has yet to live up to his minor league billing, and the Astros need to know whether they can count on him as a starter next year. Diaz may not have made anyone forget Marwin Gonzalez as a utility man, but it wasn't for lack of trying – that .271/.356/.467 line exceeded expectations, and the Astros would take it again in a heartbeat. Myles Straw will gladly take the extra outfield spot offered by the expanded rosters and fill Marisnick's defensive specialist role, but with a little less pop and a lot more baserunning speed.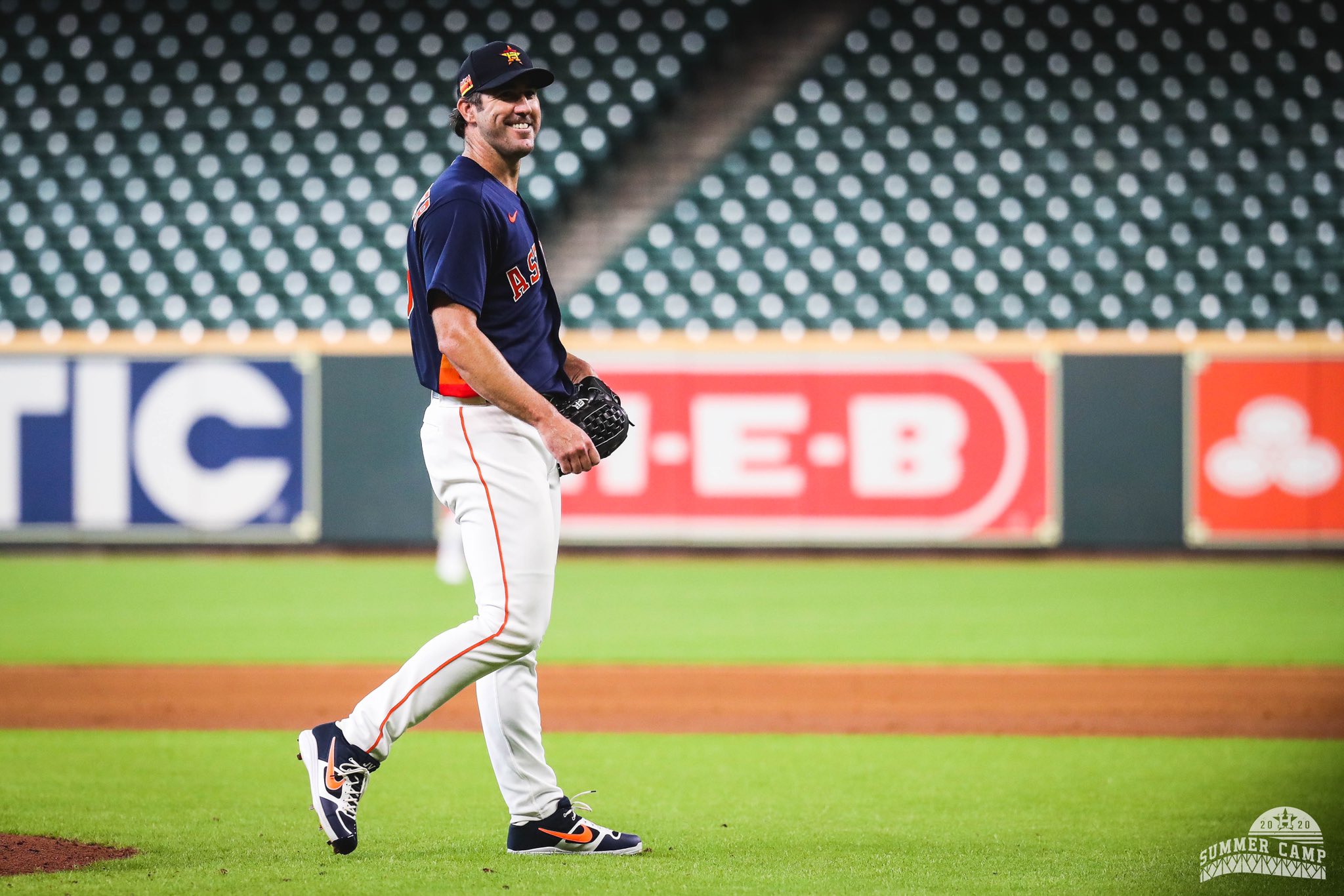 Projected starting rotation:
RHP Justin Verlander
RHP Zack Greinke
RHP Lance McCullers, Jr.
RHP Jose Urquidy*
RHP Josh James
Projected bullpen:
RHP Roberto Osuna
RHP Ryan Pressly
RHP Chris Devenski
RHP Bryan Abreu
RHP Brad Peacock*
RHP Austin Pruitt*
RHP Cy Sneed
LHP Framber Valdez
RHP Christian Javier
LHP Cionel Perez
RHP Enoli Paredes
Much of the national media seemed to write off the Astros's rotation after the loss of Gerrit Cole. And yes, you can't just replace one of the best two or three pitchers in the game. But the rotation still boasts the reigning Cy Young winner at the top, and a likely Hall of Famer behind him. Factor in the return of Lance McCullers Jr. from Tommy John surgery and you have one of the best trios in baseball. In this area, the Astros should benefit from the shortened season; Verlander, in particular, seemed to wear down by the last two postseasons, and McCullers will need fewer innings as he returns from surgery. Behind them, the Astros looked like they could count on Jose Urquidy in the fourth spot, but he sits in the same boat as Alvarez – headed to the injured list, with what we can only speculate as COVID-19. That, combined with injuries to Peacock and Pruitt, will likely force James from the bullpen to the rotation, and push Framber Valdez into starting duty at the season's beginning. You can rely on the three horses at the front of the rotation, but they may have to do a lot of pulling for the other two.
As for the bullpen? If you're a glass half-full kind of person, then you could say the 30-man roster at the start of the season allows the Astros to give many different pitchers auditions at the back end of the bullpen. If you see the glass half-empty, you'd point out that with Joe Smith likely opting out for the season due to the pandemic, and the departures of Harris and McHugh, the bullpen keeps only three healthy, experienced arms – barring a rapid return by Peacock and Pruitt. Oh, and Osuna reported to summer camp behind the other pitchers in his conditioning, and Pressly suffered a blister, so Dusty Baker may have to lean on his starters in the short term.
Other notable players in the 60-man pool:
P Forrest Whitley
P Brandon Bailey
P Blake Taylor
C Colton Shaver
C Michael Papierski
INF Alex De Goti
INF Jack Mayfield
1B Taylor Jones
INF Abraham Toro
OF Ronnie Dawson
OF Drew Ferguson
OF Chas McCormick
The Astros only elected to place 56 players in the 60-man pool of players eligible to play this season, leaving them some flexibility to pick up trade or waiver targets. Forrest Whitley is the biggest name in the camp, and his season looks as unpredictable as any. Did the team put him in the pool just to ensure he keeps getting "minor-league" work in, when the minor league season has been cancelled? Do the improvements he showed in the Arizona Fall League give management hope that he could contribute this season? Keep in mind that many prospect gurus predicted Whitley could contribute as early as 2018, yet the clock keeps ticking on his debut.
Otherwise, the Astros look well stocked for infield backups; Mayfield and Toro both held their own in their rookie seasons, and Baker has praised both De Goti and Jones this summer. Perhaps these youngsters should grab some outfield gloves, because the cupboard is awfully bare – McCormick might become a decent bench player, and he looks the most promising of the bunch. The backup catching situation looks no better, and if the Astros run into any injuries, Crick may have to go shopping.
Prediction
Honestly, predictions seem like a fool's errand at this point. In February, would a single person have predicted that MLB would play a 60-game season with few (or no) fans in attendance? With a smaller sample size, we seem primed for an "anything can happen" season the likes of which we could never see again. "What if the entire infield goes on the injured list?" ordinarily seems too dour for a doomsayer, but in the middle of a global pandemic? Who knows?
Even past that point, the Astros face more challenges within the West in 2020 than any season since 2016. The A's have young pitching coming up to go with some great offensive talent – if they start out fast, they could match the Astros game for game. A shortened season could cover over the pitching woes in Anaheim, letting the Trout Show finally run wild (or at least to the postseason). Even the Rangers could have hope, if their new ballpark lets their pitchers thrive. And let's not forget that the vast majority of fans – and opposing players – will be gunning for the Astros in a way seldom seen in recent times.
That last point, though, I believe will actually tilt the scales in favor of the Astros. By all accounts, this group of players – especially the young core of stars – truly support each other and pull together. All those wishing the worst for the Astros this season better buckle up, because I see this wild ride ending in another World Series banner for the Astros.
---
Featured Photo: astros.com