As we prepare for the 2021 season, Diamond Digest writers will be taking a look at each team's off-season and previewing the season to come. Today, Matthew Penn takes a look at the Washington Nationals!
The Nationals will begin their first full 162-game season defense of their World Series championship and hope to have fans in the stands for the first time since then as well. Many players voiced their disappointment last season that they were unable to celebrate and raise a banner with fans at Nationals Park and have continued advocating for fans throughout the offseason. With some fans allowed at spring training games, it seems likely that a limited number may be allowed in DC at some point during the season. With that part of the game slowly returning to normal, the Nats hope their on field play can also return to its 2019 level.
---
2020 Season-In-Review
2020 Record: 26-34, T-4th Place in NL East
Team MVP: OF Juan Soto
Team Cy Young: SP Max Scherzer
The Nationals' 2020 season was a disappointing follow-up campaign to their 2019 World Series Championship. Plagued by injuries and ineffective pitching, they were never able to hit their stride in a shortened 60-game schedule. Soto and SS Trea Turner were bright spots for the team and should continue to lead the Nats forward in the upcoming season. 3B Carter Kieboom struggled in his first starting opportunity, but there is no indication that he has lost that job, so he will try to bounce back in 2021.
---
Offseason Review
Key losses from 2020: LHP Sean Doolittle, RHP Anibal Sanchez, INF Howie Kendrick, INF Asdrubal Cabrera, RF Adam Eaton, C Kurt Suzuki
While all these players have sentimental value for Nats fans from the 2019 World Series run, the team isn't losing much on-field value. The six players combined for -0.4 WAR in 2020, with none of them producing more than 0.3.
Notable Free Agent Additions:
OF Kyle Schwarber – 1 year, $10 million
LHP Brad Hand – 1 year, $10.5 million
LHP Jon Lester – 1 year, $5 million
C Alex Avila – 1 year, $1.5 million
The Nats' four biggest free agent signings this offseason were all one-year deals, joining Scherzer, who is also in the final year of his contract. This gives GM Mike Rizzo some flexibility at the trade deadline, allowing him to trade some of them to contending teams in return for prospects in the event that the Nats are not competing for a playoff spot. On the other hand, these are all players who can contribute to a winning team in DC if they play to their potential and could help make a playoff run without locking up any money long term. The Nats also brought back franchise icon Ryan Zimmerman on a 1 year deal, but it seems less likely that he could be dealt in a trade given his history with the team.
Notable Trades: RHPs Eddy Yean and Wil Crowe to Pirates for 1B Josh Bell
The Nats got Bell to be a middle of the order bat and to give some protection for Turner and Soto at the top of the order. As a switch hitter, he'll likely be the everyday first-basemen, with Zimmerman getting spot starts occasionally against LHP, as Bell struggles a little bit more from the right side of the plate.
---
2021 Season Preview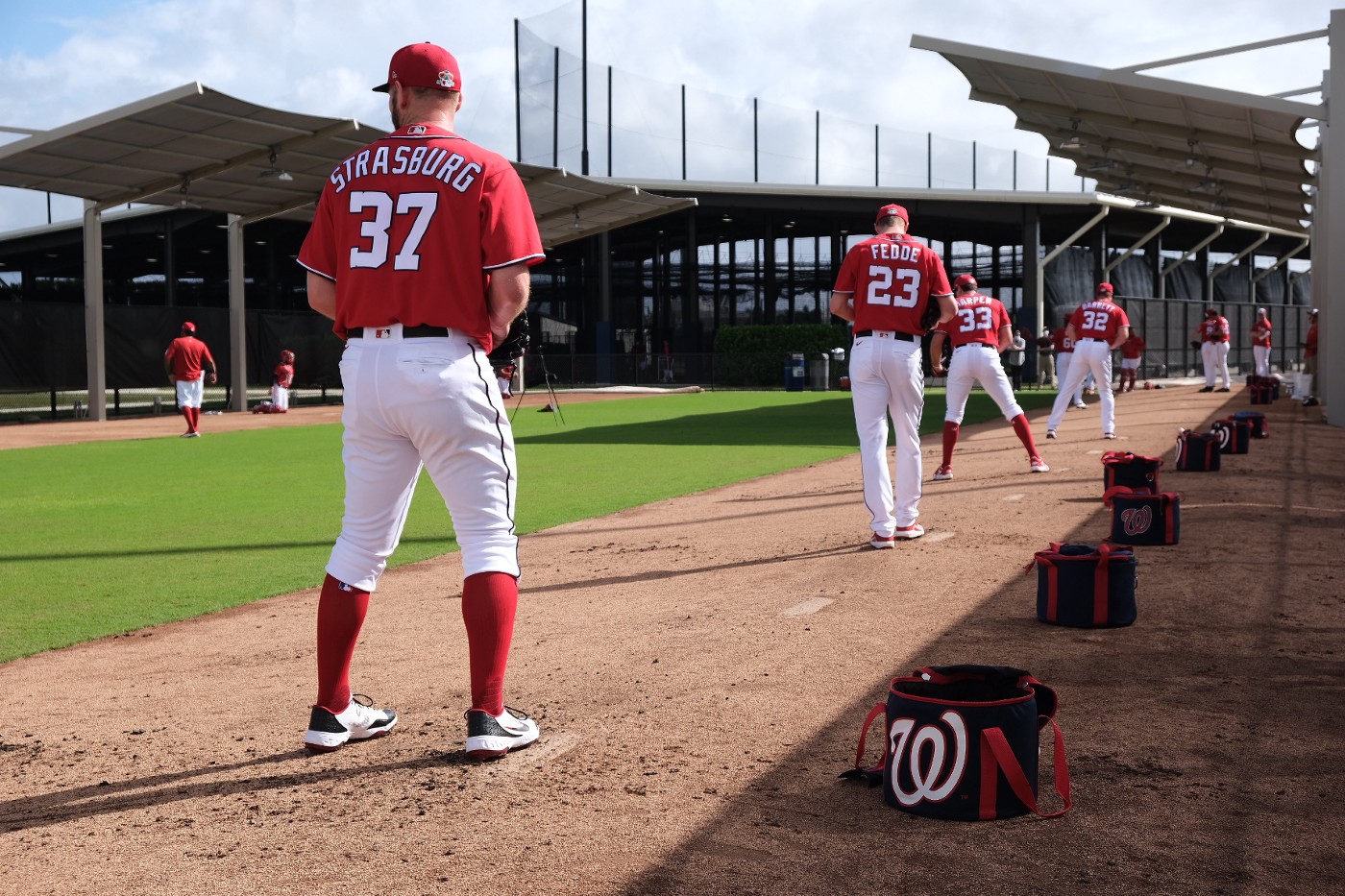 Projected Roster
Bold indicates newly acquired player
Projected Lineup:
1) Trea Turner, SS
2) Juan Soto, RF
3) Josh Bell, 1B
4) Kyle Schwarber, LF
5) Starlin Castro, 2B
6) Yan Gomes, C
7) Carter Kieboom, 3B
8) Victor Robles, CF
9) Pitcher's Spot
Projected Bench:
Alex Avila, C
Andrew Stevenson, OF
Josh Harrison, UTIL
Luis Garcia, INF
Ryan Zimmerman, 1B

Projected Rotation:
1) Max Scherzer, RHP
2) Stephen Strasburg, RHP
3) Patrick Corbin, LHP
4) Jon Lester, LHP
5) Joe Ross, RHP
Projected Bullpen:
Erick Fedde, RHP
Kyle Finnegan, RHP
Brad Hand, LHP (closer)
Ryne Harper, RHP
Will Harris, RHP
Daniel Hudson, RHP
Tanner Rainey, RHP
Wander Suero, RHP
At the end of last season, Manager Davey Martinez experimented with Turner/Soto in the top 2 spots of the batting order when Adam Eaton was out. Batting your best hitter 2nd to get him more ABs is a trend across MLB in recent years, and hopefully, the Nats will stick with it in 2021. Personally, I have Castro in the 5 hole, with Bell and Schwarber at 3 and 4, respectively, because that's what I'd do with this lineup. However, Castro hit 3rd in 13 of the 16 games he played before getting injured last season, so Martinez could have him starting the year there again. I expect Kieboom and Robles to start the season in the bottom third of the batting order, but if they are able to start hitting, they could quickly move up. Both have been underwhelming offensively thus far in their careers, but if they finally put it together, they have the potential to make this lineup much deeper.
The "Big 3" of the rotation will look to return to 2019 form this year after the 2020 rotation had the NL's 2nd-worst ERA. Veteran Jon Lester should provide solid depth to the rotation with the ability to eat up a lot of innings from the 4th spot. Joe Ross returns to the team this year after opting out due to Covid last year and will be part of what could be a committee of pitchers in the 5th spot. While it should be Ross' job to lose, Nationals' coaches are unsure of how the long layoff will affect him and will have backup plans ready. One of the two pitchers that doesn't win that 5th rotation spot will likely remain on the roster as a long relief pitcher, while the other will be available to make spot starts from AAA.
While the Nats made headlines in 2019 for their usage of starters out of the bullpen, they've been very traditional in the bullpen roles when they actually use relievers. Martinez has said that Brad Hand will likely start the season in a closer role. We will likely see a rotating mix of Hudson, Harris, Rainey, and Suero as set-up men in the 7th and 8th innings.
I'd like to see Rainey get some more high leverage innings, as he has been great over the past couple seasons. Last year, he was in the 85th percentile or better in xwOBA, xERA, xBA, xSLG, Fastball Velocity, and Fastball Spin and the 99th percentile in K% and Whiff%. That is largely due to his slider, which he threw 38.1% of the time last year, up from 29% in 2019 and 20.6% in 2018, and is one of the best pitches in baseball. Last year, batters went just 1-for-18 against the slider with 14 K and an xwOBA of .142. He also had a 72.9% Whiff% against the pitch, the best of any pitch in MLB with at least 20 PAs.
Harris struggled a bit last season, but if he can bounce back to 2019 form, he can be a valuable piece for the back-end of the bullpen. All things considered, this has a chance to be the best Nationals' bullpen in recent memory, which, in all honesty, isn't really saying that much.
---
Record Projections
FanGraphs Projected Record: 81.5-80.5, 3rd place in NL East
(Available here: https://www.fangraphs.com/standings/playoff-odds)
PECOTA Projected Record: 84.2-77.8, 2nd place in NL East
(Available here: https://www.baseballprospectus.com/standings/)
Personal Projection: 82-80, 3rd place in NL East
I tend to agree with the projections for the Nationals this year. While there is a lot of upside to this team, their true talent is somewhere around .500. The rotation has upside, but they're all two years older now than in 2019 and that could start to be a factor at this point. Strasburg didn't pitch much last year due to injury, but is supposedly 100% healthy now and could put up a Cy Young-level season if he stay that way, as he is coming off one of the best postseasons by a pitcher of all time. Corbin was one of the worst pitchers in the NL last year and will look to bounce back in the 3rd spot of the rotation. Overall, I don't see the rotation being top 5 in baseball as it has in years past, but it could be solid and much better than last year.
As I mentioned earlier, the bullpen could actually be a positive and a bright spot for this year's team, which is not something I can say as a Nats fan that often. Martinez will have a plethora of options in tight games and the ability to rest pitchers on any given night. I already talked about Rainey's breakout year, but another pitcher to keep an eye on is Kyle Finnegan, who made his debut in 2020. His BB% was slightly concerning – in the 18th percentile – but if he can work on that a little bit, the rest of his numbers already look great. He had a 2.92 ERA in 25 games and was in the top half of MLB pitchers in almost every advanced stat on Baseball Savant.
On offense, there are a lot of question marks outside of Soto and Trea. While Bell and Schwarber each had really good seasons in 2019, they struggled a bit more in the shortened 2020 season. Robles and Kieboom also both underperformed expectations this past season. If two or three of those four can hit the way that they are capable of, this team has a chance to reach upper-80's/low-90's in wins and possible sneak into a Wild Card spot (and we all know what can happen at that point). The offense is likely what will make or break this season, as the pitching should do enough to keep them in games.
---
Final Thoughts
This is by no means a "bad team" and could easily have four or five all stars, but they might not be competitive with the top teams in the league. The NL East is possibly the best division in baseball, which makes both the schedule tougher and the number of wins needed to make the playoffs higher. This is an important season for Kieboom, as he desperately needs to see some success and is still the long term third baseman at this point. If he does take a step forward, Rizzo needs to lock up both Turner and Soto for the foreseeable future. If he does, the Nats will have one of the best cores in the league to go along with an ace in Strasburg for the next six seasons.