After too many tired seasons of play, the Angels are finally looking to field their most competitive roster looking roster in recent memory. A surprisingly under-the-radar offseason has seen the team stray from the habitual big splash in free agency in lieu of a more reserved, depth-oriented approach. With an actual plethora of talent behind the Mike Trout-led outfield, the team no longer defaults to emergency mode in wake of any potential injuries. A beefed-up rotation allows more proven arms to support the 1-2 of Ohtani/Sandoval, and an influx of fresh infield talent has arrived to support an eventual early-season vacation from Anthony Rendon.
One of the few remaining questionable areas would be a bullpen, which ranked 6th in HRs allowed last year while also ranking bottom 10 in K's. The lack of a true backend crippled the Angels' ability to finish off wins or stay in close games for that matter, which would be their undoing in 2022. This year, however, a fair number of developing prospects look to solidify Major League roles across the pitching staff, and many more are on their way to buff up bullpen depth.
Will this oncoming wave of talent be enough to carry the Angels through an entire 2023? Or will this whole season be another exercise in desperation as the Angels piecemeal together a staff that hobbles through yet another year?
---
Who can the Angels depend on?
Despite the addition of Matt Moore following a supreme season in the bullpen (1.95 ERA, 74 IP) and the multi-year signing of Carlos Estevez after a solid season with the Rockies (3.47 ERA, 57 IP), there is little else in terms of guaranteed talent to support the Angels' backend.
I'm a fan of the Matt Moore signing, as it gives the Angels some much-needed ability to get through the middle innings and pass the game off to the 8th or 9th, but I don't see him as a season-long closing option. Carlos Estevez has the potential to be a big arm, but as it stands, his total innings pitched have dropped each of the last two years, and barring a major breakthrough, it seems doubtful he'll lead the charge in Anaheim.
Who else does that leave to batten down the hatches at the end of a game?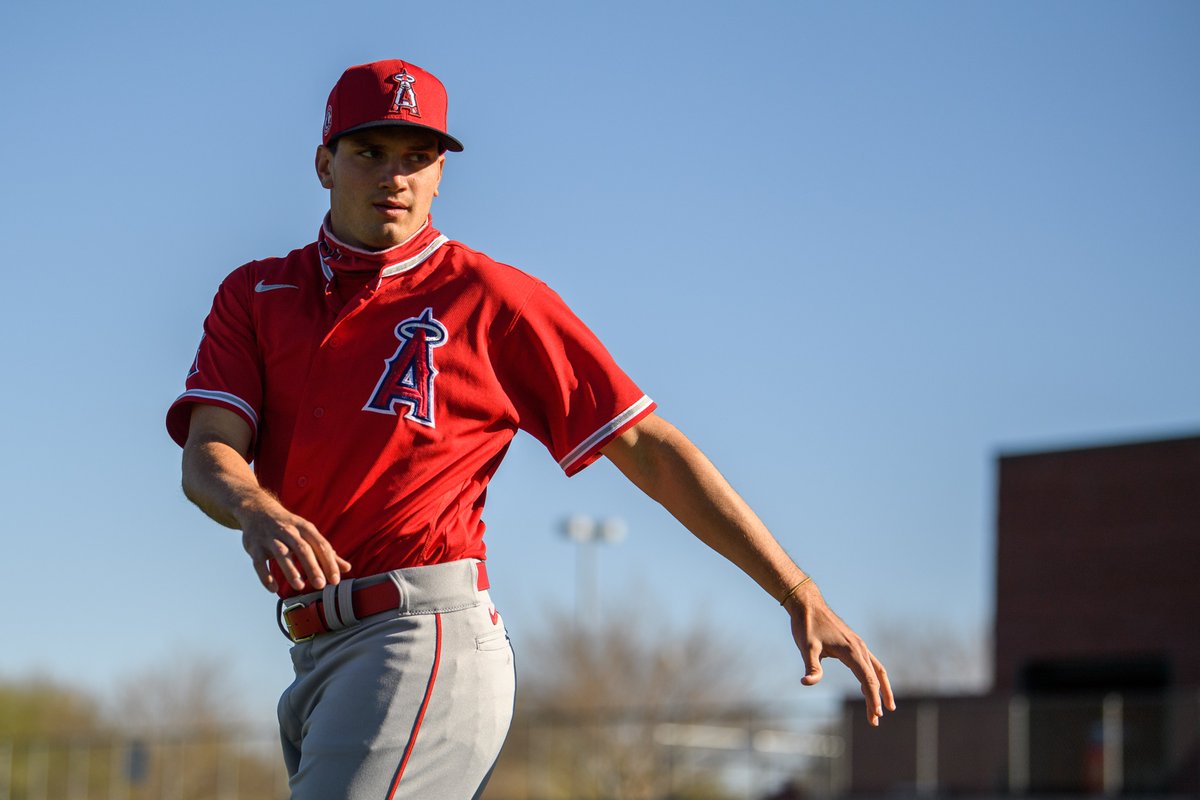 My first answer would be Chris Rodriguez, the 24-year-old high-potential power pitcher who shined in his short time in 2021 before season-ending shoulder surgery. Rodriguez also missed all of 2022 from this injury. Despite the little time he's had to show his stuff, he's given glimpses of an extraordinary arm talent alongside an aggressive mound mentality. A healthy 2023 should see Rodriguez reclaim both ability and confidence en route to a potential career year, though he has yet to pitch in Spring Training. At his best Rodriguez has elite backend potential, though as it stands the question of health needs to be answered before anything.
Another potential piece, though likely far off, would be the Angels' 2022 6th-round pick, Victor Mederos. Mederos seemingly fell into the Angels' lap despite the buzz regarding his stuff. He's shown hints of elite potential across his 2022 professional debut season at the age of 21. Although his 2022 numbers don't speak to his talents (5.63 ERA, 16 IP) there exists a stark excitement across the organization regarding the young talent. Already his fastball pumps into the high 90s, and he possesses a punishing secondary as is. As it tends to be, however, strike zone control and mechanical consistency stand as development needs. He's a high-octane, hard thrower, and as is with most fiery prospects age and experience should wrangle in his violent delivery.
My favorite thing about Maderos is his absolutely brutal view of opposing hitters, the young prospect summing up his perspective with the choice quote, "You are up there to try and take food from my family. I have to go out there to win." A true cutthroat ready to make his mark with the Angels. Unfortunately, his MLB estimation puts him out of reach this year barring any supreme developmental jumps. A consistent, high-level showing in the minors could bring him within a fighting chance for a late 2nd half call-up.
Another 2022 draft steal that could potentially debut soon would be third-round pick Ben Joyce and his legendary "105 mph" fastball. Though it remains to be seen if Joyce will maintain this velocity once he hits MLB, he's already shown remarkable talent. In a short 2022 MiLB season, Joyce struck out 20 batters (13 IP) and posted a 2.08 ERA with half of his appearances being multi-K affairs – his last two appearances being 3 K, 0 BB showings. Only one game saw Joyce finish K-less this past season. In fact, he only allowed runs in his first professional appearance, giving up 2 runs off 4 hits while seeing seven hitters across the inning.
These numbers would be flattering for any pitcher, but for Joyce, they're enormously encouraging as his questionables coming into 2022 surrounded a lack of consistent command as well as 2021 Tommy John Surgery that put him out of commission all of 2022. Should he continue this developmental pace it is possible we could see Joyce early this upcoming season, perhaps even before the All-Star break, though conservatively he's projected as a second-half call-up. Joyce provides the most immediate impact arm to provide late innings.
There's also Sam Bachman, the Angels 2021 first-round pick, whose steady rise to the Majors has inspired confidence in his ability to impact the big league club sooner rather than later. While he doesn't show as much dazzle as those previously mentioned, he can very well provide support in the early to middle innings. I do like him as a get-me-over kind of piece, though I'm not sure if he'll develop into a shut-the-door type pitcher.
Rounding out the potential impact arms is Mason Erla, another interesting 2021 draftee who has shown competent stuff in Spring Training. Though his arm isn't nearly as impressive as some of the previous mentions, he has shown decent potential in his few innings of Spring Training work. Erla has a nice sidearm action that offers a nice break to his pitches, and though the location could be tighter, he has shown a competent ability to attack the zone. The Angels don't need Erla to develop into a hard-hitting backend piece, and much like Bachman, as long as he can give the Angels a chance to pass the ball off to the late innings he will provide massive value. Getting the ball to your closing arms is a battle of its own.
---
There are a number of opportunities available to be taken advantage of by the swarm of young talent coming up. In a perfect world, it would be nice to see the arms impact this year, especially considering how much is on the line this year. However, it does bring some sense of comfort that the Angels won't be dog-paddling to keep their head above water… at least in 2024.
Aside from the potential loss of Shohei Ohtani following this year, the future of this club hasn't looked this bright in a while.
---
Follow us @Diamond_Digest for more!
Featured Image: Angels / Twitter