The marathon that is the Major League Baseball regular season has come to a close and there has been no shortage of excitement in the awards races, pennant races, and now in the playoffs. This type of excitement is only felt by about half the league though. As a fan of one of the teams that lost any semblance of hope months ago, I took this opportunity to focus my excitement for baseball elsewhere. In the weeks and months leading up to the playoffs I searched for the quirkiest players in the game in 2018.
Quirkiness is very difficult to define. In my mind there are 3 pillars of a player's quirkiness that all come back to the same basic principle: this is an unusual dude, he does or has done things I haven't seen before. The 3 pillars are statistics, general appearance, and style of play. My only real caveat outside of this definition is that just being unusually awesome (I'm looking at you Mike Trout) does not imply quirkiness. A guy can certainly be awesome and quirky, but there must be more to it than just being great at baseball.
I decided to go with a 15 player roster for no reason whatsoever. There are 7 pitchers and 9 hitters (spoiler alert). There are tall guys, short guys, chubby guys, skinny guys, and all shapes in between. Some guys are MVP level, others are replacement level. A couple have been in the league since the 90s and a couple weren't in the majors for most of this year. I'm sure there will be omissions and controversial choices, but no matter what, it will be a fun list of guys who made the 2018 season more fun.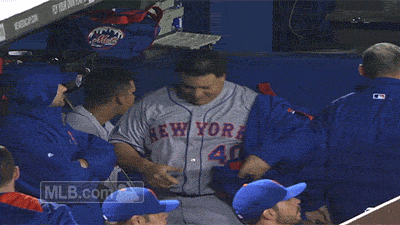 Is this gif a few years old? Yes it is. Does it make it any less fun? No it does not. Bartolo Colon is 45 years old, listed as 5'11" 285 (lol), and he throws his 87.4 mph average fastball 78% of the time. This sounds like the description for the wily veteran on a beer league team, not a member of the Texas Rangers. And yet, only 8 pitchers have started at least 24 games every season since 2011. The rest of the list is the guys you would expect (Scherzer, Greinke, Gonzalez, Porcello, Lester, Hamels) and Mike Leake (huh?). Colon has made a behind the back 1-3 putout, hit a HR that caused one of Gary Cohen's greatest calls, won a Cy Young 13 years ago, and had a perfect game through 7 innings vs. a 100-win team in April of this year. No list of the quirkiest players would be complete without him.
SP Chris Sale
Any pitcher who's appearance looks like a cross between a pterodactyl and jersey full of wire hangers launching a baseball toward home plate would be worthy of mention on a list like this. When that same guy was a few innings short of a Cy Young in 2018, throws in the upper 90s with a devastating slider, and has never finished outside the top 6 in Cy Young voting since becoming a starter, he's a slam dunk choice. I never thought it would be possible to find a guy who could compare to Randy Johnson, but Chris Sale is doing his best impression. Bonus quirk points for having an incident where he cut up his teams jerseys on game day because he wasn't comfortable pitching in them.
SP Rich Hill
Due to injuries and 5+ years as a reliever who was in and out of the league, Rich Hill has only started 25 or more games twice in his 14 year career. After the 2013 season he had a career ERA+ of only 96 in 465 innings. We knew what he was… and then we didn't. Since then, he has 406 innings pitched and his ERA+ has jumped all the way up to 134. He is 38 years old, throws from every arm angle imaginable, and uses his curveball in all sorts of ways. He's the definition of a crafty lefty. Bonus quirk points for having the best nickname of Players Weekend without question (Dick Mountain).
SP Zack Greinke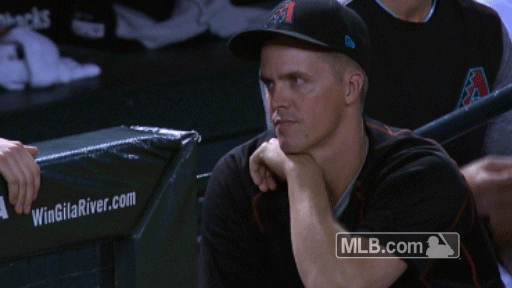 The career of Zack Greinke got off to a rocky start. After being a big time prospect and a solid rookie year, he had a nightmarish 2 year stretch where he had a 5.80 ERA, and nearly quit the game because of depression and social anxiety leading to a season where he only appeared in 3 major league games. Since then he's been a superstar pitching robot with a dry sense of humor and an ability to throw enough 69 mph curveballs that it seems intentional. By all accounts, Zack Greinke is an understated quirky guy who very well may be riding that quirkiness to the Hall of Fame someday.
RP Pat Neshek
I couldn't help but follow Greinke with Neshek following their uncomfortable card signing disagreement last year (in itself quirky). Between the oddest windup in the game, to the card collection he is quirky beyond belief. His career has spanned 7 teams and 12 seasons and his most famous moments came as the relief ace for the US championship team in the 2017 World Baseball Classic. Bonus quirk points for how weirdly similar his career has been to his fellow 'shek, Steve Cishek; basically the same person.
RP Pat Venditte
It never ceases to amaze me when a guy can hit at a major league level from both sides of the plate, but there have been at least 30 switch hitters with over 300 plate appearances in the majors each season since 1998. Switch pitchers, on the other hand, NEVER make it to the majors. Pat Venditte is the first one in over a century. His dad taught him to throw with both hands starting when he was 3 years old and he's continued doing it for 30 years since. Despite being consistently effective in the Yankees system, Venditte was a non-prospect who could barely hit 90 mph (and only from the right side) that was released at 29 years old in 2014. He persevered though, and made it to the majors with the A's the following year. Since then, Venditte has bounced to the Blue Jays, Mariners, and now the Dodgers to little sustained MLB success. He pitched well in 2018 though and got some important September innings. Being able to pitch with both hands in the MLB is one of the most impressive and quirkiest things a baseball player has ever done.
SP/DH Shohei Ohtani
There is only one guy in this article who receives 2 gifs. This exception is necessary though as he did things in his rookie year that haven't been done since Babe Ruth. If Shohei Ohtani never threw a single pitch off the mound and his hitting season stood on its own (.925 OPS, 22 HR, 21 2b, 10 SB in 367 PA) we would be talking about a possible superstar in the making. He did throw a few pitches off the mound though, and when he did, they were very effective (10 starts, 51.2 innings, 3.31 ERA, 11.0 K/9). With all this being said, there was some disappointment to his rookie season in the form of a torn UCL diagnosis that will require Tommy John surgery. Ohtani continued to hit after his season was shut down as a pitcher and actually got better hitting 13 home runs between August and September. It remains to be seen what the plan will be for the Angels and Ohtani regarding his offense in 2019. He definitely won't be pitching until 2020 at the earliest, unfortunately, but in 2018 the baseball world got a taste of what amazingly quirky things we could see out of Ohtani-san going forward. Bonus Quirk Points for the whirlwind day of September 5th where Ohtani found out he would need Tommy John surgery in the morning and then went 4 for 4 with 2 HR 3 RBI a walk and a stolen base that night.
What is there about Willians Astudillo that isn't quirky? Many don't know who he is, but boy will they love him once they do. He has a first name that you're sure is a typo the first 10-15 times you read it. He's listed at 5'9″ 225 but he looks to be about the same shape as Bartolo Colon. In his 29 game debut season, he played every position other than first base, shortstop, and right field, including pitcher and DH. In his 97 2018 plate appearances, he walked twice and struck out 3 times and this was no fluke. Astudillo had 2,461 minor league plate appearances with a walk to strikeout ratio of 85:81, he actively ignores the 3-true-outcome fad in baseball.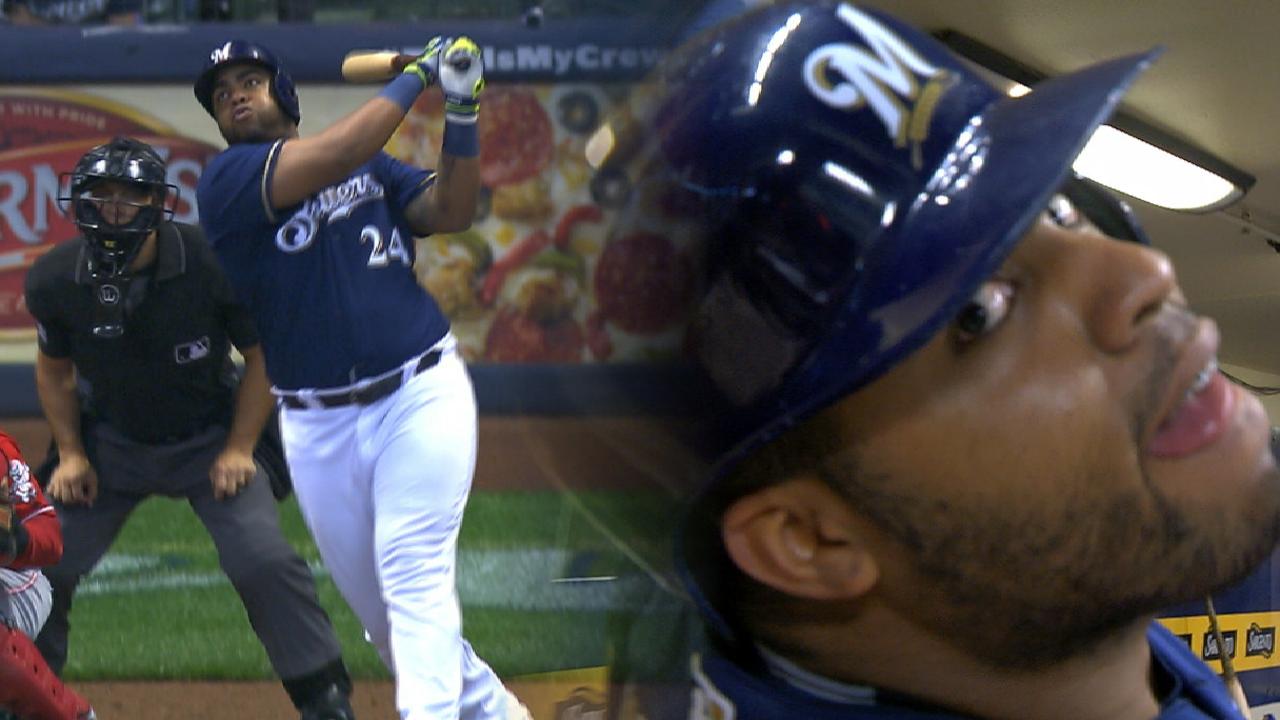 I have no idea what Jesus Aguilar's celebration with the dugout camera is supposed to be, but I thoroughly enjoy watching it every time. The dude is a 250 pound bear who mashed 35 Home Runs for the 2018 Brewers and actually played a pretty solid defensive first base with 6 Defensive Runs Saved. After looking like a career AAAA player with the Indians just 2 years ago, the Brewers picked him up off the scrap heap and have been treated to a 127 OPS+ ever since. Bonus Quirk Points for shamelessly rocking the adult braces.
2B Jeff McNeil
A knobless bat is completely unfathomable to me. I would never think about using it, or believe someone else would want to use one. How does it not just fly out of your hands on every pitch? Jeff McNeil has employed such a bat and has performed well enough to force his way into the Mets lineup every day. Flashback to April of this year: you would have a hard time finding someone picking anyone other than Amed Rosario or (maybe) Dominic Smith as the Mets best 2018 rookie. Instead, those two were bad to below average all year and Jeff McNeil hit .329 and put up 2.4 WAR in only 63 games to outpace the more heralded young Mets.
SS Javier Baez
Javy's tagging ability is one of the quirkiest skills in baseball. There's no way to measure how much better he is than anyone else, and yet you know that when you see some of the tags he makes, he is clearly the best in the game. Has this skill been talked about endlessly on broadcasts? Unfortunately, yes. But that doesn't mean it's not still extremely valuable. There was a lot more to talk about with Javy in 2018 though. He is going to finish top 2 or 3 in NL MVP voting after breaking out with 111 RBI (for you old school guys) plus 6.3 WAR and 10 Defensive Runs Saved (for the kids). Bonus Quirk Points for initiating the first ever in-game hug in MLB postseason history, which almost caused an interference call when he embraced Nolan Arenado.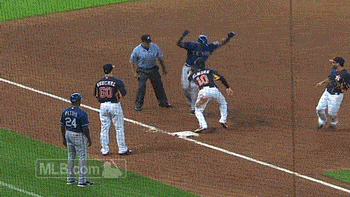 I'm really hoping we get at least 1 more year of Adrian Beltre in the Major Leagues. He has been around since the 90s and is a first ballot Hall of Famer. The list of guys with over 2,000 hits (he has 3,166) 300 HRs (he has 477) and 200 Defensive Runs Saved (238) is 1 name long, Adrian Beltre. This doesn't even scratch the surface of his quirkiness. He hates when people touch his head, a lot, and now that everyone knows that they all try and touch it. He has a deliriously fun big brother/little brother relationship with Elvis Andrus, where they have fun calling each other off on pop ups and seem to just love playing baseball together. Beltre has danced on the field, run down the left field line in a rundown (see above), and hit multiple Home Runs with a knee on the ground. Adrian Beltre is just a quirky delight to watch play baseball.
OF Hunter Pence
When I mentioned the idea for the 2018 All Quirky Team to others, most of the responses started with, "oh obviously gotta have Hunter Pence." I have happily obliged. The gif above is very telling about the quirks of Pence. Start with the ugly, hunched over, one-handed swing that you would never teach to a child, that itself is entirely unique. Then, you look at his pants, which do not even come close to reaching his knee anymore; they might as well be tight shorts. Next, take a look at his arms. Pence's left arm is covered from fingertip up with a batting glove, giant armor, long sleeve and wrist band. His right arm is completely naked. Finally, you have his shaggy beard and curly hair. Pence is so fun and has been around for 12 seasons now. Hopefully Pence has one more career resurgence so we can enjoy his quirks for as long as possible.
No one hustles to first base on a walk or hit by pitch more than Brandon Nimmo, probably because nobody hustles on walks and hit by pitches other than Brandon Nimmo. This hustle and the point to the sky on a free base are two of the ingredients in the quirk soup he cooks up every game. He also smiles bigger and more often than any other player in baseball, sometimes mid-play.  Basically Nimmo looks like the 9 year old in Little League who's having the time of his life just playing baseball, but he also had a great season playing at the highest level. Nimmo smiled and hustled his way to a league leading 22 HBPs, 4.4 WAR, and a .404 On Base Percentage in his first full MLB season. Bonus Quirk Points for being the first first round draft pick from the state of Wyoming, where he didn't play High School baseball, because they don't have High School baseball in Wyoming, only American Legion.
OF Yasiel Puig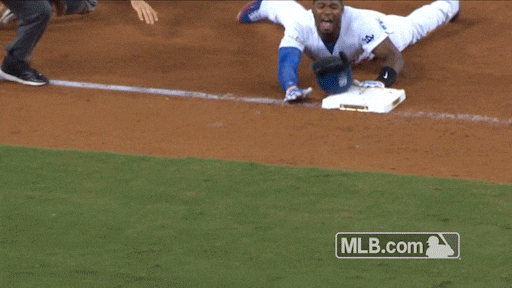 Yasiel Puig is viewed as many things. Superstar talent, wasted potential, flashes of greatness, a distraction, a villain, and must-see-TV. He is so polarizing that I considered leaving him off this list, until I realized that he is entertaining to some and hated by others because of his excessive quirkiness. In one inning he could lick a bat after a foul ball, hit a double and give the universal "suck it!" gesture, and dive into third before sticking his tongue out at the dugout (see above). His rookie season left the baseball world in awe and his sophomore year was just as good producing 9.8 total bWAR in 2 years. When he fell off a bit in seasons 3 and 4 (along with some injuries), old crotchety baseball guys insisted his bat flips and flashiness was a distraction and he needed to be traded. As he's settled into a role with the Dodgers as a productive player, but not quite star, he's continued with all his same quirks, and i'm so happy he has. The baseball world is better when players have fun and act like themselves.
As we make our way through the playoffs you will see some of these guys playing roles in big games. You will also see quirky occurrences: tape measure homers, heated dugouts, headlong dives, heroic role players, and hugs. As you watch the playoffs enjoy the winners and losers and storylines, but also keep an eye out for the little oddities, idiosyncrasies, and of course the quirks.
---
Follow me on twitter: @denack31 and check out Pop Flies and Grounders (@pfgrounders) at pfgrounders.blubrry.com and iTunes for our latest podcast.
Featured Photo: Jim Young, USA Today Sports