The St. Louis Cardinals finished the 2018 season 88-74, 7.5 games behind the Brewers for the NL Central and 2.5 games out of the second NL Wild Card spot. For the 3rd consecutive season, they missed out on the playoffs by a slim margin. After going on an absolute tear in late July/early August, they went ice cold down the stretch, essentially playing themselves out of a playoff spot. Despite missing postseason baseball, a lot was learned about the players this season's roster. Here is one thing we learned about every Cardinals batter on this season's roster.
He still has something left in the tank
After talks of the GOAT being washed up following the 2015 season, Molina has shown up the last 3 seasons at the plate, posting a .763 OPS over that span. After posting his first 20 HR season in 2018 since 2012, Yadi has proven that he can still bring it at the plate. He is already the active leader in games caught by a landslide. After missing a month with a brutal injury, he refused to be taken out at times down the stretch. Most catchers will rest during a day game immediately following a night game, but not Yadi. Time and time again he played every day, all game. Add in his uncanny ability to handle a pitching staff, even if he isn't the defender he once was, he is still a top tier catcher in the league today at age 35.
He is a far better power hitter when he is playing 1st base
Carpenter came into the season as a versatile, if unexciting defender at 1st or 3rd base. By the end of the season, Carpenter showed that his body has started to take a beating. He had far better hitting stats from the easier defensive position, 1st base. Carpenter had an OPS of .968 while playing 1st base this year compared to an .858 as a 3rd baseman. Carpenter should be doing nothing but hitting leadoff and starting at 1st base to start the 2019 season.
He will earn his contract extension, just not in the way we thought
Coming off a breakout 2015 season, the Cardinals inked Wong to be their 2nd baseman of the future with a 5 year, 25 million dollar extension. During the 2015 season, Bleacher Report even projected Wong as the best 2nd baseman in baseball by the 2020 season. They put him over big name players/prospects like Jose Altuve and Yoan Moncada, even going as far as saying: "Second basemen with 20-20 potential don't come around all that often, but Kolten Wong has the tools to do it on a yearly basis for the St. Louis Cardinals." Since then, he hasn't had a single season where he matched his home run total (12, 11) or stolen base total (20, 15) from his 2014 or 2015 season. The way he will earn his modest extension is his elite fielding. Wong was seen as an average fielder with the ability to make flashy plays in the field as a youngster. Last season, he transformed into the best defensive 2nd baseman in the league and one of the best defensive players in all of baseball. Defense doesn't have the glamour that being a big hitter brings, but it still makes Wong an incredibly valuable piece to this team moving forward.
He is not to be trusted as a reliable 3rd or 4th hole hitter
As I said in my preseason article about the Cardinals, Paul DeJong was in for major regression this season. After somehow pulling off a .285 average last year, DeJong's high swing and miss tendencies caught up to him this year. In 2018, DeJong only managed a .241 average and a .746 OPS. His high strikeout/low walk numbers are not ideal for a key spot in the lineup. After returning from injury, he was thrusted into the 3/4 hole daily down the stretch and that was part of the team's downfall. They couldn't bring runners in with less than 2 outs. DeJong would function far better as a 6/7 hitter starting the 2019 season.
He is no more than a utility player off the bench
Gyorko has been a valuable player for the Cardinals since he was acquired via trade prior to the 2016 season. He's posted a .794 OPS over his 3 years in St. Louis, along with surprisingly stellar defense at the hot corner in the last 2 years. He's a solid MLB player. After missing the playoffs in 3 consecutive seasons, the Cardinals are looking for an upgrade at the hot corner and Gyorko is the incumbent to be replaced. If a premium bat were to become available at 3rd base *cough JOSH DONALDSON cough* the Cardinals should jump at the opportunity. If Gyorko could hit like he does against the Padres (1.417 OPS) all season, he would be Barry Bonds. Until then, he should be a great pinch hitter off the bench for a contending team.
His shoulder NEEDS to get fixed
I'm not a doctor, but there is something wrong with Marcell Ozuna's throwing shoulder. Watching him throw the ball is painful, and it's hurting the defense of the whole team. According to Jennifer Langosch of MLB.com, "Based on Statcast™ tracking, Ozuna's arm strength has steadily declined over the past four seasons. In 2015, he averaged 92.1 mph on the top 10 percent of his throws. That number has dropped to 89 mph in '16, 81.5 mph in '17 and 77.9 mph this year. Ozuna's arm strength ranks last among the 58 outfielders with a minimum 75 throws this season." He couldn't throw out your 90 year old grandma trying to tag up from 3rd this season. That's not good, and doesn't look like it's going to get better. Hopefully, Ozuna takes the time this offseason to get that repaired going into a contract season.
UPDATE:
Per Craig Mish, Ozuna had a shoulder cleanup procedure done on Tuesday, October 30th. He is scheduled to be a full go for Spring Training.
Harrison Bader impressed the front office enough for them to ship out 2017 MVP candidate, Tommy Pham, in order for him to take over center field duties. Bader rewarded them with elite defense at one of the most important defensive positions on the diamond. Any time a ball went in the air, fans just knew Bader was going to make the play. Kevin Kiermaier, typically regarded as the best defensive outfielder in baseball, hasn't really ever put it together at the plate. Over his career, his OPS stands at .733. In Bader's rookie season, he already surpassed that with an OPS of .756. Cardinals found a stud in Bader. He will only continue to improve at the plate and is someone who embodies the Cardinal way.
He deserves a starting spot to start 2019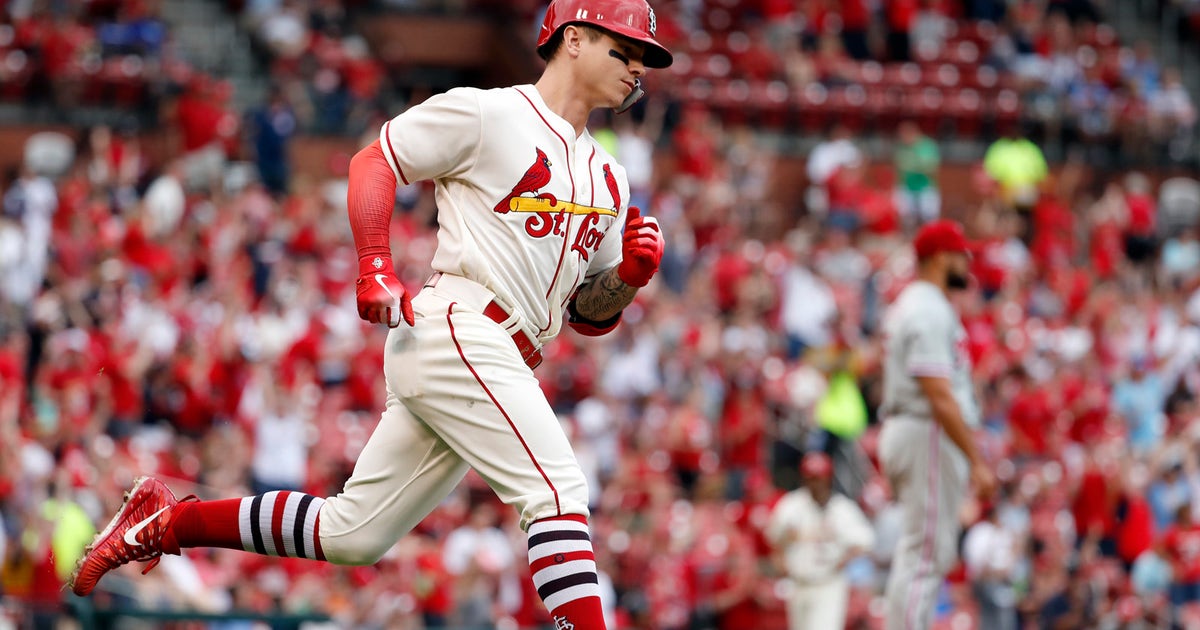 Tyler O'Neill hit 35 HRs between AAA and the MLB last season. No, I'm not saying that hitting HRs in AAA is the same as the MLB, but they are still professional baseball players. O'Neill just needs MLB ABs to progress into his full potential. He even proved to be a good fielder in the corner OF spots, putting up 6 DRS in very limited action. He struggled with a nagging groin injury, which ended up limiting his season AB totals. Many fans and critics would love to sign Bryce Harper, and I'm all in for Harper too. The chances that Harper would want to come to St. Louis AND the Cardinals were willing to spend that kind of money are very, very slim.
He belongs in the American League
I wrote an article days before the trade deadline detailing why the Cardinals should trade Jose Martinez to the AL, and all of those reasons still stand, so this section will be brief. Jose can't field. Plain and simple. He needs to be a DH in the AL somewhere and should bring in a decent return in a trade.
Yairo Munoz made the team out of camp, struggled mightily, then returned to AAA for a short stint. When he came back up, he hit .424 in the month of May. For the season, Munoz put up a .350 OBP, a very key statistic when looking at bench players. To add onto that, not only can he play every infield spot, he can also play all 3 outfield spots. Utility bench bat that gets on base, sound familiar? Munoz has officially replaced Greg Garcia as the Cardinals incumbent bench utility player. Garcia put up a putrid .221/.309/.304 line in 2018. As hard is it will be to let Garcia go, Munoz is the best option for the team.
He is no more than a bench bat and spot starter at best
The best option for the Cardinals is to move Fowler's contract if possible. Fowler was bad in 2018. Like REAL bad. With a -1.4 WAR, .576 OPS, and a -5 DRS, Fowler would have played himself off any MLB roster if it weren't for his contract. Signing a 5 year, 82.5 million dollar contract prior to the 2017 season, Fowler has locked up a spot on the MLB roster. He is getting paid 14.5 million dollars annually for the next 3 seasons. Fowler should do nothing more than a pinch hit opportunity from his good side (batting left-handed), and the occasional spot start to give the starter rest.
---
The Cardinals have a solid core in place for their lineup. They have a few holes that need to be filled, but they aren't far off from the top teams in the NL.
COMING UP:
All-Time Cardinals Mount Rushmore
One Thing Every Cardinals Pitcher Taught Us in 2018
St. Louis Cardinals 3-Year Plan