"It's the Hall of Fame, not the Hall of Very Good!"
We've all heard this phrase, or some variation of it, when someone is being critical of a player's Hall of Fame resume. Receiving the label "very good" has become like getting a consolation prize which is then thrown in an attic to collect dust. It is exactly what happens to the career resumes of guys who do not get in the Hall of Fame; they begin to collect dust. Every year there are debates and hot takes on the careers of guys who are up for the Hall of Fame, like Larry Walker or Mike Mussina, that keep the story of their career alive. The players who are no longer on the ballot and not in the Hall of Fame fade from public consciousness a little more each year.
No more! I'm going to recognize these very good legends of the game by shedding the stigma of "very good" and induct a new class of players into the Hall of Very Good every so often. Does it have to be only once a year? Certainly not. Is there a limit on how many guys can gain entry? Definitely not. Do guys ever fall off the ballot? Absolutely not. It will be a place for players who are not in the Hall of Fame and are no longer on the writers' ballot to be voted in, but had very good, and sometimes great, careers.
In the process of writing this article, the election of Harold Baines and Lee Smith into the Baseball Hall of Fame by the Today's Game Committee became public. This news started a conversation about the worthiness of their resumes. Many have said that they don't belong in the Hall of Fame and picked apart all the negatives that should have kept them out. As someone who loves to talk about my favorite parts of the game and not all of its flaws, I much prefer to celebrate their achievements. Baines probably would have gotten to 3,000 hits if he hadn't played through 3 strike shortened seasons. He finished with 2,866. Smith was the all time saves leader until Trevor Hoffman, and subsequently Mariano Rivera, passed him. While these guys are no longer eligible for the Hall of Very Good (it'll be sad to see them go) there are still plenty of guys who will find their place inside.
As you will notice, this first group will only be hitters. This is only part one of the inaugural class. Part 2 (release date TBD) will feature the pitchers that will take their place among the very good. I also included the team whose hat will be worn on their bust. I'm aware the MLB Hall of Fame doesn't make busts, but busts are way cooler than images on plaques and I have full autonomy over the aesthetics of the Hall of Very Good.
Hall of Famers with a scandal
Pete Rose (Cincinnati Reds)
We all know Rose's resume: all-time leader in hits (4,256), games, plate appearances, at-bats, 2nd most doubles (746); 17 all-star games, 1963 Rookie of the Year, 1973 MVP, and 14 top-15 MVP finishes. The betting scandal has become the major story that has overshadowed his accomplishments for many, but those of us on the HoVG committee (aka me) will not let that happen. A switch hitter who spent significant time at 5 different positions, Rose had over 3,000 hits just from the left side of the plate and helped lead his teams to 3 World Series titles and 6 NL Pennants. He played until he was 45 and had a career .303 batting average. This is a Hall of Fame resume and, frankly, doesn't really fit into what the Hall of Very Good is at its core. However, Major League Baseball has prevented Rose from staying on the ballot so we get to open our doors to him.

Mark McGwire (St. Louis Cardinals)
McGwire is another guy who's numbers are more than Hall of Fame worthy: 583 career Home Runs, .982 career OPS (163 OPS+), the highest AB per home run in Major League history. He won the 89 World Series and 3 AL Pennants with the A's, set the rookie and single season home run record (both since broken) and had 12 seasons with at least 29. Big Mac's exclusion from the Hall of Fame has been a result of his assumed steroid use in the 90s. This is something that needs to be mentioned in his career recap, but it also can't go unsaid that he was an enormous factor in helping bring baseball fans back from the 1994 strike when he and Sammy Sosa chased 62 home runs in 1998. The bulk of McGwire's career was spent in Oakland and there is certainly an argument to be made that he should be wearing an A's hat, but his most important accomplishments and highest peak happened in St. Louis so it gets the edge for me.
Shoeless Joe Jackson (Cleveland Naps/Indians)
The counting numbers alone do not look like much (1,772 hits, 202 stolen bases, only 54 home runs) but when you consider that he played his last game at 33 years old before being banned for life, that's not surprising. The man who would one day be played by Ray Liotta in Field of Dreams batted .356/.423/.517 with a 170 OPS+ for his career including 168 triples and 62.2 WAR. Despite the swift and final "justice" handed down by Kenesaw Mountian Landis, Jackson's involvement in the 1919 Black Sox scandal remains murky, at best. He hit .375 in the series, set a record, which would stand for 45 years, with 12 hits. and committed no errors. On top of that, a Chicago jury acquitted Jackson and his seven teammates of wrongdoing. A sad end to a superstar career that had years left in the tank. Shoeless Joe goes in with a Cleveland Naps/Indians hat on for his overall better play with the team and as a way to get away from the White Sox organization that's so tied to the scandal for him.
Rafael Palmeiro (Texas Rangers)
Six players in Major League history have over 500 home runs and 3,000 hits. One of them is Rafael Palmeiro. His numbers were undoubtedly boosted by playing in a tremendous hitters era and at least some amount of performance enhancing drugs. He also had a 132 OPS+, 1,353 walks to 1,348 strikeouts, and one of the prettiest left-handed swings ever. The former Mississippi State star split his 20-year career between the Cubs, Rangers, and Orioles before infamously testing positive for steroids a few weeks after his 3,000th hit. The positive test was made even more uncomfortable because he had vehemently claimed that he "never took steroids. Period" His MLB career was effectively over after this, but it does not negate the legendary resume he had. He spent the 2018 season playing independent ball at age 53 and still hit well. That swing ages well and will look great when it is featured on a constant video loop at the Hall of Very Good.
Disrespected Second Basemen
Lou Whitaker (Detroit Tigers)
The Detroit Tigers selected 3 Hall of Famers in the 1976 draft: Alan Trammell, Jack Morris, and Ozzie Smith (who did not sign). One year prior, they selected Whitaker in the 5th round. Along with Trammel, he formed the longest running double-play duo in Major League history. He was not just a long time player though, he was a long time superstar. Sweet Lou finished his career with 75.1 bWAR, 2,369 hits, 420 doubles, and more walks than strikeouts (1,197 to 1,099). He won the 1978 AL Rookie of the Year and helped the 1984 Tigers win the World Series. After the induction of Trammell and Morris by the Veterans Committee in 2018, I would be surprised if Whitaker doesn't eventually get in, but for now, he has a comfortable spot in the Hall of Very Good.
Bobby Grich (California Angels)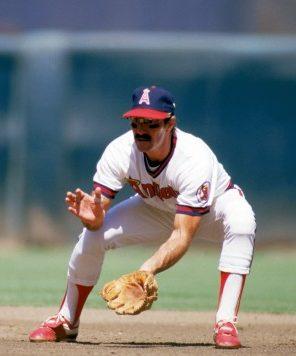 There is a large list of Hall of Famers whose OPS+ is below 125. Some of the names include Banks, Alomar, Ripken, Yount, Biggio, and Molitor. On a related note, Bobby Grich had a career OPS+ of 125. In the 70s and early 80s, the traditional numbers of batting average, home runs, and RBI ruled the day and Grich's excellence in OBP and WAR went unseen. He did lead the American League in homers and slugging in the strike-shortened 1981 season with 22 and .543, respectively. Perhaps he would get a little more historical credit if it had been a full season and he hit around 35. I'm sure having under 2,000 career hits hurt his candidacy in the minds of many, but 71.1 bWAR is a significant number that exhibits how much better he was than the other second basemen of his era.
First Base Defense Matters
Keith Hernandez (New York Mets)
Most people below the age of 35 know Keith Hernandez more for his entertaining-as-hell broadcasting and appearance on Seinfeld than his baseball playing career. He was much more than the guy who said "I'm Keith Hernandez" though. Not only was he the best defensive first baseman of all time (11 Gold Gloves, 117 Defensive Runs Saved), he also provided immense value offensively to his teams. His 10 years in St. Louis to start his career included a batting title and MVP in 1979. He would go on to became a Mets legend when he led the team to a World Series in 1986 and stayed on as a broadcaster post-retirement. Hernandez's .296/.384/.436 slashline is very good and even though he wasn't much of a home run hitter for a first baseman, he had a 128 career OPS+ playing in a poor hitters era. My only request to Keith, is that his cat, Hadji, attend the Hall of Very Good ceremony when he's inducted.
John Olerud (Toronto Blue Jays)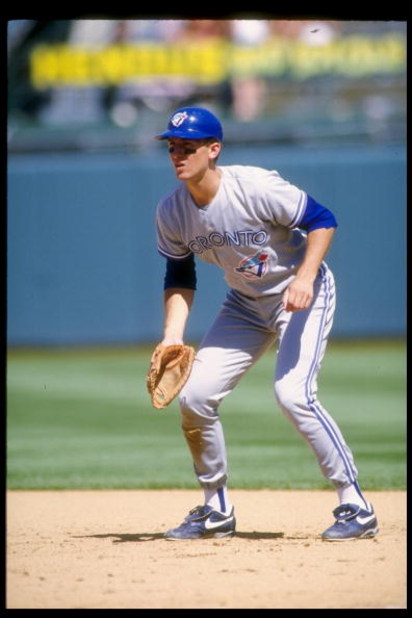 There was no way in hell I was going to get through this article without getting to one of my favorite underrated players of all time. Many people remember him for the helmet he wore on defense, but not nearly enough know the story behind the helmet (a brain aneurysm suffered during his legendary 2-way college baseball career at Washington State) or the story of his remarkable career as a player. I was first introduced to Olerud when he got to the Mets and I was 8 years old. If I'd been paying more attention to the early 90's Blue Jays than my Berenstain Bears books, I would've seen him have an all-time underrated 1993 leading the league in doubles (54), batting average (.363) OBP (.473), and OPS (1.072). In his 8 Toronto years, he won two rings and finished with a 130 OPS+. His Mets career was only three years, but saw a 30 point jump in OBP and slugging, and he played with one of the best defensive infields of all time (joined by Robin Ventura, Edgardo Alfonzo, and Rey Ordonez). After spending 5 very good years in Seattle on some incredible teams, he made stops on both sides of the Yankee-Red Sox rivalry to close his career. Olerud finished his career with a .398 OBP, 500 doubles, and 103 defensive runs saved with more walks than strikeouts. I am so happy to see him in the inaugural class of the Hall of Very Good because I am ALWAYS down to talk John Olerud with anyone that will listen.
Overshadowed Outfielders
Kenny Lofton (Cleveland Indians)
Picking the hat was not difficult for a guy who had a funky career journey around the league. All in all he would play 10 years in Cleveland over 2 stints, and 1 season or less with 10 other teams. Despite a constant stream of other stars in Cleveland, the former Division I basketball player's athletic talent could not go unnoticed. He led the AL in steals in each of his first five seasons, finishing his career with 622. As a leadoff man, he got on base at a .372 clip for his career and never struck out more than 84 times in a season. When the 90's Indians get discussed you usually go through Manny Ramirez, Jim Thome, Albert Belle, and maybe even Omar Vizquel before you start talking about Kenny Lofton, but there is no doubt the effect he had on the team getting on base, stealing bases, and playing elite defense (108 career DRS).
Bernie Williams (New York Yankees)
The most recent Yankees dynasty had four members last much longer than the rest of the group. As a result, Jeter, Rivera, Posada, and Pettitte got the catchy nickname (Core Four) and all the glory as that era wound down a few years ago. Quietly, there was a switch hitting center fielder who has an argument for being the 3rd most important Yankee of that time. He played on 4 championship teams and has the second most career postseason hits, doubles, home runs, and the most RBIs. Williams was not simply a postseason star, he performed all year long. He was consistently sitting around 25 home runs, .300 average, and 30+ doubles from his first full season in 1993 until his abrupt ending after 2006 when it seemed like he might come back, but never did. Bernie won four Gold Gloves, a batting title, and went to five all star games over his 16 years in the league. He also plays a mean guitar. I hope to hear him playing something fun for the millions who will gather for the Hall of Very Good induction ceremony.
As soon as we at the HoVG are able to find a bust artist and book an open field with a stage for millions of people where we can show videos and play music, we will inform you readers of the induction date. For now it remains unannounced. What I will guarantee is that the pitchers edition of the inaugural Hall of Very Good class will be coming before that wonderful celebration becomes possible.
Follow me on twitter: @denack31 and check out Pop Flies and Grounders (Twitter: @pfgrounders, Instagram: @pfg_podcast) on iTunes for our latest podcast and at pfgrounders.blubrry.com where this article can also be found.
Featured Image: Ron Cogswell on flickr