If anyone has ever listened to an episode of my podcast Pop Flies and Grounders (now presented by Diamond Digest!), or played baseball with/against me, or met me in any fashion, they know I love baseball more than anything. In my mind, it is perfect. In doing podcasts and writing, we tend to get so much into the nitty-gritty of current events that we don't take a step back and talk about why we love the game of baseball so much.
This is my ode to baseball.
I love that there is no clock. There is no point in a baseball game where time has run out enough to make a comeback impossible. 2 outs, 9th inning, down 5 runs, you can still make a miraculous comeback (and we've all seen them). TWICE in baseball history a team has been down 3-2 in the World Series and down to their last strike in Game 6 about to lose the series, and came back to win it all ('86 Mets and 2011 Cardinals).
I love the pace of a baseball game. There is no sport better for watching a game and hearing the stories of a good announcing crew (or in Vin Scully's case just one amazing storyteller). You have time between pitches as a spectator to discuss the play that just happened, the pitch upcoming, or a random fact about the guy at the plate. Watching a baseball game with friends doesn't mean you have to be hyper-focused and sitting on egg shells like a hockey game where a goal could come at any moment. If you're playing in the game, even better. You can talk to a fielder from the other team while you're on base, or an umpire if you're catching or the teammate sitting next to you on the bench without missing a beat. Watching a baseball game is a choose your own adventure for how you want to spend the down time between pitches. (Someone tell Rob Manfred we're happy with the pace of play, stop trying to mess with it so much.)
I love the mental battle going on every pitch between a pitcher and a hitter. Every pitch thrown has a purpose behind it. Every pitch has a ripple effect that affects the next pitch and the next hundred pitches after that. Are you throwing a certain pitch because the scouting report says the hitter struggles with it? Are you picking up on a tendency in the hitter's swing, or stance, or location in the box? Does the situation call for a pitch inside on a righty so he can't hit a ball to the right side and move a runner over to third? All of these factors and more go into the reasoning for each and every pitch call. I live for this mind game, and reading of body language.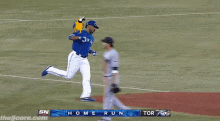 I love the superstitions. Other athletes might have little things here and there that they do individually, but none of them have become part of the fabric of the game like in baseball. Nomar Garciaparra's fidgety batting glove adjustments, Edwin Encarnacion's wing that he throws up running the bases on a home run, the Rangers' claw, the Mets' salt and pepper shaker, sock/stirrup height, rally dips, rally caps, and Rally Monkeys. Give me all the superstitions. Unlike Michael Scott, I'm more than just a little stitious.
I love that nothing is a foregone conclusion. Related story: my wife was a college swimmer, and you can go into most swimming races knowing exactly who will win. The best swimmer is just not going to lose to someone who is not as fast as them. Don't get me wrong; I love watching swim meets, and they're extremely exciting, but the idea of going into a game and knowing you have no chance would kill me. We've seen Stony Brook make it to the College World Series and an 83-78 Cardinals team win the 2006 World Series. You just never know with baseball. I love the pain. I could cut a knee on a slide, take a foul ball off the wrist, or get hit by a pitch in the shoulder. You can bet your ass I'm wearing that like a badge of honor after the game. Each bruise, or lace mark, or scar has a story that I'm more than willing to tell you about.
I love the chatter. There aren't many scenarios in life where you can comfortably call other men "kid" or "babe" and it not seem unusual at all. There's a cadence and style of language spoken at a baseball game that is unmistakable. "Hum babe, we got 1 away, keep pumpin' strikes, roll a pair for the guy" This is all general nonsense in any other walk of life. At a baseball game, you just heard a story about how the game is going.
I love the spectacular plays. The beautiful thing about a web gem or walk-off home run is that no two are exactly the same. There are endless variations of diving plays, mammoth home runs, home run robberies, and plays at the plate. Dewayne Wise robbed a home run in the 9th inning to keep Mark Buehrle's perfect game intact in 2009. Ryan Roberts hit a walk-off grand slam with 2 outs in the bottom of the 10th inning of a 2011 game in which the D-Backs trailed the Dodgers by 3 runs. David Wright made a diving, bare-handed, over the shoulder catch in an August 2005 Mets-Padres game. No one who attended any of those three games could have had any inkling that they would see something they'd never forget on that night. Baseball just happens, and it happens in spectacular fashion at unexpected times.
I love the nostalgia. I was standing with my fingers in the fence watching my older brothers play baseball since the moment I could stand. I had a soft Playskool glove and ball as a kid that I used to throw off the wall and dive across the living room to catch for hours on end. The game has been a part of my life for longer than my memories can even recall. As a result, baseball can bring me back to so many of my favorite moments in life. Being at certain fields will remind me of seeing my older brothers play in big games. Seeing a guy sit back on a knuckle ball will trigger a memory of my dad teaching me to "wait, wait, wait, fast bat" on a slower pitcher. Talking about lineup construction will remind me of my brother Matt's thoughts on splitting up your lefties, or having a guy who can kick the lineup over in the 9-spot. And metal bleachers and camping chairs will always bring me back to seeing my mom with her clip-on sunglasses on, yelling "two-for-you!" and intently watching my games.
I love the stats. Reading a box score for me is reading a story about what happened in that game. I could go back and look through the box score of a random Pirates-Cubs game in 1958 and find something fun and interesting (Ernie Banks was probably involved). I can go through a Baseball Reference page and find a wild season where a guy completely dominated the league in some specific way. I'll spend hours just going from one team to another to another to another and finding something unique about all of them. One might have had a ridiculous K/BB ratio, the next might have destroyed the league in Defensive Runs Saved, and the third could have stolen bases at a remarkable percentage. Teams have identities and the stats give an objective answer telling you what that identity is.
At some point over the course of the last 20 years or so, baseball guys became divided between sabermetrics guys and old-school baseball guys. I have a take on this: anyone too far on either side of this line sucks. The guy who doesn't care to watch the games and only has his head in the numbers ruins the fun of it. The dude who thinks that progressing and using stats like ERA+ or exit velocity is too nerdy is just ignorant. I want to soak up, learn, and enjoy all aspects of baseball. Then put all of those parts into a blender and inject it into my veins. Baseball is always evolving, but the rules and gameplay don't need to be fixed, adjusted, or changed. It needs to just continue to be the perfect combination of all those things I love and live for.
Lets go play two.
Follow me on twitter: @denack31 and check out Pop Flies and Grounders (Twitter: @pfgrounders, Instagram: @pfg_podcast) on iTunes and Spotify for our latest podcast and at pfgrounders.blubrry.com.