Man, I love this kid. Anytime the camera pans to him, he always looks like he's having the time of his life. Biggest smile on his face, always jumping around and hugging his teammates.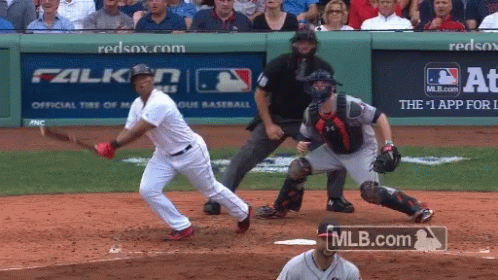 This is nothing new for Rafael. He's always been a fresh, happy face around his teammates. He has always been one of the youngest in the group. One who is just scratching the surface of his baseball potential, and one who is eager to learn.
We often forget Raffy is just 22 years old, and that's why his trajectory is so exciting.
The last couple of seasons, Devers has been working out the kinks both offensively and defensively — the whole time keeping his happy-go-lucky attitude. Now, we're into June of 2019, and the results appear to finally be on the horizon.
The surface level stats can excite any baseball fan. He's already got 79 hits, after having just 108 all of last season. His batting average has hung around .300 almost the entire season. Not only has the bat been rolling, but his off-season regimen appears to be working wonders, as he's already swiped a career high eight bags. Rafael has a legitimate chance to be a 20/20 guy at only 22 years of age. Even his defense, which started the season shaky, has improved and he's brought his fielding percentage up 20 points form last season.
Then, we go can a little more in-depth: we can analyze why Devers is having this success with the bat this year, and why it should continue.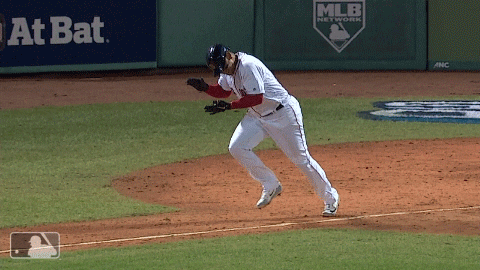 Working with J.D. Martinez so closely has appeared to help with Rafael's patience and discipline. He's brought his strikeout percentage down 8% from 24.7 to 16.7. That eight percent makes a huge difference in how pitchers approach him. It also puts him in the top 50 in K%, which is a huge step for him being outside the top 100 just a year ago.
It seems the huge decrease in strikeouts should really help Rafael going forward as he consistently tries to put together good plate appearances.
Everything else is on the rise for him, maybe not to the full potential it can reach, but improvement nonetheless. His OBP, slugging percentage, OPS, wOBA, WRC+ have all gone from slightly below average to above average.
Another look at Devers' splits makes one come to see how clutch he's really been this season. Of anyone with 130 plate appearances this season, he is sixth in batting average with runners on base, and ninth in RBI. Now listen, before you get angry about me using batting average and RBI, consider the scenario. Being able to hit, and drive guys in who are on base, is instrumental in creating team success. Having a bat like Rafael in the middle of the lineup, producing the way he is when the pressure is on, is a huge reason why the Red Sox offense is keeping this team afloat.
This is where it gets really exciting though. Of every single player to play a single game in Major League Baseball in 2019, nobody, NOBODY, has more hard hit balls (95+MPH off the bat) than Rafael. He has 111 hard hit balls, five more than his closest competition Freddie Freeman, and eight more than MVP candidate Cody Bellinger. He's also got an average of 415 feet per home run, another stat in which he ranks top 30 in all of the MLB. It's safe to say, Devers has been smashing the ball whenever he gets a chance.
Speaking of hitting balls to the moon…
Aa far as his defence goes, there isn't a whole lot of trustworthy, next level analytics. I like to default to DRS (Defensive Runs Saved) as somewhat of a gauge of a player's ability to make key plays.
In 2018, Devers had a -13 DRS. This, is not good. It was bad enough to place him in the bottom ten in the entire league as far as DRS went. However, this season, improvement has been made with the glove for Rafael as well. His DRS of one might not sound sexy, but it's good enough to put him 8th out of 18 qualified defenders. Again, nothing special about 8th, but with Devers still being just a kid, these slow improvements bode well for the future. A player with similar defensive struggles early in his career was Paul DeJong of the St. Louis Cardinals, who is now considered to be a well above-average shortstop defensively.
There has always been questions of whether or not he's going to stick at third, or whether he's going to end up on the right side of the infield at either first or second. Those questions have all been answered this year, and after a bit of a slow start, he has picked it up tremendously in May and June, especially defensively.
Now I realize his numbers might not pop out across the board quite yet. However, with him being just 22, and already making some massive progression over two and a half seasons, I like the path he's heading down. If he continues to improve each season, the way he has thus far, Rafael Devers might be on his way to more than just an all-star game or two.
---
Featured Photo: Keith Allison/Flickr