Editor's note: this article was written before Brad Ausmus' firing on Monday, September 30th. Depending on the type of manager the Angels hire, any opinions listed in this article could change.
On September 12th, 2019, the Angels were officially eliminated from postseason contention in 2019. At 72-90, this is a significant downgrade from two consecutive 80-82 seasons in the two seasons prior.
It is very easy to point the blame on yet another injury-mired season that saw 26 players (including the tragic death of Tyler Skaggs) land on the injured list. This is a list that featured Andrelton Simmons, Shohei Ohtani, Justin Upton and Andrew Heaney. Those 26 shelved players are only behind the Pittsburgh Pirates (27) and the New York Yankees (30). You could also blame a near half dozen of one-year reclamation projects in Matt Harvey, Trevor Cahill, Cody Allen, Jonathan Lucroy, and Justin Bour enkindled quickly in the season. All of that could contribute to the Angels putting out one of, if not the worst, starting staffs in baseball, as their 3.6 SP fWAR is dead last in baseball (though helped by a 2.6 in the first half, 29th). That has lead to overworking an otherwise solid bullpen (756 IP, 2nd most (Rays)). A decent offense which numbers are hurt by injuries to Ohtani, Mike Trout, and Tommy La Stella (99 wRC+, 12th), and the seventh-best defense in baseball (23.8 Defensive Value) was not enough to save the Angels 2019.
Despite all of that being said, here I am, getting ready to pontificate on how the Angels are close to creating a championship contender, much less a super team. Led by general manager (and Brian Cashman heir) Billy Eppler and the potential recruiting efforts of Mike Trout, the Angels can do massive things this offseason and catapult themselves as legitimate threats in the American League.
---
First, let's set the table and layout all of the parts for this to work.
As of September 10th, the Angels have five guaranteed contracts on their roster (Trout, Pujols, Upton, Simmons, and Cozart), counting as $101,694,048 against the luxury tax. There is also Kole Calhoun's $14M club option to consider, but one would suppose that his option does not get exercised. Baseball-Reference, the only source with arbitration estimations at the time of writing, has the 12 arbitration-eligible players on the roster worth $60.6 million. However, it is a bold assumption that guys like Bour, Nick Tropeano, Luis Garcia, and JC Ramirez will receive an average of $5 million per player, much less be tendered a contract anyway. Based on pure estimation right now, I would guess that those twelve players would earn around $35-40 million, which would bring their payroll to around $141,694,048. Adding the pre-arbitration salaries and possible extensions (Simmons and Andrew Heaney, maybe?), you are likely looking at a payroll around $160 million, leaving around $50 million to play with before hitting the luxury tax.
With the exception of 2016, that is around as high as the Angels payroll has been at any point this decade. Luckily for Eppler and company, they have the leverage to convince owner Arte Moreno to try and go over the luxury tax for 2020 and 2021. The Angels generated $348 million in revenue in 2018, the eighth highest in baseball. That will only increase as long as Mike Trout and Shohei Ohtani alone are in the lineup. Speaking of Mike Trout, they are seemingly "running out of excuses" to build a contender, much less a championship-winning team, around someone who will likely go down as a top-three player of all-time. Since a disappointing sweep by the hands of the eventual American League Pennant Champion Royals in 2014, the Angels have only had one winning season (2015) since. This is despite Trout (somehow) improving statistically in every single season since. As Ken Rosenthal states in his article, "…the coming offseason looms as a major test for owner Arte Moreno [as well as Eppler]." This pressure does not even include a potential move of the Angels to Long Beach, which, while more populous than Anaheim, could leave a negative effect on it's Anaheim fanbase.
Assuming the Angels elect to put the past free-agent mistakes of Pujols and Hamilton behind them, the Angels will have $50+ million to work with. And the 2020 free-agent class, albeit weakened due to the influx of extensions last offseason, still has quite a few players that the Angels could and should make heavy offers for.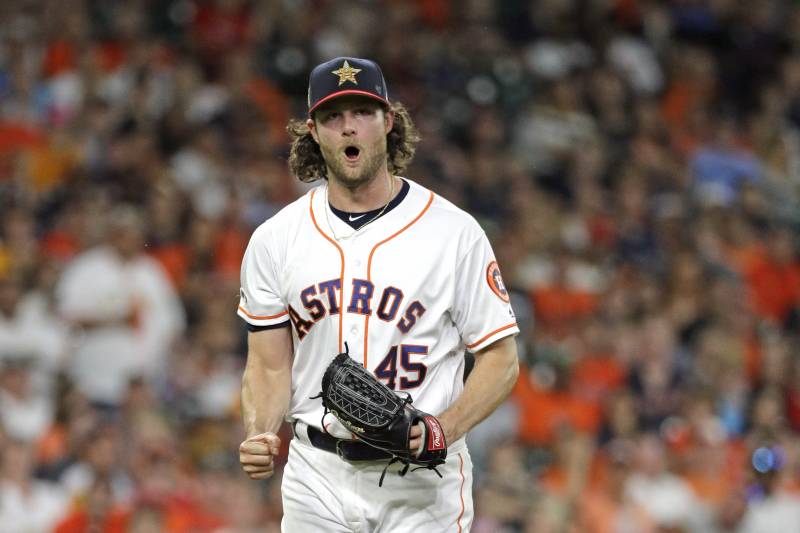 Gerrit Cole is a great pitcher. One of the best in the game. Hell, if Max Scherzer did not exist, I would go a little bit further and say that Cole is THE best pitcher in baseball right now.
He has completely turned around from a promising but mediocre pitcher in Pittsburgh into one of the most dominating pitchers in all of baseball. Since being traded to the Astros, Cole has thrown his slider (17.4% in 2017 to 20% in 2018) and curveball (12.1% to 19.2%) more, while essentially eliminating the use of his sinker (13.1%, 6%, and 2.7% from 2017 to 2019). This has contributed to a massive drop in opponent xBA, xSLG and xwOBA and a spike in strikeout percentage; a composite 22.75% strikeout percentage from 2013-2017 has turned into 34.5% (2018) and 39.8% (2019, lead all of baseball). His lack of walks is also huge, as his 34.0 K-BB% also leads baseball (among qualified). The results shined it's brightest this year. Behind his league-leading (among starters) 7.3 fWAR is a 2.52 ERA, the 3rd best starter ERA in baseball, and a 2.62 FIP (2nd), as well as leading all starters in xFIP (2.49), SIERA (2.62), and pCRA (2.10).
That alone would make it preposterous for the Angels, much less any team, to pass on him in free agency this offseason. It is almost a lock that Gerrit Cole gets the $30.0 million AAV, if not more, that Spotrac currently has his market value at. The Angels, Cole's hometown team and the early favorites to sign him, are right up there in the bidding war. Despite that, they will have an uphill battle to climb to grab him. They would have to go against the Yankees, who have already whiffed on Cole twice (failure to sign him out of high school and failure to trade for him in 2017-18) and would certainly try everything in their power to sign him, as well as the Rangers, Phillies, Cubs and, well, the Astros.
All of that given, a very strong plan B (really, plan A.1) would be the services of Stephen Strasburg, who is speculated to opt-out of the remaining four years, $100 million (not including $70 million in deferred money) left on his deal. After a "down" year in 2018, Strasburg has severely dropped the usage of his fastball (from 45.4% last year to 28.6%) and slider, while increasing the usage of his curveball and sinker. And the longtime National returned to form, limiting opposing hitters to a .268 wOBA (.262 xWOBA) and a .325 xSLG, compiling a 3.32 ERA, 3.26 FIP, and 5.7 fWAR this season. His peripherals are still very good; he ranked 4th in xFIP (3.17), 6th in SIERA (3.49), and 11th in pCRA (3.23). While it is still not as dominant as the Strasburg we saw in 2017, he is still an ace-type starter that teams desperately need.
The main issue with Strasburg is his durability. With the exception of 2017, this is the only season since 2014 where he has pitched at least 150 innings. That does not bode well for a team that religiously endures injuries, especially to their starting pitchers. He is also on the older side, as he turns 32 next July, which could make his durability concerns worse. These are moderate concerns for the Angels, but if they miss out on Cole, he is still a perfect Plan B.
The one main concern for both Strasburg and Cole is that they are Scott Boras clients, and Boras and Moreno have a known hatred for each other. That has not stopped the Eppler-era Angels from drafting Jo Adell in 2017 and signing Matt Harvey, and it certainly should not stop them from their pursuit of two of the best pitchers in baseball.
The precipitated notion that Zach Wheeler had a "down" season is a little disproportionate. While he pitched to a 3.96 ERA (a figure that was over 5 at one point), he also has a 3.48 FIP and pretty good peripherals (including a 3.67 pCRA). This comes a year removed from a great 2018, where he had a 3.31 ERA, 3.25 FIP, 3.81 xFIP, 3.87 SIERA, 3.58 pCRA. That is despite the massive increase in usage of his sinker (29% compared to 15.2% in 2018) that has allowed a .298/.347/.488 AVG, wOBA, and SLG (.276/.327/.454 xBA/xwOBA/xSLG).
As soon as free agency opens, Wheeler should be the first guy the Angels go after. Whether they land Cole or Strasburg or miss out on both, Wheeler would be a perfect signing for the Angels. Landing Wheeler at the very least gives them a "cheap" (assuming he doesn't get close to the $23.5 million market value AAV that Spotrac projects) number two pitcher behind Ohtani. If they are able to land one of Cole or Strasburg, suddenly, you have one of the most lethal rotations in baseball.
The Angels deadline deal for Max Stassi to replace Jonathon Lucroy was underrated. In only 352.0 between the Astros and Angels, he put up 9.9 FRM. For context, J.T Realmuto has 7.3 FRM in 1139.1 innings. Stassi is an excellent framer and a very good defensive catcher overall. However, in 147 plate appearances, he put up a .136/.211/.167 (.378 OPS) line, a .177 wOBA and a wRC+ of FIVE (still more than Jeff Mathis' 2 wRC+). His lack of offensive production alone drops his fWAR to -0.3. While Stassi is indeed a great defensive catcher, unless he trends much closer to the 100 wRC+ in 250 plate appearances he showed in 2018, the Angels should not slot him in as an everyday catcher. Their other catcher, Kevan Smith, has been respectable offensively the past two seasons but is a polar opposite to Stassi defensively (-6.2 FRM, 29 wild pitches allowed). With the only other catcher on the roster being Anthony Bemboom, it is clear the Angels have to upgrade at the catcher's position.
The easiest solution would be to sign Yasmani Grandal, who is coming off the best offensive season of his career (.246/.380/.468, .363 wOBA (.361 xwOBA), 121 wRC+). That level of production is combined with a 16.1 FRM in 1091.2 innings. It is no secret that Grandal is the best catcher, or otherwise in the top three, in baseball. That is why if he declines his $16 million mutual option for 2020, it would likely be because he is looking for a long-term contract. With Cole/Strasburg and Wheeler as priorities one and two, the Angels may not have enough tax space to add Grandal.
In that case, the best fit for the Angels is Jason Castro. With the exception of an injury-shortened 2018, Castro has hovered around league average offensively since 2016. But his expected stats are those to keep an eye on, as his .232/.332/.435 line and .328 wOBA tremendously underperform his .242 xBA, .491 xSLG, .360 xwOBA, and 46.3 hard-hit percentage. This does not mean that you should expect the 129 wRC+ season he put up way back in 2013, but there should certainly be solid seasons to come. Since 2014, he has been a very good defensive catcher, including 3.3 FRM in 2019. If the Angels miss on Grandal, Castro is a sneaky good addition to the Angels catching corps.
If Blake Treinen was a free agent last year, after accumulating an 0.78 ERA, 1.82 FIP, 2.46 SIERA, and 3.6 fWAR, this would be a much bigger topic.
Instead, we are talking about a complete 180-degree version of him. After that brilliant season, he has completely dropped off in 2019. His 4.91 ERA, 5.14 FIP, 1.62 WHIP, 5.01 xFIP, 5.01 SIERA, 4.88 pCRA, 13.9 BB%, and 42.8% ground ball percentage are all career worsts. The spin rate of all four of his pitches have dropped considerably, and that has led to, in the nicest way possible, unpleasant results:
Whether it is due to injury or not (he was shut down for the rest of the season for a back injury), it is a complete fall from grace. Entering his third arbitration year with a current salary of $6.4 million, there are talks that the Oakland Athletics might non-tender him this offseason.
If that is the case, the Angels should pounce at the chance to sign him as a reclamation project. As an Angel fan, it is tough to hear those words after watching five go straight to the trash this season. But remember, this is the same team that was able to turn pointman maestro Hansel Robles into baseball's Undertaker (and more importantly, a solid reliever). At the very worst, Treinen does not return to form and the Angels simply release him. But a return to at least his pre-2018 numbers (again, a solid reliever) should not be out of the question.
---
Imagine a 2020 Angels roster that looks like this:
Gerrit Cole/Stephen Strasburg
Shohei Ohtani
Zack Wheeler
Andrew Heaney
Other options: RHP Felix Peña, RHP Keynan Middleton, RHP Taylor Cole, RHP Dillon Peters, LHP Miguel Del Pozo, LHP Adalberto Mejia, LHP/1B Jared Walsh
C Yasmani Grandal/Jason Castro (Max Stassi/Kevan Smith)
1B Matt Thaiss/Albert Pujols*
2B Luis Rengifo (David Fletcher)
3B Tommy La Stella (Zack Cozart*)
SS Andrelton Simmons
LF Justin Upton
CF Mike Trout
RF Jo Adell (Brian Goodwin)
DH Shohei Ohtani

(*-assuming they are not released or, in the case of Cozart, salary dumped elsewhere)
Without a doubt, the Angels would employ one of the top rotations in baseball when healthy. Two surefire aces in Cole and Ohtani, with Zack Wheeler, Griffin Canning, and Andrew Heaney behind them is about as elite a rotation on paper as they come. And even if one of them goes down, they have numerous serviceable in-house depth options to turn to, including Barria, Felix Pena, Dillon Peters, and 21-year old Jose Suarez. The backend of the bullpen after Buttrey leaves a little less to be desired, but they could all be deployed as openers for Canning, Heaney, and Ohtani.
The offense is not like the Astros and Yankees, by any stretch, but it is still pretty elite. A Trout-Ohtani-Grandal/Castro-Upton middle of the lineup is just as dangerous as any top-tier middle of the lineup in the league. If La Stella's breakout as a 120 wRC+ hitter holds and Thaiss and Adell, whether in 2020 or in the near future, produce as expected offensively, that would mean four pretty good hitters are looming behind the elite bats of Trout and Ohtani. The defense, especially if Simmons and David Fletcher are manning the middle of the infield, is nothing to sneeze at either.
---
Trades?
The Angels farm system ranked 11th among all teams at the start of the season(down to 19th due to the graduations of Griffin Canning and Luis Rengifo, the struggles of Jahmai Jones, and an overall lack of depth after Patrick Sandoval), according to Fangraphs.
Granted, 19th, graduations or not, does not sound like a big deal, but it is an absolute refinement from the farm system that Billy Eppler inherited in 2015. The farm system was dead last, long before the trade that sent Sean Newcomb, the only prized prospect in the Angels system at the time, for Andrelton Simmons. Only three years later, the Angels have seen the rise of Jo Adell as a top-three prospect in baseball, as well as borderline top 100 prospects in Brandon Marsh, Jeremiah Jackson, Patrick Sandoval, and Jordyn Adams (and continue to wait for the resurgence of Jahmai Jones).
In a perfect world, the Angels could take advantage of the Red Sox' Mookie Betts dilemma and attempt to make a massive blockbuster. That would mean arguably the two best players in baseball playing in center and right field in Anaheim. But not only would that require trading Adell to the Red Sox, that would mean potentially committing north of $75 million annually between Trout and Betts, as well as a potential Gerrit Cole contract, for the next five years.
Instead, the Angels can easily use their prospects to turn into major league stars without giving up Adell. They could potentially use these guys (and some major league talent) to trade for Ken Giles, one of the league's top relievers in 2019. Or they could further bolster their rotation by attempting to trade for Matthew Boyd and his three years of service time or boosting their positional versatility and acquiring Whit Merrifield. There's so many options to be had on the trade market with this prospect group.
---
Mike Trout is a generational talent. In just eight seasons and change, he has elapsed numerous legends on the career WAR leaderboard. At this trajectory, he will likely finish as the best baseball player of all time. However, if the Angels somehow fail to build a contender around him over the next ELEVEN years, Trout will go down as the most wasted—as in no championships, not the Doc Gooden-type definition—talent in baseball, and maybe all of sports. Especially for Billy Eppler, since it's telling that the Angels only exercised his club option instead of giving him a long term extension, time is running out. This is the best time to build that contending team, and Eppler has the pieces to make it happen.
With a good offseason—signing Cole/Strasburg, making a few trades and calling it a night—Eppler can have a postseason roster on his hands. But with a great offseason, they have a chance to build more than just a contender for a postseason spot. By the time Opening Day 2020 comes around, we could potentially be talking about an Angels team in the same stratosphere as the Yankees, Astros, and Dodgers.
---
For another perspective on the Angels potential 2020 offseason, read this article by Diamond Digest colleague Brian Schlosser.
Follow Payton Ellison on Twitter (@realpmelli14).