What to expect in the one game playoff between two of the lowest payrolls in baseball
We are just hours away from the American League Wild Card game between the Oakland Athletics and the Tampa Bay Rays. In a rather top heavy American League, these two "fringe playoff" teams amassed 97 and 96 wins respectively. For perspective that would've won you the National League Central division by a hefty margin and tied the the National League East division winning Braves. But here we are, two of the scrappiest teams in baseball going head to head to see who gets to face the Astros in the division series. That however is a moot point now, so let me get off my soapbox and dive into what should be an exciting matchup Wednesday night.
The game will be played in Oakland Coliseum amongst a rather rambunctious crowd. Ironically enough, both teams are going through tumultuous stadium issues, and could very well be playing home games in a new area code in just a few years. League wide opinions about Oakland and Tampa's home ballparks have been harsh, critical of the venue itself and lack of attendance for what we can now call playoff teams. It's a sad but true reality, and all optics aside, I am confident that wherever this game could've been held (Oakland or Tampa), it'd draw a full and lively crowd. Rays fans don't consistently show up to games, but I know one thing for certain is that the Trop brings the energy on Opening Day and the playoffs.
Mike Petriello of MLB.com wrote about a position by position breakdown of who has the advantage at each position. Starting pitching and DH's included he gave the Rays a 5-4 victory in the positional advantages, with an even cross at catcher. He wisely left out bullpen advantages, due to the necessity of a victory, quite literally anyone could come out of the pen. For example, if Morton is scuffling early, don't be surprised to see Tyler Glasnow or Blake Snell getting loose.
Personally, the do or die essence of the Wild Card game leaves little to desire with positional favorites. Yeah sure Matt Chapman is a dynamic 3rd baseman, but if he were to mishandle a short hop or go 0-4, what good is that presupposed positional favoritism? Crazy things have happened in the Wild Card games since the 2nd Wild Card was introduced back in 2012. Extra-inning extravaganzas, costly wild pitches, you name it. If this game is going to be anything like the Rays past month or so, expect this to be overflowing with drama and a theatrical ending.
Albeit biased, I do like the Rays chances against Oakland. The season series was competitive, with a record of 4-3 in favor of Oakland. During their prior matchups this season, Oakland caught the Rays when the strongest asset, their bullpen, was not as sharp as they have been these past few months, with mostly the bullpen to blame in some tough losses against the A's.
The reason for confidence in the Rays lays mostly on the surgically repaired shoulders of de facto ace Charlie Morton. I've written extensively on how good of a signing Morton has been for the Rays when they inked him early in last year's offseason to a 2 year, 30 million dollar deal, the highest free-agent contract in franchise history.
Morton for his career against Oakland has tremendous figures. In 40 innings of work he has a 2.97 ERA, 1.14 WHIP and 10.9 (!) K/9. Diving a bit deeper he has 3 flat K/BB ratio, .203 batting average against and .638 opponents OPS, .263 BABIP, and 77 OPS+. If you aren't heavy into stats and sabermetrics, I'll give you a hint, that's pretty darn good. In 2 starts against Oakland this year, Chuck has a 0.68 ERA, 0.75 WHIP, and a .133 BAA, the lowest of any team he's faced this year (minimum 10 IP).
The key to all that, has been his .247 wOBA to right-handed batters. Oakland doesn't have a lot of left-handed hitters besides Matt Olson, Seth Brown, and switch-hitters Jurickson Profar and Robbie Grossman. Of which I can only see Olson as a lock as a starter, possibly Grossman or Profar, while Brown may not even make the playoff roster. For what its worth, Profar has hit under .200 as a lefty and was getting less and less playing time down the stretch.
Manaea on the other hand, has only appeared in 5 games this year. While flashing dominance, it remains to be seen how he fairs in his first taste of the postseason. Obviously riddled by a lack of sample size and quality of opponents with Oakland's fairly easy September schedule plus the active 40 man rosters in September, Manaea has a 1.21 ERA and a 0.78 WHIP since his return from Tommy John surgery. Not to say Manaea, who has prospect pedigree and shown success at the big league level, can't put up gaudy numbers, but take those with a grain of salt.
With rosters being announced today here's how the Rays shape up going into Oakland: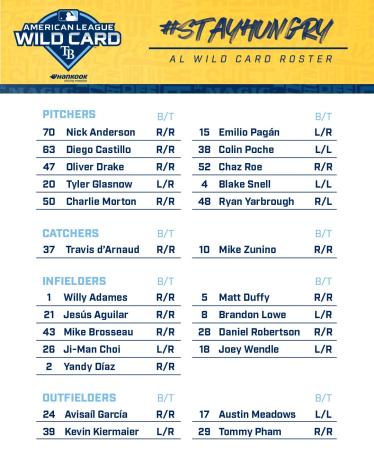 Of note, the Rays went with a more right-handed bench keeping Daniel Robertson and the recently activated Yandy Diaz. Leaving out lefty Nate Lowe and 5th outfielder Guillermo Heredia. Also of note is the absence of Eric Sogard, who's been hurt for a few weeks after fouling a ball off his leg. The construction of this roster was based under the assumption of Oakland using lefty starter Manaea and following it up with more southpaws in AJ Puk and the heralded Jesus Luzardo.
Based off this here's the announced lineup for the Rays against the lefty:
| | |
| --- | --- |
| Yandy Diaz | 1B |
| Tommy Pham | DH |
| Austin Meadows | LF |
| Travis d'Arnaud | C |
| Matt Duffy | 3B |
| Avisail Garcia | RF |
| Willy Adames | SS |
| Kevein Kiermaier | CF |
| Mike Brosseau | 2B |
On the flip side, Oakland went with a very right-handed total of position players with a healthy mix of both righties and lefties in the bullpen. Not too many surprises with their current group: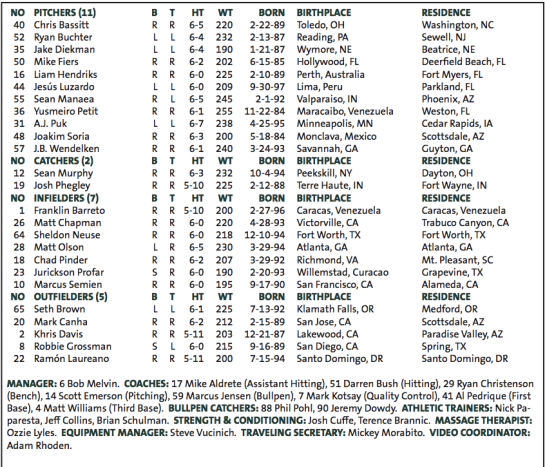 This game should be just as exciting as last night's matchup between Milwaukee and Washington. The Rays and A's both have a flare for the dramatics, so I wouldn't be surprised if this one goes down to the wire, or has a couple of lead changes throughout. This type of matchup is exciting, with neither team being known as a villain or commanding nationwide attention on a daily basis. If anything this is type of game provides the platform for some guys like Austin Meadows, Matt Olson, Matt Chapman and Tommy Pham to garner the national recognition they deserve. These teams are good and have some really good players, some of which are stars in the making, some are wily vets with a chip or two on their shoulder, ready to prove they belong in October baseball.
Featured photo: @KAHISPORTS on Twitter