Rob Manfred, Joe Torre, Gary Cederstrom, and his umpiring crew probably owes Anthony Rendon a nice dinner after his 5-RBI performance saved them from one of the biggest scandals baseball has seen this century. The outlash that Jim Joyce got after ruining Armando Galarraga's perfect game or the outrage of the infamous outfield-fly rule call? Yeah, that and much more is what Major League Baseball and its umpires would have gotten if last night had any effect on this series.
It does not mean that they should be completely exonerated for this call:
In case you are still unsure of what transpired, let me help: Trea Turner was called out for interfering with Yulieski Gurriel, whose glove was stretched on the baseline, or at least in Turner's running path. After review, one that probably should not have happened because it was a judgment call, the call was upheld, because according to Chief Baseball Officer Joe Torre:
"Yes, the ruling was that Trea Turner interfered, basically — not basically, he interfered with the first baseman trying to make a play. In fact Gurriel's glove even came off at that point in time. He did run to the fair side of those 45-foot lines, but really the violation was when he kept Gurriel from being able to catch the ball at first base."

From Joe Torre's press conference after the game
Granted, a rule—in this instance, Rule 5.09—to prevent runners from running out of the baseline is needed. In fact, most of those calls are used if a player tries to avoid a tag in between bases and is closer to the outfield than the base. So Rule 5.09, at least in that context, is needed and used (the Chase Utley rule, to an extent, is an extension of the basepath rule). But the rule that was used to call Turner out—Rule 5.09(a)(11)—as presently constituted is not only never enforced unless in the most extreme circumstances, it is flat out cretinous and flawed. And it starts with the running lane itself.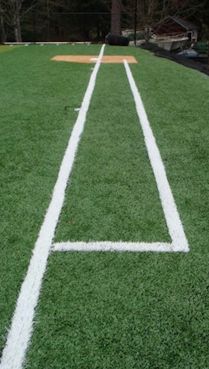 As defined by Rule 5.09(a)(11) in Major League Baseball's rulebook:
"In running the last half of the distance from home base to first base…he runs outside (to the right of) the three-foot line, or inside (to the left of) the foul line, and in the umpire's judgment in so doing interferes with the fielder taking the throw at first base"
This three-foot line is located in foul territory while the first base bag is in fair territory. Right away, the letter of the law does not make sense. The goal of the runner on a slow grounder is to take the shortest route possible to the base. You are asking a runner to run into foul territory for 45 feet, which is not even close to the fastest path to the base. A runner would literally have to stutter step onto the base or step on the corner of the base upon reaching first.
Additionally, especially for right-handed hitters, that is not a straight path to first base. For left-handed hitters, it's a bit easier to, at the very least, run with about one and a half feet in foul territory and avoid being out of the running lane. But for right-handed hitters, it is pretty much impossible to get inside that running lane without taking some sort of weird hitch in your running pattern. In a game that prides on being "a game of inches", that is tenths of a second being wasted trying to be in a running lane that makes no sense. Just looking at the graphic I made below, it is very unlikely that any right-handed hitter has ever run down the line in foul territory.
Tying it back to the current situation, Turner had to run inside of fair territory because it gave him the best chance of being safe. And even if he was in fair territory, he likely would have made contact with Gurriel's glove anyway because of how bad Brad Peacock's throw was. Essentially, you are rewarding Peacock for a bad throw, as a good throw probably makes this entire situation null.
And just moving away from the logistics of the rule, it is rarely called. There was a very similar play in last year's World Series that did not get an interference call. In 2016, there wasn't interference or an "out of the baseline" call was made on Carlos Correa despite running on the infield grass for most of the way. One of the greatest deke moves of this decade involved Billy Hamilton being way out of the baseline. In fact, the only out call for being out of the baseline that I could personally remember is this one on Javier Baez (which is blatantly obvious).
The saddest part about this is that this is just the tipping point of what has been a poorly called World Series by Cederstrom's crew on both sides, especially behind the plate. This includes two very poor games, even ignoring the perceived bias by everyone on Twitter, by the home plate umpires in Games 2 and 3. The umpires are probably a talking point mainly because, other than last night, this series has been uneventful (on the field). But the out call on Turner, one of the worst we have seen in World Series history, just exasperated the situation.
This play is not just another poor field call, like the outfield fly rule or a missed fan interference call. Because technically, by the current letter of the law, Sam Holbrook was correct in his assessment that Trea Turner broke Rule 5.09(a)(11). That said, this is a call that should support some sort of change, whether it's a change to the first base bag as Kyle Schwarber eluded to or an adjustment of language, some form of change needs to be made. If something is not changed, then instances like this will continue to happen and there will be a point—tonight, next year's World Series, etc.—where it costs a team a very important game.
For now, we shall enjoy what should be a fun (or stressful, if you are a Nats or Astros fan) Game 7. But tomorrow, there should be discussions on what to do with a pretty bad rule.
---
Follow Payton Ellison on Twitter (@realpmelli14).