Yes, it took a public fight during a global pandemic to do it, and it's not like the transgressions between the owners and players have disappeared. But we can put that all to the side for now because the players are back in baseball is back…with some very noticeable changes.
A 162-game marathon is now a 60-game sprint. That means that the typical five-game winning streak or the four-game schneid that is customary to every season suddenly means that much more. If a team starts the season 5-15, that is going to be a very tough hole to climb out of. And that's just team accomplishments. A player that is red hot for 30 games is going to have outstanding numbers, while one bad start or appearance by a pitcher is going to send their ERA skyrocketing with almost no way to come back to Earth. Thirty years from now, our children will look at Fangraphs (or whatever the top baseball statistic site is at that point and time) and begin to wonder why three different players had an OPS of 1.200. It is going to be a weird season, but unprecedented circumstances call for unprecedented actions.
So what will happen in this crazy season? Will there be a .400 hitter for the first time since Ted Williams? Will there be a Cy Young winner with more losses than wins for the first time ever? Better yet, will the Cy Young finalists consist of relievers only? So many things can happen in what will be a crazy season. Here are some very bold predictions on what we might see in these next three and a half months.
---
No Player Hits 30 Home Runs
Even before MLB announced a season, at a time where the season could have been as short as 48 games, people were believing that we would see multiple 30 home run seasons. And if the ball is as juiced as it was last year where pitches near the hands were blasted six rows back into the opposite field bleachers, then anything is possible.
Here's the thing: to be able to hit 30 home runs in a 60-game season would mean hitting home runs somewhere around the pace of Mark McGwire's 65-homer season in 1999 (8.02 AB/HR). Of course, it has been done before. On his way to hitting 73 home runs, Barry Bonds hit 37 home runs in a 185 at-bat stretch (5 AB/HR) between mid-April and the end of June. Sammy Sosa hit 34 in a 247 at-bat stretch (7.26 HR/AB) on his way to 66. Most recently, in his 2017 MVP season, Giancarlo Stanton hit a ridiculous 33 from June to August (6.7 HR/AB). So no, it's not impossible by any stretch.
That said, it takes a lot just to hit for average well for an extended period of time, those types of home run stretches are very rare. Well-balanced breakfasts, springy bats, and Stanton already being a behemoth of a human being not considered, there is a reason why this massive stretch of such power have come in 59 plus home run seasons. In order for a guy to reach 30 home runs in this truncated season, you are asking for someone to be on pace to break Roger Maris' record in a full season.
Additionally, many of the stretches you see start and end near the summer months of the season, which would usually be halfway through the season. Opening Day on July 23 is almost the same thing as if the season was starting on March 26. Already, there are players who have to shake the rust off after Spring Training, and now there is a shorter training camp, no exhibition games, and a dangerous respiratory virus still in the air to handle. Even in a normal slate, the only person to crack 30 in the first 60 games is the aforementioned Barry Bonds in 2001. That should tell you that asking for 30 home runs from one player is asking for a lot.
Again, anything is possible. With a juiced ball, a season mainly in the summer months, and hopefully healthy players, I would not be as surprised if someone hit 30. But my belief and expectation are that no one gets to that number in the 2020 season.
---
Mike Trout AND Gerrit Cole Win the Triple Crown
I am aware that both triple crowns have a combined four out of six stats that many would like to see yanked out of baseball existence forever. Yet, it is still important to note just how hard it is to achieve the feat. Before Miguel Cabrera accomplished the Triple Crown in 2012, the last player to do it was Carl Yastrzemski in 1967. Just 13 modern-era players, including two from Rogers Hornsby and Ted Williams, have been able to achieve the Triple Crown. On the other hand, there have been 32 modern-era Triple Crown pitching seasons, most recently by Justin Verlander and Clayton Kershaw in 2011, but that is still an incredibly rare achievement that becomes even rarer because this guy named Jacob deGrom exists.
Now imagine, in a truncated season, if a position player and a pitcher were able to do it in the SAME SEASON? That has only happened four times in the modern era (1901, 1934, 1947, and 1966), but in a 60-game season, it is certainly possible.
Enter Mike Trout, the greatest player of our generation and well on his way to the best player of all-time. There is not much basis that this will happen based on his numbers through 60 games last season, where he was not that close to even the top 10 in any of the three categories or the fact that his RBI totals have been sporadic throughout his entire career. But, for what feels like the first time ever for many, he will have lineup help around him in the form of Anthony Rendon. Assuming pitchers weren't pitching around him enough without Rendon in the picture, imagine how Bonds-ian he could get. Plus, if there's anyone I trust in this shortened season more to do something completely out of this world in this crazy season, it's Trout.
Now enter Gerrit Cole. Assuming he pitches anything close to like he did in 2019, where he led all qualified starters with a 39.9 K% and had the lowest ERA in the American League (2.50), that's a tremendous start. If he could get the run support from a Yankee lineup that projects to be one of the best in baseball (again), then the wins will rack up as well. This scenario could apply to any star starter who has a tremendous season. Hell, with as good as he has been and what might be an improved lineup in Flushing, I would not be completely shocked to see deGrom achieve the Triple Crown.
I would already anticipate a starter finishing the season with the Triple Crown. My likely pick to do so would be Cole. Can he and the greatest baseball player of all-time share that legacy together?
---
Tim Tebow Makes His Major League Debut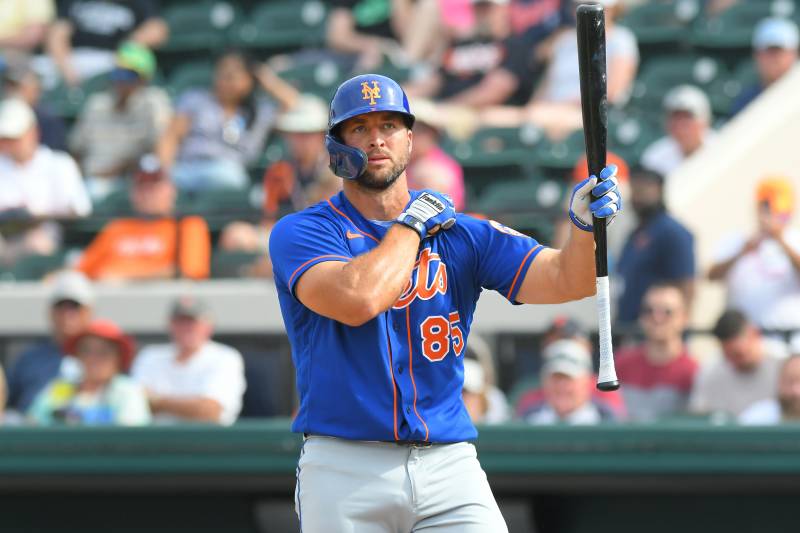 This prediction took a hit a couple of days ago when a large part of the Mets' summer camp roster was announced and there was no sign of Tim Tebow. That said, there are still seven spots left on the roster, and COVID-19 can strike a major league roster at any time. Therefore, Tebow could be an option for the 60-man pool at a later time.
No, there is still no merit for his call-up based on his statistics in three minor league seasons. Things looked to be going up a couple of years ago when he accumulated a .734 OPS and 106 wRC+ in Double-A (while hitting the much less springy minor league baseball) before his season ended in July due to injury. The 2019 season was horrendous, with a .163/.240/.255 line and a Jeff Mathis-like .227 wOBA and 26 wRC+, before his season ended in July (again) due to injury. I don't think I need to go further into his "tools" to say that there is no reason to call him up, and the only other remotely logical reason to bring him up does not exist in 2020 (fans in the ballpark).
However, there are a lot of players that may decline to participate in the season, and if enough Mets decline to play, a slot might open for him. As I already mentioned, the coronavirus is still in the air. The first wave of league-wide tests brought 38 positive results, which isn't a lot, but the virus has intensified in the country over the past few weeks, and it is very possible that there will be multiple players on one team that test positive. With the way that service time will work in this season, I find it hard to believe that the Mets would want to waste service time on a more touted prospect.
Therefore, we could see Tebow on the 60-man player pool, and if luck (or God) is on his side, we will likely see him appear in a big-league game in 2020.
---
Jake Lamb Has a Resurgence
Last time we heard good things about Jake Lamb, he was coming off back to back seasons with a wOBA over .350 and 110+ wRC+. More specifically, he had a .260 ISO and hit the ball really well in 2016. No, he wasn't a great defensive player, but he looked to be a really good piece in the middle of a lineup that then had Paul Goldschmidt and David Peralta near the top.
Nowadays, it's likely you forgot that Lamb existed. Since those two good seasons, due to injuries and a lack of production when healthy, he has fallen off a cliff. He has only played in 134 games in the two seasons since 2017 and has put together a combined .208/.315/.350 slash and 79 wRC+ in those two seasons. Most sources had him as a potential non-tender candidate heading into the final year before he became a free agent in 2021.
That all said, it isn't far-fetched to say that Lamb can't find himself this season. Despite the struggles he has had with production, the tools are still there. In 226 plate appearances last season, he walked in a career-high 14.2% of them. He was also hitting the ball nearly as hard as he did in his career-best season (90.4 vs. 91.3 exit velocity) and, unlike in 2018, was putting the ball in the air much more. His .340 xwOBA compared to a .297 wOBA leaves me to believe that there was a lot of bad luck involved.
The universal DH turns out to be the saving grace for Lamb (as it will for many players around the league). Many project him to be the team's primary DH, others say that he could platoon with Kevin Cron. Either way, keeping Lamb off the field for anything other than the plate and baserunning purposes is a plus, both because of his injury history and his below-average play at the position anyway. This would be short-lived because the DH will not be in the National League in 2021.
That said, with him heading into his contract year, this is a chance to prove his worth as a respectable DH/1B option for an American League team. All he needs is a good 60 games and that should revamp his entire free agent stock.
---
Mariners Go Full 2011-12 Charlotte Bobcats
If you have no idea what that means, time for a quick history lesson. The 2011-2012 Charlotte Bobcats, in their second full season with Michael Jordan at the helm, decided to go on full tank mode for the best odds at a young center from Chicago named Anthony Davis. And in a lockout-shortened season, the Bobcats went 7-59, capped off by a 23-game losing streak. By the way, the New Orleans Hornets won the number one pick, selected Anthony Davis, and the Bobcats selected Michael Kidd-Gilchrist with the second overall pick.
The Bobcats are one of four teams in the three major sports leagues that play at least 60 games a season to finish with less than 10 wins. I don't think I am pushing it to say that can happen in this baseball season, and the team with that perfect storm is the Seattle Mariners.
Yes, the Mariners have done well in the farm system department since Jerry Dipoto took over as general manager in 2016. On this current path, the Mariners could start making noise in the AL West in a couple of years. But that's a story for another day. The only player out of that group slated to make the big leagues this year — barring a Juan Soto like resurgence — is Evan White. Now to the major league team, the same one that started the 2019 season 13-2 and somehow finished 68-94. With no big moves made this offseason, a team that finished near the bottom in many Statcast categories (including a .333 xwOBA against), and still no sign of Mitch Haniger, I would think that it's fair to say that there is not going to be much improvement in 2020.
I say the Mariners are the more likely team to do this other than a team like the Orioles, Marlins, or Tigers because of their schedules (which will consist of 60 games in the two East and Central divisions, respectively). The Orioles and Marlins will certainly take beatings from the Yankees and Rays, and the Tigers…well, they play in the Central Division. Not only will the Mariners be taking on the Astros and Athletics, two of the best teams in baseball, but they will also have to face an Angels team with Rendon and Ohtani behind Trout, and a pesky Rangers team. That's 40 games, all in their division. Now there's an additional ten games against the Dodgers with Mookie Betts and Cody Bellinger and the Padres with Fernando Tatis Jr., Eric Hosmer, and Manny Machado. Oh, by the way, that is a lot of traveling that the Mariners have to do.
Miracles can happen, yes, but that is going to be a grand miracle they will have to accomplish. There is only so much Daniel Vogelbach can do to save this team. Fangraphs' projects have them at the bottom of the AL West at 24-36, but it could be much, much worse than that.
---
Tigers Secure A .500 Record
No, I am not writing this article drunk, high, or crossed. There is a legitimate chance that the Tigers come out of the bowels of the American League Central for just one year.
My reasoning starts with the reason why I say the Mariners could finish with less than 10 wins: their division. The American League Central is (and has been for a while) already the worst division in baseball and would be much worst if you wanted to pretend the Twins don't exist. Now, you add 20 more games to the Tigers' schedule against the NL Central, a division that, while much more talented than it's AL counterpart, is still pretty weak. That's probably not enough to convince you, considering that their best player over a full season — based on fWAR — is projected to be Matthew Boyd, which…is not a recipe for success.
But think about this: Boyd is a good starter in his own right and turned into a strikeout pitcher last season. Last time we saw Michael Fulmer on the mound healthy, he was a number two or three starter at his worst (though if you ask Al Avila in trade talks, he'll say he's the best starter in baseball and want compensation as such). Casey Mize and Matt Manning, both very good in Double-A last year, could see time in the big leagues this year, and anyone not named Jordan Zimmermann (Daniel Norris, Tarik Skubal, etc.) would likely be a decent fifth starter. Yes, the lineup is dreadful, and the very spacious Comerica Park doesn't help matters at all. However, adding CJ Cron and Jonathon Schoop can't do anything but help. And, while highly unlikely and would be quite surprising, Spencer Torkelson getting the call sometime in 2020 almost automatically makes him the best-projected hitter in the lineup.
No, this doesn't sound like a team that's going to win a lot of games on paper, and that doesn't even address the abysmally bad bullpen outside of Joe Jimenez. But hey, with their schedule and the amount of MLB-ready top prospects they have, maybe everything clicks at the same time and we're talking about a .500 Tigers team.
---
Padres, Angels Make the World Series
I said I was giving bold and spicy predictions, and this is a very bold and very spicy prediction. Again though, this is a shortened sprint of a season, and anything can happen. No, there isn't an expanded postseason to slide into so the challenge of these two teams either beating the behemoths that stand at the top of their respective divisions or sneaking into one of the wild card spots still exists. Both the Padres and Angels, however, are sneaky good.
The Padres were one of the worst run producing teams in the league last season (4.21 RS/G, fourth-worst), but that could all change in 60 games. Manny Machado had one of these odd-year, down-year offensive seasons again (.335 wOBA, 106 wRC+), but his peripherals show a bit of bad luck in hard-hit balls. Continuing his improved ability to draw walks from 2018 also leads to signs of some form of a resurgence. The 2020 team also includes new additions Tommy Pham (who recently tested positive for COVID-19) and Trent Grisham to the lineup, and both, as well as the oft-injured Wil Myers, get an advantage with the DH spot. So even if Fernando Tatis Jr. regresses, the Padres will still have a decent lineup. The rotation, led by Chris Paddack and Joey Lucchesi, is very young and can only be better with a healthy Garrett Richards. The bullpen adds secretly really good reliever Emilio Pagan to a young bullpen that all leads to Kirby Yates.
The Angels add Anthony Rendon to the middle of a lineup that already features Shohei Ohtani and Justin Upton, and will eventually include Jo Adell. They also add a decent catcher in Jason Castro, who has been a good defensive catcher throughout his career. While somewhat below average with the bat most years, he is still tremendously better at the plate than Max Stassi (an outrageously good defensive catcher) is. One thing that has been overlooked is how great their infield defense could be with Rendon, Andrelton Simmons, David Fletcher, and on most days, anyone not named Albert Pujols. And while their best pitching acquisition — aside from the technicality of Ohtani — turned out to be Dylan Bundy, he and Patrick Sandoval are both much better than Matt Harvey and Trevor Cahill. Oh, and that Mike Trout guy still exists. Considering all of that, the Angels are very much in the running for the AL Wild Card.
Do I actually believe there will see a Padres-Angels World Series? Most likely not. Would it shock me? Absolutely. But we are talking about two relatively young teams who were going to make some amount of noise even in a 162-game season. Additionally, who wouldn't want to see one of the youngest teams in the league with nothing to lose go up against the best player in the world? Now, in a shortened season, both teams (and teams like the Reds, Blue Jays, and White Sox) have a legitimate chance to turn that noise into a postseason run. If there is anything that the 2019 Washington Nationals taught us, it's that baseball is sincerely the most unpredictable sport with the second most unpredictable postseason among the four major sports. With the draft order likely to not include this season's standings, it is hard to believe that there will be many tanking teams (aside from the already bad teams). All any team has to do is fight their way into the postseason and let the magic begin.
In a 60-game season, despite everything that has happened in 2020, the magical moments will only increase in this sprint of a season. And that's the fix that baseball fans — and baseball itself — needs.
---
Follow Payton Ellison on Twitter (@realpmelli14).