All offseason, Diamond Digest writers will be taking a look at each team's 2020 season and looking forward to what moves each team might have to make to set themselves up for improvement in 2021. Today, Adam Koplik takes a look at the Yankees!
A game of inches. There's no better way to describe the infuriating, beautiful sport of baseball than that. Aroldis Chapman's 0-2 fastball to Mike Brosseau missed the zone by maybe an inch. If Chapman can get a few centimeters closer to the plate, he sets down Brosseau on three pitches, and the Yankees season may not be over right now. Instead, what could have been a three-pitch strikeout turned into a ten-pitch, series-winning home run by the undrafted Brosseau, and another gut-wrenching season's end for the New York Yankees.
For the fourth straight year, Yankees players had to sit in the press room, answering questions about how close they came and preaching how this loss will add more fuel to the ever-growing fire. As the years pass on the team's now 11-year World Series drought, the Yankees are pushed further away from the dominance of the most successful sports franchise. After 2017, the sky was the limit for the Bronx Bombers. Sure, they lost the ALCS in seven games, but it was an over-performing team built top-to-bottom with young studs. Now, as a division rival eliminates the Yankees in the ALDS for the second time in three years, that hope of a budding dynasty is gone, replaced by a feeling of "now what?".
Blame will go around for the Yankees defeat, and much of it will be placed on analytics. I want to talk to those critiquing the way that the Yankees have been built: stop. Those who want "more contact hitters" don't seem to realize that it is much easier to hit a home run off of a dominant pitcher than it is to string a bunch of hits together. Secondly, relying almost solely on analytics is the right way to build a baseball team. How do I know? Because the Yankees were just eliminated by the most analytical team in baseball, who then defeated the third most analytical team in baseball, before finally being beaten by the second most analytical team in baseball. If anything, the Yankees are behind the times with analytics and need to modernize their approach even more. Fans love praising Kevin Cash for pushing all the right buttons (at least until the Blake Snell decision), then turn around and complain about the "nerds" in The Bronx. Do you know why Kevin Cash is such a good manager? It's not because of his "gut"; it's because he listens to the nerds. It doesn't work all the time (ahem, Blake Snell), but analytics need to inform decisions the manager makes. Why? Because the nerds know best.
Moving on from the "why" the team was eliminated, to the biggest question facing the Yankees: what's next? DJ LeMahieu, Masahiro Tanaka, and James Paxton are all pending free agents. Gary Sanchez started two of the team's seven playoff games after his abysmal season, and Gleyber Torres has done nothing to show he can handle the shortstop position. With those questions looming, I recapped the disappointing season and took a look at what the team could do for the upcoming offseason.
---
2020 Season-In-Review
2020 Record: 33-27, 2nd Place in the American League East
Team MVP: 2B DJ LeMahieu
Team Cy Young: RHP Gerrit Cole
Biggest Positive Surprise: 1B Luke Voit
Biggest Negative Surprise: C Gary Sanchez
DISCLAIMER: All 2020 stats should be taken with a grain of salt due to small-sample-size.
In complete fairness to the Yankees front office, the team that was just eliminated was not the one they had constructed entering the year. With Luis Severino and Tommy Kahnle undergoing Tommy John surgery and James Paxton missing from the rotation, the team was forced to throw out a definitively different pitching staff than they planned, with J.A. Happ and Jordan Montgomery being asked to throw significant innings, and Jonathan Loáisiga entering in big spots.
Regardless, it's impossible to call the 2020 season anything but a disappointment for the Yankees. From the regular season, which saw them fighting for their lives in mid-September and being dominated by their divisional rival Rays, to the playoffs, it was just a crappy season for the Yanks. With that being said, there were some positives. Gerrit Cole proved he's worth every cent, as he finished the season with a 2.84 ERA, 3.89 FIP, 3.38 xFIP, 3.21 SIERA, and 26.7% K-BB%, no doubt earning himself a top-five finish in the AL Cy Young voting. Luke Voit turned into a force to be reckoned with, leading the majors in home runs with an amazing 22 in 56 games, surpassing his 2019 total in 62 fewer games. DJ LeMahieu proved his magical first season in The Bronx was not a fluke, as he recorded a .364/.421/.590 split with an AL-leading 177 wRC+ and finished fifth in the AL with a 2.5 fWAR in 50 games.
However, the team had its share of negatives. For the second straight year, Aaron Judge and Giancarlo Stanton couldn't stay healthy, as the duo combined to play just 51 games, Gleyber Torres took a step back with the bat and did nothing to prove he can be slotted in at short, and Adam Ottavino was so bad to the point that Aaron Boone trusted Loáisiga more in a spot with the lead on the line than Ott. Yet, one negative loomed over all others: Gary Sanchez. Sanchez had such an atrocious season (.147/.253/.365 split) that the Yankees trusted Kyle Higashioka to start five out of seven playoff games. Bad luck was an absolute factor in Sanchez's struggles, as shown by his .159 BABIP despite a 49.5% Hard Hit%. However, bad luck was only a tiny factor, as Sanchez showed no ability to put the bat on the ball. His 36.0 K% was the sixth-worst out of all batters with at least 170 plate appearances, and his 10.1% BB%, while good (average was about 9.7% this season), wasn't nearly good enough to erase the strikeout numbers. His defensive struggles continued as he was once again a negative defender according to framing metrics (-0.8 FRM) and defensive runs saved (-4).
---
2020-2021 Offseason Preview
Offseason Overview
Key Losses: MGR Aaron Boone, 2B DJ LeMahieu (FA), RHP Masahiro Tanaka (FA), LHP James Paxton (FA), LF Brett Gardner (FA)
Areas of Greatest Need: Starting Pitching, Bullpen, Middle Infield
While fans complain about him nonstop, I'd be shocked if the Yankees don't bring back Aaron Boone. He's the first manager in history to win 100 games in each of his first two seasons, and most likely would have notched a third straight under normal circumstances. He's great in the clubhouse and handles the New York Media like a champ. Many traditional fans dislike Boone because he is "too analytical." My knock on Boone? He's not analytical enough. Moves like hitting Mike Ford against Diego Castillo (twice), allowing Masahiro Tanaka to face the third time through the order, and leading off LeMahieu over Aaron Hicks show that Boone is still not fully versed in the new age of baseball. Kevin Cash out managed Boone during the Yankees-Rays series. How did he do it? By sticking to the analytics. Aaron Boone will most likely be back next year, and hopefully more analytical when he is.
The Yankees team MVP, DJ LeMahieu, is hitting free agency this year. While fans will clamor that team needs more contact hitters, LeMahieu's greatness this year came for one reason above all others: his power. LeMahieu was a short porch merchant for sure, but in the end, that's something he can continue being in New York. His contact skills will most likely not regress, and he remains a sure fielder. The Yankees' uncertainty bringing back LeMahieu is less about DJ and more about Gleyber Torres's defense.
On the pitching side, James Paxton and Masahiro Tanaka will both hit free agency, as well as lefty J.A. Happ. With Luis Severino most likely out for at least the first half of 2021, the Yankees will need to fill at least one spot in the rotation through outside help – whether it's a free agent or via the trade market. Also, the Yankees have a glaring need for more bullpen help, as the path from starter to their "big three" (Chad Green, Zack Britton, Aroldis Chapman) proved hard to bridge.
Offseason Wishlist
Free Agency
Desired Targets: 2B DJ LeMahieu, LHP James Paxton, RHP Kirby Yates
After revenue was destroyed during the short season, and with 2021 basically one big question mark, teams are going to be hesitant to throw around a lot of money this offseason. Yet, LeMahieu could be an exception. As I said earlier, LeMahieu's return is based solely on Gleyber Torres's ability at short. The Yankees want DJ back, and he wants to be back. However, Gleyber did nothing to show that he is any better at short than second (which isn't very good). So, the Yankees are stuck with three scenarios: A) Run it back with Torres at short, and pray for improvement, B) Move Torres to second and let DJ walk, then replace DJ with a shortstop either through free agency (Andrelton Simmons, anyone?) or the trade market (Francisco Lindor), or C) re-sign DJ, replace Gleyber at second, and put Torres's insane value on the trade market (extremely unlikely). While option B may be the sexiest pick here, I would be shocked if it happens. My decision for the Yankees is to re-sign LeMahieu and give Torres one more year to improve at short. If he improves, great, you have your shortstop of the future. If not, a tough decision has to be made, and one of the best free-agent classes ever for the shortstop position is coming up after next year, with Lindor, Trevor Story, Corey Seager, Javier Baez, and Carlos Correa all hitting the market, so the team would be well-positioned to make that decision.
PREDICTION: Yankees re-sign LeMahieu, 5-years/$110M
This year's pitching market isn't necessarily strong. Its headlined by probable NL Cy Young winner Trevor Bauer, but it takes a significant hit after that. Inconsistency is the name of this class, with Marcus Stroman, Masahiro Tanaka, Robbie Ray, and other headlining the second tear of starters. While Tanaka has made some big starts for the Yankees, it's not worth it to get into a bidding war for his services, which have been extremely hit or miss over his tenure and will most likely be overpriced in a weak market. James Paxton, however, could be a bargain buy for the Yankees. Paxton was all set for a huge payday this winter, but a poor start to the season that saw his velocity drop by about five mph, followed up by a mysterious elbow injury that kept him out of the playoffs has plummeted his price tag. This could create a perfect match for the two parties. Paxton could come back to New York on a "prove-it" deal and potentially re-enter the market after next season with the same allure as he should've had entering this year. The Yankees get a needed third starter to put behind Gerrit Cole and Luis Severino in the postseason for a year, and still leave themselves with the financial flexibility in a stacked 2022 free agent class.
PREDICTION: Yankees re-sign Paxton, 1-year/$18M
The Yankees need bullpen help (which I'll get to a bit later). This year's relief market is actually fairly strong, full of guys coming off big years like Liam Hendriks, Trevor Rosenthal, Blake, and Treinen. The Yankees' target here, however, is a guy who struggled last year. Kirby Yates, who was dominant in 2018-19 in San Diego, couldn't put it together in six appearances last year before undergoing season-ending elbow surgery. Yates, who will be 34 on opening day, will not command a ton from the Yankees, but they should take a flier on him and see if he can be a successful middle-inning reliever.
PREDICTION: Yankees sign Yates, 1-year/$6.5M
Trades
Trade 1: Yankees Acquire RHP Lance Lynn from Rangers in exchange for IF Miguel Andujar and RHP Albert Abreu (#11 NYY Prospect)
The biggest shock and mistake of the 2020 deadline was the Texas Rangers and their refusal to trade Lance Lynn. Now 33, Lynn is under contract through 2021 and has been a borderline ace for two years now. I don't know why the Rangers didn't trade him when his value was higher than it will ever be, but the Yankees should still be in the Lance Lynn market. Since leaving The Bronx, Lynn has been fantastic, dealing with a 3.57 ERA, 3.43 FIP, 3.99 xFIP, and 3.89 SIERA in Texas. Lynn would bring middle-of-the-rotation consistency that the Yankees desperately need, and would be someone they could trust giving the ball in a game three or four next postseason.
For the Rangers, this is the exact trade I proposed in my trade deadline article, and the reasoning hasn't changed.
2018 Rookie of the Year finalist Miguel Andujar is in desperate need of a change of scenery. With Gio Urshela bursting onto the scene last year with a great bat and a solid glove, the positionless (in a bad way) Andujar is stuck without a spot on the Yankees roster. The power is there in Andujar's bat. There's a reason he posted a 130 wRC+ in his rookie year. However, his atrocious plate discipline and abysmal glove don't bode well for him ever become an everyday Yankee. With the Rangers needing corner infield help and not going anywhere in the next two years, they could take a flyer on Andujar regaining his 2018 form. Packaged with flamethrower Albert Abreu, this would be hard for Jon Daniels to say no to.
Trade 2: Yankees Acquire LHP Josh Hader from Brewers in exchange for RHP Clarke Schmidt (Yankees #2 Prospect, MLB.com #83 Prospect), OF Estevan Florial (Yankees #7 Prospect), SS Anthony Volpe (Yankees #10 Prospect), RHP Michael King, Cash Considerations
The Yankees badly need to bridge the gap between starter and bullpen. Losing Tommy Kahnle killed the Yankees bullpen depth, leading to overworking Chad Green, Zack Britton, and Aroldis Chapman. Hader would only be one man, but his importance to the bullpen would paramount. Arguably the best reliever in baseball, Hader is a lefty who dominates both sides of the plate and can go multiple innings. The Yankees need to make a big-time move this offseason, and Hader is the one to make. It'd be pricey, but well worth it.
For the Brewers, they've been shopping Hader for years now. With David Stearns basically confirming that the team is trying to cut costs, it makes sense for the Brewers to get a little more aggressive in moving him. In return for their superstar, they'd get a top 100 prospect in baseball in Clarke Schmidt, a high ceiling, low floor, former top 100 talent in Estevan Florial who's athleticism is off the charts, a raw teenage prospect with a lot of potential in Anthony Volpe, and Michael King, who showed he could be a solid backend starter in his rookie year in New York.
---
2021 Projected Roster
* = will miss start of season
Projected Lineup:
CF Aaron Hicks
RF Aaron Judge
2B DJ LeMahieu
DH Giancarlo Stanton
1B Luke Voit
SS Gleyber Torres
C Gary Sanchez
3B Gio Urshela
While it may disappoint Yankee fans who want to overhaul the lineup that led the AL in runs scored last year and led the majors in it during the postseason, the Yankees are most likely going to trot out the same nine hitters as they did this year. This lineup is a little more analytically-inclined than the one they put out most of this year, with the high OBP Hicks leading off and the contact heavy LeMahieu batting third.
The other "difference" from the playoff lineup: Gary Sanchez is also the starting catcher. Sanchez was horrid this year; there's no way around it. With that being said, this season was a tiny sample size, and Sanchez was one of the most unlucky hitters I've seen in my entire life. The Yankees will give Gary one more year to iron out the kinks on both sides of the baseball. If he doesn't, 2021 may be the last year Sanchez gets in pinstripes.
Clint will almost definitely be starting in left, unsurprisingly. He's earned it both with his bat (149 wRC+ in 2020) and glove (+2 DRS in 2020). I'd be surprised if Brett Gardner is brought back by the Yanks, as Mike Tauchman has the speed and defense to be the fourth outfielder for years to come. Losing Gardy would-be killer, but it just doesn't make sense for the Yankees to bring back their longest-tenured player.
Next year's offense is going to look very similar to this year's, and it should. It's an amazing lineup, built top to bottom with not HR or bust players, but studs with fantastic plate discipline and power. The only difference I could see would be if the Yankees gave up on Gleyber at short, which, as I described earlier, could mean DJ LeMahieu has played his last game in New York, which I'm sure would go over quite well with the Yankee faithful.
Projected Rotation:
RHP Gerrit Cole
RHP Luis Severino*
RHP Lance Lynn
LHP James Paxton
RHP Deivi Garcia
LHP Jordan Montgomery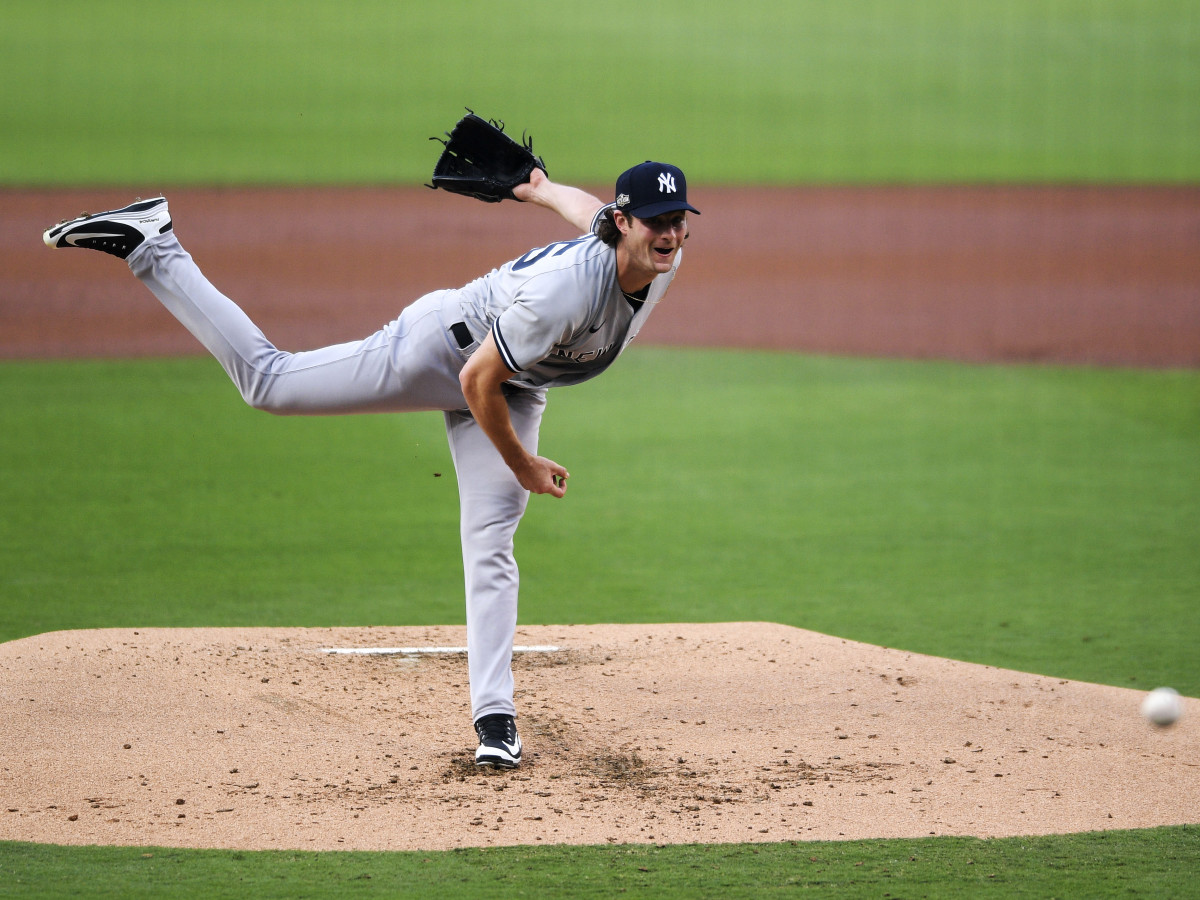 Adding Lynn and bringing back Paxton gives the Yankees a fantastic playoff rotation of Cole-Sevy-Lynn-Paxton. With Severino out until next summer, Lynn and Paxton add much-needed depth to the rotation achieved with Domingo German returning from his suspension. If healthy, the Yankees have four frontline starters who can perform day-in and day-out. While it doesn't solve long-term issues, Paxton and Lynn's returns will give the Yankees their best rotation in at least a decade.
Projected Bullpen:
As the Rays proved in Game 5, a great bullpen can do wonders for a squad. While the Yankees bullpen has been cause for trouble the past couple of years (Chapman allowing a series-clinching home run in back-to-back years), the additions of Hader and Yates push the Yankees bullpen from great to unbelievable. The bullpen will have reliable relievers from top-to-bottom, and, come playoff time, all they will need is four or five strong innings from their much-improved rotation. They'll be able to hand it off the to the best bullpen in baseball.
---
A team can't be built to win a playoff series. It's just not possible. Baseball is, more than any other sport, a crapshoot. The best team doesn't always win. The top indicator of the "best baseball team" is by regular-season record. Yet, a regular-season record doesn't matter if the team doesn't bring home a ring. The Yankees have, for lack of a better word, choked for the past four years. Do they need to blow it up? Nowhere near it. But, it's time to go all in. It's time to bring a ring back to The Bronx, and these moves could be exactly what the Yanks need to achieve that goal.
---
Featured Photo: Izzy Rendell