All offseason, Diamond Digest writers will be taking a look at each team's 2020 season and looking forward at what moves each team might have to make to set themselves up for improvement in 2021. Today, Holden Phillips takes a look at the Atlanta Braves!
As Braves fans watched Austin Riley freeze between second and third base in game seven of the NLCS, a familiar feeling began to set in. You see, the chest cavity of every Atlanta sports fan contains a cold, dark hole with a gravitational pull so strong that it consumes light, hope, and anything generally associated with happiness. To the rest of the world, the Braves still held a 2-0 lead in the game. For Braves fans, though, it was already over. All that was left was to sit back and wait for the pain to set in. Again.
To be fair, the decades-long title drought in Atlanta is no fault of this young Braves team. They've met or exceeded expectations for several years now, getting noticeably better with each passing season since 2017, and this time they were able to experience the feeling of a postseason series victory, their first in nearly 20 years. Now, it's back to square one, and we are metaphorically gathered here today to review this truncated 2020 season, then look forward to what will undoubtedly be the strangest offseason that any of us have ever witnessed.
---
2020 Season-In-Review
2020 Record: 35-25, 1st Place in NL East
Team MVP: Freddie Freeman
Team Cy Young: Max Fried
Biggest Positive Surprise: Marcell Ozuna
Biggest Negative Surprise: The entire non-Fried rotation being injured/terrible
After 19 years of watching the Braves flounder in the first round of the playoffs, to call this season anything other than a massive success would be disingenuous. Failing to reach the World Series after amassing a 3-1 series lead in the NLCS hurts, to be sure, but the Braves were beaten by an undeniably better team and Atlanta sports fans are built for that sort of collapse anyways. None of that should take away from what the Braves' offense did this season, giving the Dodgers' offense a run for their money as the best in baseball.
After a dangerous battle with COVID-19 just weeks before the season began, Freddie Freeman layed waste to opposing pitchers: slashing a ridiculous .341/.462/.640 for a 187 wRC+, he will soon need to find space in his home for a National League MVP trophy. Marcell Ozuna was the latest free agent power hitter to receive a large one-year contract from Atlanta, and much like Josh Donaldson in 2019, he exceeded even the most optimistic of expectations. Ozuna has been a Statcast darling for years, posting huge exit velocities and expected statistics, but often failing to receive the outcomes that typically accompany those metrics. This year, Ozuna received back pay for his tough luck over the last two seasons, posting a 179 wRC+ that put him just a few ticks behind Freeman on the offensive leaderboards. Ronald Acuña Jr. continued to be Ronald Acuña Jr., and Travis d'Arnaud was another welcomed surprise, following up a solid year with Tampa Bay in 2019 by putting up a career year for Atlanta. There were a number of other notable contributors, but alas, we have a lot of ground to cover and suffice it to say that every position player outside of Ender Inciarte either matched or outperformed their projections coming into the season.
On the pitching side, Max Fried was the glue held the Braves' rotation together, or rather kept it from completely falling apart after injuries to Mike Soroka and Cole Hamels, poor performances by Kyle Wright and (briefly) Mike Foltynewicz, and an opt-out from Felix Hernandez. This year, Fried relied less on his fastball and when he threw it, he mostly lived up in the zone, which you can read about in greater detail here. Fried's 2.55 ERA was aided by some homer suppression, with an unsustainably-low 4.9% of his fly balls turning into homers, but he was nothing short of fantastic during the 2020 season and his playoff performance was absolutely stellar. While Fried probably won't be able to maintain an ERA quite as low as what he did in 2020, the lanky left-hander is undoubtedly capable of leading a strong rotation going forward. Ian Anderson was every bit of the strikeout machine that he's been throughout his minor league career and, as long as he keeps the walks under control, he likely has the highest ceiling of any young Braves starter. There was also what we will charitably describe as the Robbie Erlin extravaganza, but we won't speak of that here, or ever again.
Investing heavily in a major league bullpen can be a tenuous bet, but the Braves did just that in 2020, and it may have saved their season altogether. With $40 million tied up in Mark Melancon, Will Smith, Chris Martin, and Shane Greene, the Braves banked on getting a ton of production from their pen, and they delivered in spades. Out of pure necessity, Atlanta's relievers threw 272.2 innings in 2020, which was more than Tampa Bay and the second most in baseball behind only the Red Sox, who may have been better off pulling starters from the crowd (had there been a crowd to pull from). Save for Will Smith, who was snakebitten by an ungodly 33.3% HR/FB rate, all of the Braves' big money relievers earned their paycheck, and the supporting cast was great as well. Tyler Matzek was one of the better stories in baseball, returning from a years-long absence from baseball after battling a severe case of the yips and leading Atlanta's bullpen with 29 innings pitched to the tune of a 2.79 ERA. Without a dominant bullpen to carry the load when the team's rotation was in shambles, there may not have been a 2020 postseason for Braves fans to have their hearts ripped out.
---
2020-2021 Offseason Preview
Offseason Overview
Key Losses: Marcell Ozuna, Cole Hamels, Mark Melancon, Shane Greene
Areas of Greatest Need: Middle-of-the-order bat, Starting pitching, Bullpen
As we begin the trek into an offseason in which anyone who pretends to know what the free agent market will look like is either clairvoyant or lying through their teeth, the Braves are fortunate to have most of their core still intact. That doesn't mean the absence of Marcell Ozuna won't be felt, but it does mean there's only one (very) significant hole to fill in the lineup. The only real downside – if you want to call it that – of signing players to one-year "prove it" deals is that when they deliver, the price tag to retain them grows tremendously. A middle-of-the-order bat should and presumably will be the team's top priority this offseason, and while re-signing Ozuna is an obvious possibility, if anything resembling a bidding war for his services takes place, Alex Anthopoulos will likely look elsewhere for a replacement. The Braves' GM is nothing if not creative, and it's not inconceivable that he could bring in a third basemen and displace Austin Riley again or swing a big trade, but that is not something that I'm going to attempt to predict here because there are endless possibilities and the Braves run an extremely tight ship when it comes to transactions, leaving us with little to even speculate about in the trade market.
The only meaningful hole that will be "opened up" in the rotation is one that already existed in Cole Hamels, who pitched only three innings during the 2020 season. There is an argument to be made that the Braves could have an above-average rotation without bringing in another starter, but that would require Mike Soroka to return relatively quickly from his achilles injury and Max Fried, Ian Anderson, and others to both remain healthy and perform at least to their projections, neither of which is ever a certainty. While Kyle Wright and Bryse Wilson both showed flashes of brilliance late in the season and during the postseason, the long-term outlook for both pitchers is far from set in stone. These two are the likely front-runners for the fourth and fifth rotation spots if no other starters are acquired, but as we so painfully witnessed during the 2020 season, starting pitching can be a fickle mistress, and no team can ever have too much of it.
The contracts of Mark Melancon and Shane Green also expired at the conclusion of the 2020 season, and Darren O'Day's $3.5 million option has been declined, leaving the Braves with some holes to fill at the back end of the bullpen and in middle relief. Finding relief arms should be relatively easy this offseason, given that we just watched Brad Hand clear waivers after being one of baseball's better relievers for years. What MLB teams, Atlanta included, will be willing to pay for relief help is entirely unclear. There is a good chance that we'll see a high volume of 1-year deals for free agents of all types, and especially for relievers.
Offseason Wishlist
Desired Position Player Targets: DH/OF Marcell Ozuna, OF Michael Brantley, OF Joc Pederson
Desired Pitching Targets: RHP Masahiro Tanaka, RHP Taijuan Walker, RHP Corey Kluber, RHP Kirby Yates, RHP Joakim Soria, RHP Adam Wainwright
Let's get this out of the way. Yes, it would be fantastic to see the Braves bring in top-end talent like George Springer or Trevor Bauer on a long-term deal. No, it's not going to happen. Anyone reading this article is well aware that this is generally not how the Braves do business. That being the case, we're going to assume the Braves are out on the absolute biggest names on the free agent market. The players covered below will be potential targets who could both fill a need for the Braves and realistically be acquired for a price that the Braves would be willing to pay. Fangraphs' Craig Edwards projected contract values for the top 50 free agents available this offseason, which you can find here. Edwards has much more familiarity with MLB finances than yours truly, and his projections will be listed as a baseline for the free agents discussed below. There will be a number of lower-level signings for depth, probably a utility infielder and maybe a backup catcher, but we're going to stick with the fun stuff here. Let's do this:
Marcell Ozuna – Edwards' Projection: 4 years/$70 million
We'll start with the obvious: Ozuna was a great fit in the Braves' lineup and the team would love to have him back. This, of course, gets a bit more complicated if there's no universal DH in 2021, which is still up in the air at the time of this writing. It's worth noting that, while Ozuna was an elite hitter in 2020, it's probably unreasonable to expect that level of production from him in any full season going forward. To be clear, Ozuna should absolutely be target A-1 for the Braves, and if they can get him for something in the neighborhood of three years and $60 million, they should do it. Coming off of a monster season, though, several other teams will also be bidding for his services, and it's possible that Ozuna will prefer a deal with more years and more aggregate money, even at a lower annual average value (AAV). The four years and $70 million that Edwards projects may be more than Alex Anthopoulos is willing to commit given his proclivity to pay more annual money for fewer years. The Braves should (and will) have a plan B (and C) to fill the vacancy left by Ozuna. Any non-Ozuna free agent bat that the Braves could acquire would be a downgrade, which is why he's plan A, of course.
Michael Brantley – Edwards' Projection: 2 years/$24 million
Brantley was at least passively connected to Atlanta when he was last a free agent in 2018, but he makes a ton of sense for the Braves this offseason. Brantley has been a productive hitter for a long time and can be a semi-platoon partner with Adam Duvall to get some extra days off and hopefully alleviate the injury concerns that he brings with him. With a Fangraphs projection for two years and $24 million, the 33 year-old Brantley could fit well into the Braves' price range and would at the very least make John Smoltz smile by maintaining a high contact rate. Players with the "injury-prone" label can be concerning, but it's usually preferable to have a player with questions about health rather than questions about talent.
Joc Pederson – Edwards' Projection: 2 years/$20 million
Pederson is another pretty obvious candidate for a lot of the same reasons as Brantley. Pederson's projection of 2 years for $20 million is a solid value, but only if you have an Adam Duvall hanging around that can hit against lefties, which the Braves currently have in stock. Pederson brings a lot more power to the table than Brantley, though he doesn't get on base at nearly the same clip. Either of Pederson or Brantley would be a fine replacement if the price for Ozuna gets out of hand.
Masahiro Tanaka – Edwards' Projection: 2 years/$30 million*
*This projection was made under the assumption that Tanaka would receive a Qualifying Offer, which did not happen. That could mean his price tag is likely to be higher, assuming the entire market isn't being overestimated.
Tanaka could potentially be a good fit for Atlanta in terms of both need and price range. The Braves may not have an elite number 1 starter, but they have three good, young starters to anchor the rotation, assuming Mike Soroka is back in action relatively early in the 2021 season. They could absolutely use a reliable starter like Tanaka to swallow up innings in the middle of the rotation. Tanaka's projected two years and $30 million would be a very reasonable price, and in a normal market he might even get four years. This could be another opportunity for Anthopoulos to offer a few extra million on a one-year deal in the $20-25 million range, and let Tanaka hit free agency again next year in what will hopefully be a more stable market.
Charlie Morton – Edwards' Projection: Not Listed
Since Morton's option was declined on the same day that Craig Edwards' list of top free agents was released, Craig did not give us a contract projection. Morton has said he may retire at the end of his contract with Tampa Bay, but one would imagine that he didn't expect his option to be declined after pitching as well as he has. Though Morton's agent has stated he'd prefer to remain with Tampa Bay and wants to stay close to his home in Florida, Atlanta isn't that far North and an extra couple of million could go a long way. My guess is that Morton will get a one-year deal in the $10-12 million range, though he may be willing to take a discount to stay in Tampa, in which case all bets are off. If the Braves can get him for even the $15 million that the Rays didn't want to pay, they'd be wise to do it.
Taijuan Walker – Edwards' Projection: 2 years/$19 million
This is probably the least exciting name on the offseason wishlist, but it's also one that seems pretty realistic for Atlanta. Walker is pretty much "generic pitcher guy," but that's not necessarily a knock on him, especially after watching the Braves run Robbie Erlin and Josh Tomlin out every five days for several weeks this season (sorry, I know I said I wouldn't mention it again). At 28 years old, maybe there's a process change or two that could help him improve, and if not, he's fine to pencil into the back end of pretty much any team's rotation. And honestly, if you can go out and grab an average pitcher for $9.5 million annually, why not do it?
Corey Kluber – Edwards' Projection: 1 year/$9 million
Kluber was apparently just cleared to begin a throwing program, and could be throwing off a mound by early December. I'm not sure that Kluber himself actually knows how much he has left in the tank at this point, which is why he finds himself listed below Taijuan Walker on a list of potential free agent targets. A healthy Kluber could easily exceed the value of his projected contract, and if he's going for less than $10 million, it's a moderately high-upside gamble that's probably worth taking if he's demonstrated that he can at least throw a bullpen session. Don't expect to see anyone sign him until later in the off-season, after he's at least throwing from a mound.
Kirby Yates – Edwards' Projection: 2 years/$10 million
After going absolutely bananas in 2019, Yates was quickly sidelined with elbow surgery in 2020 and perhaps missed out on his last major payday. Even after losing Melancon and Green, the Braves bullpen will be fine if they don't bring in any high-end relief help in 2021, so the pen shouldn't be a huge priority. Still, if the Braves think Yates can be even half as good as he was in 2019, two years and $10 million would be extremely tempting.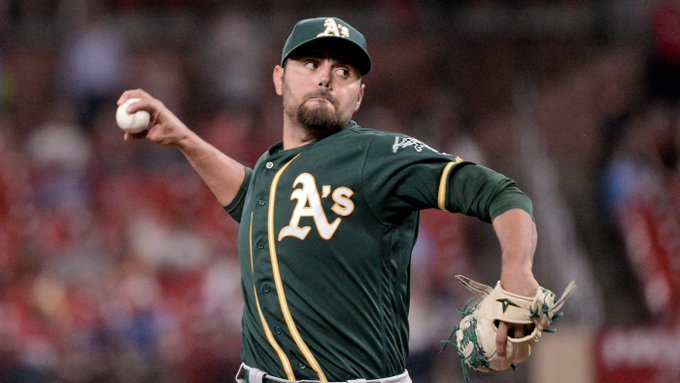 Joakim Soria – Edwards' Projection: 1 year/$7 million
Soria isn't as exciting as some of the other names on this list, but the Braves will be looking for some middle relief help after losing Greene and O'Day, and they could do a lot worse than Soria. Entering his age-37 season, Soria isn't quite the flamethrower he once was, but the slider still plays well and he can get you three outs when you need them. Seven million is probably a touch high, but if the Braves can get him for $5-6 million, they'll probably get their money's worth. Besides, Soria is still three years younger than…
Adam Wainwright's corpse – Edwards' Projection: 1 year/$6 million
Look, it's not as bad as it sounds, and there's been at least some chatter about this possibility already. If there's any deal on this list that could potentially get done early in the offseason, it's this one. Wainwright isn't getting multiple years going into his age-40 season, and the salary isn't going to be far from the $6 million projected by Edwards. At this point, it's simply a matter of where he wants to play. The geriatric right-hander is obviously far past his prime, but his curveball is still very good, and there's nothing wrong with picking him up for cheap and throwing him into the back end of the rotation. And of course, the beat writers would have a field day discussing how his veteran presence is helping the development of the young pitchers on the Braves' staff.
---
2021 Projected Roster
Projected Lineup:
1) Ronald Acuna Jr.
2) Ozzie Albies
3) Freddie Freeman
4) Michael Brantley
5) Travis D'arnaud
6) Dansby Swanson
7) Austin Riley
8) Cristian Pache
9) Pitcher
Bench: Adam Duvall, Johan Camargo, William Contreras
Projected Rotation:
Max Fried
Mike Soroka
Ian Anderson
Adam Wainwright
Kyle Wright/Bryse Wilson
Projected Bullpen:
Will Smith
Chris Martin
A.J. Minter
Tyler Matzek
Jacob Webb
Huascar Ynoa,
Grant Dayton
Joakim Soria
Kyle Wright/Bryse Wilson (whichever is not in the rotation)
There is one thing that's pretty clear at this point: the Braves have to bring in another bat, and whether it's Ozuna, Brantley, Pederson, or someone else, that person will likely be hitting in the middle of the order. Ideally, the lineup remains the same as it was in 2020, but if I had to put money on it, my guess is that Ozuna ends up elsewhere. Either Brantley or Pederson (the latter of which would have to be a straight platoon with Duvall) would be fine, and the Braves would still have an excellent lineup even if it's not as potent as the offensive machine they ran out in 2020. Mike Soroka won't be pitching on opening day, but if he's healthy by late April, the Braves probably have an above-average rotation as is. For this reason, I don't think they'll be spending much on their rotation, so anything beyond an Adam Wainwright would be a pleasant surprise. That doesn't necessarily mean this is a great approach, as pitching is always fleeting, but I do think it's the most likely route they'll take. As for the bullpen, it's not unlike the rotation in that they don't have a huge need, at least not in the way that the lineup currently does. Finding some help in the middle or back of the pen should be pretty easy to do this offseason, but the non-tender deadline is expected to be a bloodbath this year, so don't expect much movement on any front before that takes place. The Braves will also need another backup catcher, and while William Contreras looked promising in a short stint with Atlanta in 2020 season, it's perhaps equally likely that they bring back Tyler Flowers or another veteran backup catcher for 2021. Anyone one is fine for that role, really, so long as it's not the likes of Yadier Molina.
The one thing that we haven't mentioned is an extension for Freddie Freeman, which is universally expected to happen before he hits the open market. Whether that happens this offseason or during the 2021 season, it has to get done. Freeman may end up taking less than market value, but he most certainly does not have to, and he doesn't owe the Braves anything. Freeman has greatly exceeded the value of his current contract, and never said an ill word when the team sold off every valuable piece around him to enter a rebuild that perhaps wasn't necessary. If Freeman walks out the door at the end of the 2021 season, the blame will lay directly at the feet of the front office.
---
Regardless of what transpires this offseason, the bar has been set for the Braves. Atlanta is built to compete for a long time, and they are expected to do just that. They aren't going to have a roster that's quite on par with the Dodgers in 2021, but if they're not among the best teams in the National League next Spring, something will have gone horribly wrong.