Jacob deGrom's historical season is currently in danger after he was placed on the injured list Sunday due to forearm tightness. A season in which he dominated hitters like we may have never seen before, and there is a good possibility that we won't see the conclusion of it is already not good for baseball.
The other injuries he has had this season (while continuing to dominate the league, by the way) are also not good for baseball and could be avoided with one rule change: the universal DH.
Sure, deGrom's latest injury may not directly correlate with him swinging a bat to the pace of a .332 wOBA and 113 wRC+, both second among National League pitchers (Max Fried has been better), but when five different parts of your body are stinging the entire season, it is very likely that you will have to overcompensate in other places, especially as a pitcher. It's different if these injuries were occurring while he was on the mound, but if all five of these injuries are occurring at the plate, that's a sincere problem for baseball. There should never be a scenario where what would have likely gone down as the best season for a pitcher in baseball is being derailed because of something a pitcher cannot do in the 21st century.
"Why are you using a recent injury to push an agenda?"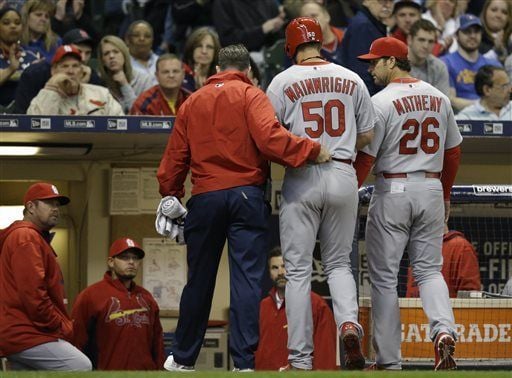 For one, this argument isn't new. Numerous pitchers, like Adam Wainwright, Chien Ming Wang, and others have either lost significant times in their careers due to hitting or running the bases. Zac Gallen was lost for most of spring training this year because of a stress fracture in his right forearm in batting practice. Aside from deGrom, Fried and Jack Flaherty have both missed significant time due to injuries off the mound, and the latter hasn't touched the mound since his injury in early June. The New York Times' writer Tyler Kepner predicted that this would happen across baseball back in March. This is all coming after a 60-game 2020 season where pitchers came up to the plate a grand total of FOUR times, two of them from two-way player Matt Davidson.
So no, this is not "pushing an agenda", it's now a major reason for the universal DH. deGrom's injury turns it into a dire need. And unless something completely dire happens in these next five months with the Collective Bargaining Agreement, it is likely that we will see the designated hitter in the future.
Major League pitchers are currently hitting at a .107 clip, with a .137 SLG, 131 wOBA, and -22 wRC+. All of those are either the worst or among the worst in baseball history since the introduction of the designated hitter in the American League. Pitchers are also striking out at an all-time high clip of 45.1%, the highest since the DH was introduced in all non-2020 seasons. These numbers, according to Fangraphs, do not include Shohei Ohtani, who is listed as a DH, but it does include Fried and deGrom, the only two pitchers with a minimum of 20 plate appearances with an above-average wRC+, and the 20 pitchers with a wOBA below .100. Oh, and the last nine non-2020 seasons of pitcher's hitting (2011-2019)? All of them are also in the bottom ten.
Part of the reason for this is because more and more leagues below Major League Baseball are moving away from pitcher's hitting. In Single-A and lower, the designated hitter rule is always in place, and in Double-A and Triple-A, the DH is ONLY eliminated when two NL-affiliates play each other. In most amateur baseball leagues, including college, the designated hitter is in place, and according to National Federation of State High School Association (NFHSA) rules, the DH may be used in place for any position. Overseas? The KBO League, Cuban National Series, and Nippon Professional Baseball's Pacific League have the DH rule in place. In fact, the only three noteworthy places where the DH isn't used are NBP's Central League, Little League Baseball, and Japanese high school baseball.
That means pitchers are being developed as pitchers only from the time they enter high school, and expecting a pitcher in the big leagues that haven't had a competitive at-bat since they were attempting to go to Williamsport at the age of 13 to throw 95 with movement from an over the top motion — already dangerous and scary enough in its own right in the 21st century — AND attempt to hit those same pitches in the big leagues is quite absurd, something just three pitchers have been able to do sufficiently and consistently this year, and zero pitchers have done without the fear of injury.
Additionally, the DH has also extended or saved the careers of many offensive talents. Nelson Cruz would not continue to be one of the league's best hitters — and a terror to Tigers' fans everywhere — if the DH wasn't around. David Ortiz and Edgar Martinez would either have their careers end early or would not be able to cement themselves as the best at their position without the DH. At this current juncture with his injury history, Giancarlo Stanton's career would be over if he wasn't able to be a full-time DH. J.D. Martinez would lose a lot of value if he had to play the outfield every day. Shohei Ohtani, even with his unbelievable league-breaking talent, would likely not be the two-way player he is, if at all, if he had to play the outfield in between starts. There are so many other examples of how many seasons and careers the designated hitter can save that I don't have the room to describe. As of now, those types of players have just 15 destinations they could go to, and without a DH, there is no way such careers would be the same.
Granted, is there a strategy in baseball in the National League that the DH removes in the AL? Yes, there is. Is it possible to have pitchers focus on hitting more in amateur baseball so that they don't look like little leaguers at the plate in the biggest stage? It wouldn't change things overnight, but it's possible. Is it a wild moment whenever someone like Daniel Camarena homers off one of the league's best? Sure.
But is that strategy and excitement worth the injuries, the tweaked hamstrings and obliques, the wasted plate appearances, the potential of attempting to make pitchers take time out of working to be the best one can be on the mound? Absolutely not. In a sport like baseball, that strategy can easily be replaced in other ways. In fact, the DH implemented in a way that would promote both strategy and excitement (e.g. NFHSA rules, the Atlantic League's double hook rule) would work well, but not having a DH at all at this point in baseball history is dangerous for baseball.
The universal DH has turned into a necessity for MLB, and deGrom's historic season being hindered because of a couple of haywire swings is just further reasoning.
---
This article was originally published in the July 20 edition of the IBWAA Here's The Pitch newsletter.
Follow Payton Ellison on Twitter.