The date is September 24, 2008. Despite Mike Mussina notching his 19th win of the season, Joe Girardi's squad just witnessed their playoff hopes dwindle down to zero after the Boston Red Sox defeated Cleveland. For the first time since 1993, the New York Yankees were going to be watching October from their couches.
The disappointment was universal throughout the organization. Derek Jeter, Alex Rodriguez, Jason Giambi, Robinson Cano, and co. were going home without even a chance at a ring. It was downright unacceptable for a team with that much talent to not be going to the postseason. Well, that disappointment morphed into action. The Yankees conducted one of the biggest spending sprees in recent memory, signing the biggest of big-ticket free agents as they brought in CC Sabathia, Mark Teixeira, and AJ Burnett to a total of over $420M.
The spending spree worked. Less than a year after putting pen to paper, the trio hoisted the World Series trophy. While the contracts only led to the one win, that's enough to consider them successes.
The Yankees seemingly tried to replicate this strategy after missing the playoffs in 2013, but a weak free-agent class led to them forcing massive contracts to Brian McCann (5-years/$85-million), Carlos Beltran (3y/$45M), and, in one of the worst moves in the history of the sport, Jacoby Ellsbury (7y/$153M). This spending spree failed, but the last-ditch effort to win with Jeter and Rodriguez was at the very least respectable.
Fast-forward to the present day. New York has just wrapped up a disappointing season where, despite making the playoffs, their underperformed their talent and could never really get going consistently, culminating in a 6-2 defeat in the American League Wild Card game to their archrival Red Sox. While they haven't completely sat out free agency in years past (including signing the top pitcher on the market in Gerrit Cole two years ago), it has been abundantly clear that the team has been periodically budgeting themselves. Exhibit A: The Yankees traded one of their few consistent relievers in Luis Cessa at the trade deadline just to get rid of the $4.5M contract they had handed out to Justin Wilson and to stay under the luxury tax.
While it's been frustrating to see the team cut salary, it may end up being worth it. The roster needs to change, and there is an abundance of talent available on the market this winter. They have reset the luxury tax, and are ready to spend. With a looming lockout when the CBA expires on December 1, and the Rule-5 draft coming up this Friday (11/19) big moves could happen sooner than ever before. So, without further ado, here's a look at what could happen during the anything-can-happen Yankees offseason.
---
Offseason Overview
Key Losses: 1B Anthony Rizzo (FA), RHP Corey Kluber (FA), OF Brett Gardner (FA)
Areas of Greatest Need: Shortstop, Center Field, Starting Pitching, First Base
If the Yankees wish to overhaul this roster, it's going to come by shipping out beloved players. Only Rizzo and Kluber – who appeared in a grand total of 65 total games for the team last season – are not under contract for next year. Rizzo has hinted that he'd like to return, and he would be a great option for the Yanks if they miss out on the big dogs at first base (which I'll get to later). After being acquired in a surprising trade deadline deal, Rizzo pushed Luke Voit to the bench via a .249/.340/.428 tenure in addition to marvelous defense the team is not used to. Kluber fought off injuries (as expected), but was still solid when healthy, sporting a 3.83 ERA.
---
Offseason Wishlist
Shortstop
Oh boy, oh boy. If I had to make one bet this offseason, it's that the Yankees will be ending it with one of the top two shortstops on the market. In a stacked class, former Astro Carlos Correa tops the wishlist, with Corey Seager a close second. Defense gives Correa the edge, as the Platinum Glove winner fields the position as well as anyone (28 OAA since 2019 (12 in 2020) vs. -1 since 2019 (-6 in 2020)), but the bats are eerily similar.
Since the beginning of 2019, Seager has had just a two-point edge in wRC+ in an equal amount of games. Both are elite bats—although Seager would add some lefty balance to the Yankees lineup—and, while there is a preference to Correa's defense, they can't really go wrong. Did Correa cheat? Yep. Do I genuinely despise him? Yep. Will I care about any of that if he brings a title to The Bronx? Absolutely not.
If the top two fall through, it would surprise me to see the Yankees spend the big bucks on Marcus Semien (not a good shortstop) or Trevor Story (huge bat question marks). I think the fallback option is more likely a top glove on the cheap like Andrelton Simmons or Freddy Galvis.
PLAN A1: Carlos Correa
PLAN A2: Corey Seager
PLAN C: Andrelton Simmons or Freddy Galvis
PREDICTION: The Yankees sign SS Corey Seager for 7-years/$196M
Center Field
I really love Aaron Hicks. When healthy, he's an on-base machine (19.4%!!! walk-rate in 2020) who mans center field adequately. Only problem? He's basically never healthy. Hicks has played over 100 games just twice in his big league career and hasn't hit 60 since 2018 (137), although he did play 54 of 60 games in 2020. This year, he was abysmal in his small sample size before a torn tendon sheath in his left wrist knocked him out in May. While he's under contract for a few more years, the AAV ($10M) is nothing too crazy for the team to balk at improving upon one of the game's most important positions.
The obvious option in free agency is Starling Marte, the speedy 33-year-old who saw a late-career resurgence last year. Marte sported a .308/.381/.456 split, notching a 133 wRC+ while playing solid defense and swiping 47 bags. The Yankees could use Marte's speed and athleticism and could bring it in without sacrificing offense. Obviously, Marte won't be cheap, as he's easily the best free agent OF on the board, but nonetheless, the team should be in the market.
Now, rumblings have surrounded Pittsburgh Pirates star Bryan Reynolds and the Yankees after Jon Heyman linked the two, but that's just not happening. Reynolds is an absolute star who—while he'd be perfect in pinstripes—would cost an arm and a leg. We're talking Jasson Dominguez as a start. That's simply not going to happen for the Yankees, so it's best to lay that dream to rest.
If they miss out on Marte though, Chris Taylor could be a fantastic backup option. His overall value will be better than Marte's, and his ability to play quite literally anywhere on the diamond cannot be overstated. While the bat isn't at the level of Marte, Taylor still walks a lot and could be a valuable utility man who can fill in for someone every day.
A Brett Gardner reunion would be plan C, but this would most likely be under the impression that the team trusts Aaron Hicks because Gardner showed last year, once again, that his time in pinstripes has come to a close. He's one of my favorite players ever, but Gardy's expiration date on the diamond came a couple of years ago, and his game has gone bad.
PLAN A: Starling Marte (or a fantasy world Bryan Reynolds trade)
PLAN B: Chris Taylor
PLAN C: Brett Gardner or Kevin Pillar
PREDICTION: The Yankees sign UTL Chris Taylor for 4-years/$48M
First Base
The first is the obvious Freddie Freeman. New York has unsurprisingly met with his agents, but the likelihood Atlanta lets him leave after bringing them a World Series is slim. Nonetheless, if the team can get Freeman to the negotiating table, they'd better give him a good offer.
The more likely, yet still fantastic, option for the Yanks would be Matt Olson. Olson is arbitration-eligible for the first time this year, and if you play for the Oakland Athletics, that means it is time to get shopped around. Olson is coming off a monster 5.0 fWAR, 146 wRC+ season, and has a lefty swing that would dominate the short porch. Additionally, the two teams are matches made in heaven. The Yankees are at the 40-man roster limit with the Rule 5 draft rosters needing to be set by Friday, and the A's have over ten spots to play around with on theirs.
Just looking at the 40-man, the Yankees could put together a package of Voit, Oswald Peraza, and a group of other prospects. Doing so would clear three spots on the 40-man as well as move two of the potentially Rule-5 draft picks off the roster. The Yankees would be moving a lot of value but would be bringing in an absolute star who would man pinstripes for a long time.
The Yankees backup option(s) are still pretty solid. They can't really go wrong at first. They still have the 2020 MLB home run leader at Luke Voit on the roster, and Anthony Rizzo seems like he'd welcome a return. However, there are still two major options the team needs to explore before they make that move.
PLAN A: Freddie Freeman
PLAN B: Matt Olson
PLAN C: Anthony Rizzo
PLAN D: Luke Voit
PREDICTION: The Yankees trade 1B Luke Voit, SS Oswald Peraza (#3 prospect in the organization, #58 overall via MLB.com), RHP Deivi Garcia (#11 in NYY), OF Everson Pereira (#12 in NYY), and C Josh Breaux (#18 in NYY) to the Athletics in exchange for 1B Matt Olson and RHP Chris Bassitt
Starting Pitching
You can never have enough pitching. The Yankees rotation was solid last year, as Gerrit Cole was the ace we were promised until a hamstring injury gutted his last few starts, Jordan Montgomery was more than reliable, and Jameson Taillon figured it out in the second half. Kluber was solid, and the team will be getting ace-level righty, Luis Severino, back for a full season. Nonetheless, you can never have enough pitching.
Max Scherzer is the big-ticket, but he reportedly didn't want to go to New York at the trade deadline, so I, unfortunately, doubt anything will change now. Nonetheless, the team still can go fishing, and future Hall of Fame Justin Verlander is available to sign. JV reportedly wowed scouts at his showcase, and it makes almost too much sense for the Yankees to make the move they should've made five years ago and bring him to The Bronx.
Additionally, a reunion could be in the works. Rumblings that Masahiro Tanaka would like to come back to the States could be linked to the Yankees looking for some depth in the rotation. Tanaka, a fan favorite, would likely be more successful with the new ball MLB is using and it would just be a welcome sight to bring him back.
There are tons of other starters that could be options for the Yankees, including Kevin Gausman, Carlos Rodón, Robbie Ray, Jon Gray, and Alex Wood.
PLAN A: Justin Verlander or Kevin Gausman
PLAN B: Carlos Rodón or Robbie Ray
PLAN C: Jon Gray, Alex Wood, and/or Masahiro Tanaka
PREDICTION: The Yankees sign RHP Justin Verlander (2-years/$40M) and RHP Masahiro Tanaka (2-years/$25M)
Relief Pitching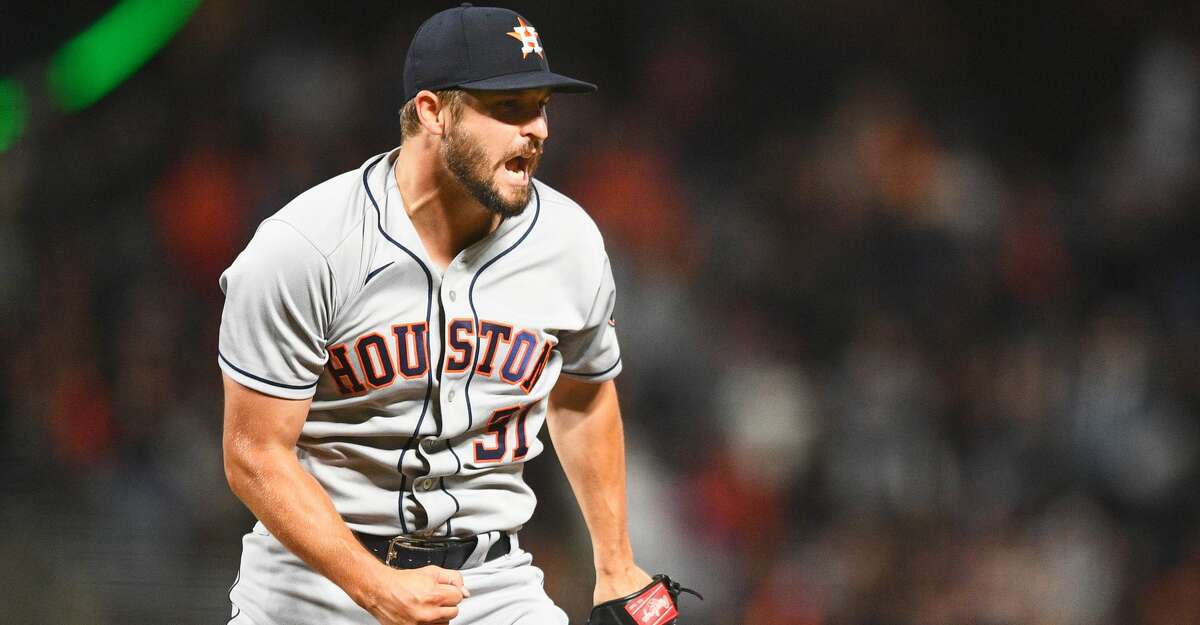 Real quickly, I would also expect the Yankees to try to bring in some bullpen help. While they've learned their lesson regarding handing out long-term deals to aging relievers, short deals for a couple of Andrew Chafin, Ryan Tepera, Trevor Rosenthal, Greg Holland, and Kendall Graveman, among others, could be great investments.
PREDICTION: The Yankees sign LHP Andrew Chafin (2-years/$15M)
Aaron Judge
Just as a quick note, I also expect the Yankees to lock up Aaron Judge long-term. Judge is a superstar who would be in the MVP conversation if not for historic seasons from Shohei Ohtani and Vladimir Guerrero Jr. The one question surrounding Judge was if he could stay healthy, and his 148 game 2021 showed that he knows how to take care of his body while still producing with the best of them. Judge should be locked up this winter, and soon after given the title of Yankees captain for the first time since Derek Jeter retired.
PREDICTION: The Yankees sign RF Aaron Judge (7-years/$175M)
---
2022 Projected Roster
Projected Lineup:
1. SS Corey Seager (L)
2. RF Aaron Judge (R)
3. 1B Matt Olson (L)
4. DH Giancarlo Stanton (R)
5. LF Joey Gallo (L)
6. 2B Gleyber Torres (R)
7. 3B DJ LeMahieu (R)
8. C Gary Sanchez (R)
9. CF Chris Taylor (R)
Projected Bench:
C Kyle Higashioka (R)
3B Gio Urshela (R)
OF Aaron Hicks (S)
Projected Rotation:
1. RHP Gerrit Cole
2. RHP Justin Verlander
3. RHP Luis Severino
4. LHP Jordan Montgomery
5. RHP Jameson Taillon
6. RHP Masahiro Tankaa
Projected Bullpen:
LHP Zack Britton
LHP Andrew Chafin
LHP Aroldis Chapman
RHP Albert Abreu
RHP Chris Bassitt
RHP Chad Green
RHP Clay Holmes
RHP Jonathan Loáisiga
---
The Yankees need to make it known that they're back and they're ready to spend. It's time to win the World Series. People can cry about "buying titles" while staring at the ring ceremony. Become the Evil Empire again. Sign anyone you want. Take advantage of the cheap, small-market teams. Wheel-and-deal like only the "fully-functioning Death Star" can. Fans have been waiting too long for number 28, it's time to get it done.
---
Featured Photo: Mike Stobe/Getty Images