It was around this time last September that the Cleveland Guardians brutally ended the Minnesota Twins' season. This go-around, the two teams reversed roles, as the Twins lead the American League Central by 7.5 games with 16 to go. When the dust settles, Minnesota will be division champions.
_________________________
Redemption Arc
Headed into 2022, the Twins expected to go toe to toe with the Chicago White Sox for the AL Central title. Unfortunately, they unraveled at the end, finishing third in the division with a 78-84 record. The two teams ahead of them were the White Sox, with an 81-81 record, and the Guardians who finished 92-70.
Last September the Twins were 1.5 games behind the Guardians in the AL Central when the Guardians stormed into Minneapolis for a pivotal three-game set. A week later the Twins limped into Cleveland for another five, but after losing seven of those eight matchups, Minnesota fell to 7.0 games back, with only 15 left.
Improved Pitching
Fast forward a year and neither the 2023 Guardians nor Twins resemble the teams they were a year prior. Though offensive regression is certainly a factor, each team's success (or lack thereof) is directly tied to their pitching.
For a myriad of reasons, last year's Twins pitching staff was just not good. Specifically, they ranked 16th in SIERA (3.89), 19th in ERA (3.98), FIP (4.03), and xFIP (4.10), and 20th in strikeouts (1,336) and fWAR (10.8).
Conversely, this year's staff is among the league's best, ranking 2nd in strikeouts (1,370), 4th in SIERA (3.88), 5th in ERA (3.91) and FIP (3.98), and 6th in fWAR (16.9) and xFIP (4.06). The turnaround is in large part thanks to Sonny Gray and Pablo López pitching like aces, Joe Ryan looking like a stud, and the back of the rotation holding their own.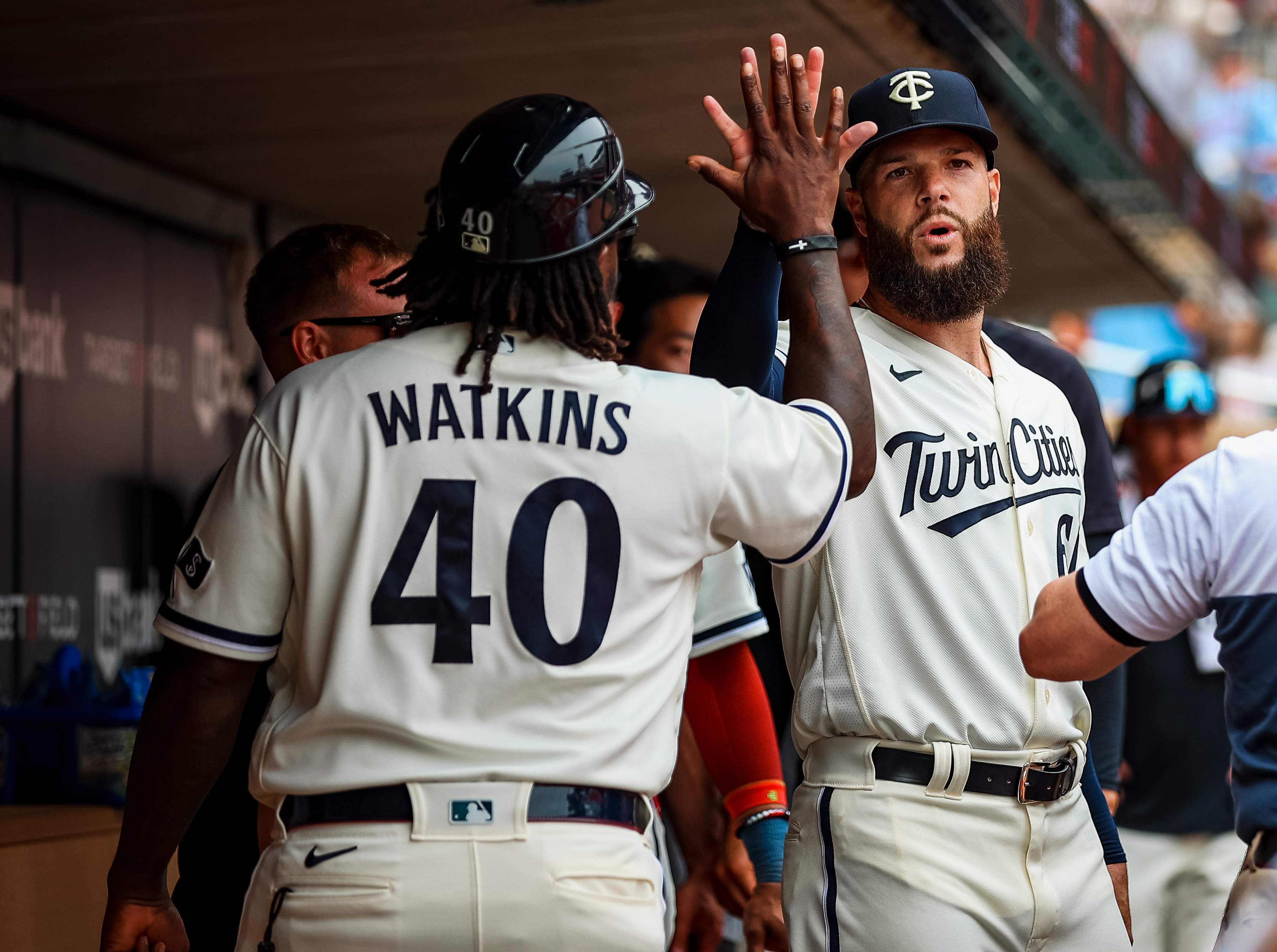 In Cleveland, pitching was supposed to be their main strength, but it's fallen short of expectations this year. Although they rank 7th in team ERA (3.94), Guardians' pitching lags behind the Twins in every aforementioned metric, and then some.
Rookie Tanner Bibee has burst onto the scene (3.2 bWAR; 2.9 fWAR through 136.2 IP), but that's the singular bright spot in their rotation. Ace Shane Bieber (1.7 bWAR; 1.6 fWAR through 117.0 IP) has been underwhelming, as he's produced less value than five Twins pitchers, one of whom is a reliever. If the Guardians were going to run the division it had to be with their pitching.
Second Half Momentum
Until the All-Star Break, the AL Central was embarrassingly uncompetitive. The 45-45 Cleveland Guardians had a 0.5-game lead over the 45-46 Minnesota Twins and a 19.5-game lead over the cellar-dwelling 26-65 Kansas City Royals. Since the break, however, the Minnesota Twins have the American League's fifth-best record at 31-24. The Cleveland Guardians have gone 24-33, which is the AL's fifth-worst record in that same span.
Similar to last year's Guardians team, the young talent has propelled Minnesota's playoff push. Top prospect Royce Lewis has broken out with a 140 wRC+ and 1.7 fWAR through just 52 games. Highlighted by three grand slams in an eight-day span, his superstar potential has not gone unnoticed. Rookies Edouard Julien (134 wRC+ and 2.2 fWAR through 94 games) and Matt Wallner (130 wRC+ and 1.1 fWAR through 61 games) have also wasted no time making an impact, especially while Byron Buxton and Carlos Correa struggled earlier this season.
This year will mark the third time in five seasons under manager Rocco Baldelli that the Twins clinch the division. In their previous postseason appearances, Baldelli's Twins have gone 0-5, extending their playoff losing streak to 18 games. Behind their new ace, Pablo López, the team will look to snap that streak and put that narrative to bed.
_________________________
The Home Stretch
To close out the season, the Twins will match up against the White Sox, Reds, Angels, Athletics, and Rockies. Combined, those teams have a .408 winning percentage, or roughly a 66-win pace across 162 games. On the flip side, the Guardians finish their schedule against the Rangers, Royals, Orioles, Reds, and Tigers. Those teams combine for a .494 winning percentage, an 80-win pace over 162 games.
The Twins can't be crowned AL Central champs just yet, but up 7.5 games, it would take a miracle for the Guardians to sneak past them. If Minnesota goes 8-8 the rest of the way, Cleveland would have to go 15-0 to tie. In head-to-head play, Cleveland owns the tiebreaker, so in this scenario, they would steal the division crown in dramatic fashion. As entertaining as that sounds, those are steep odds for any team, let alone a sub-.500 ballclub.
The Minnesota Twins begin a four-game series against the White Sox in Chicago. First pitch tonight at 6:40 pm CT.
---
Featured Photo: @Twins on X (fka Twitter)