Finally, it's over. Last week the Minnesota Twins officially signed Carlos Correa to a six-year, $200MM contract, with vesting options that could bump the total to $270MM over ten years. As unexpected as it was for Correa to end up in Minnesota last March, the circumstances that led to his return were far less predictable.
After first agreeing to terms with the San Francisco Giants then the New York Mets, and failing both physicals, the Twins saw their opportunity and seized it. For a mid-market ballclub like Minnesota's, their aversion to long-term commitments leads to shorter offers of higher average annual value. It was hardly a successful strategy for luring premier free agents, until now.
On January 11, almost a month following the news of his initial agreement with the Giants, the Twins formally re-introduced Correa to Twins Territory. Although pitchers and catchers report to Spring Training in under 30 days, the move appears to be the first big domino to fall in Minnesota.
_________________________
Year 1 B.C.E. (Before Correa "Extension")
2022 Review
Even with Correa in tow, the 2022 Minnesota Twins' only expectations were to be underdogs at best. After leading the American League Central for most of the season, it was painful to watch the battered and beleaguered team limp to a 78-84 record, finishing 14 games behind the Cleveland Guardians. Minnesota's most blatantly exposed weakness all season long was the quality of their depth.
Correa put up 5.4 bWAR and 4.4 fWAR in 136 games last year, which led an offense that still ranked 5th (5.9 bWAR) and 6th (21.1 fWAR) in the American League. If Minnesota can get consistent production from their roster depth, or even avoid injury better than they did last season, the offense should continue to be their strength.
Pitching on the other hand still has plenty of room to improve. De facto "ace" Sonny Gray led the Twins' rotation with 2.4 bWAR and fWAR, and by all accounts pitched well for a third-place team that finished eight games shy of a Wild Card berth. Overall, Minnesota ranked 12th in bWAR (-3.6) and 10th in fWAR (10.7) in the American League, but pitchers faced their share of injuries too. Even a single impact starter would be a valuable boost to a somewhat mediocre staff.
Offseason Review
To begin the offseason, when Carlos Correa opted out of the remainder of his previous contract, Minnesota also lost Michael Fulmer (RP), Sandy León (C), and Gary Sánchez (C) to free agency; declined club options on Chris Archer (SP), Dylan Bundy (SP), and Miguel Sanó (1B); and Gio Urshela (3B) was traded to the Los Angeles Angels. The team immediately had obvious holes in the rotation and bullpen, at catcher, and shortstop.
In the 65 days Correa spent off of their roster, the Twins missed out on every top free-agent starting pitcher. The team did manage, however, to sign free agents Joey Gallo (OF) and Christian Vázquez (C), and struck a trade with the Cincinnati Reds for Kyle Farmer (UTIL). Vázquez fills the hole at catcher, and Farmer was a solid backup plan at shortstop, but now slots in as a right-handed utility option. The addition of Gallo however, is a bit of a head-scratcher considering the Twins were already flush with left-handed hitting outfielders.
Even into the new year, the Twins' offseason was lacking any clear direction. The front office's uninspired moves appeared to signal they would resign themselves to treading water this upcoming season rather than commit to a rebuild. But if this sounds familiar, perhaps it's because this was the mood roughly a year ago, just before the front office made a series of moves that exhibited the front office's ability to be aggressively creative.
_________________________
New New Year's Resolutions
In all reality, it was a foregone conclusion that Carlos Correa's three-year, $105MM contract signed last March was a one-year deal in disguise, but this new six-year contract contains zero opt-outs. As a result, the Twins have the security of knowing that Correa will play alongside Byron Buxton for the next six years or more. As exciting as that is in and of itself, there's more to be done before this team can view themselves as serious contenders.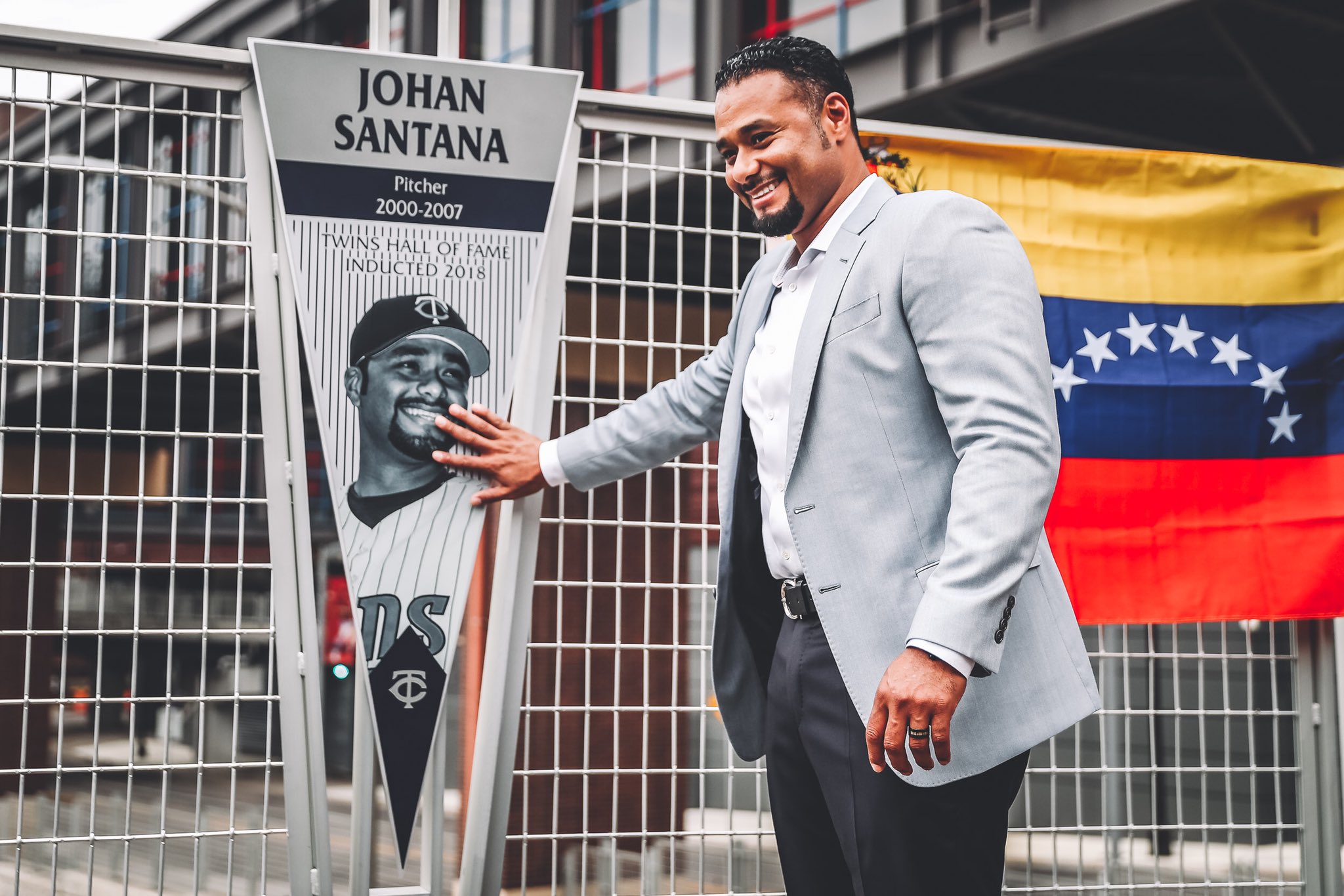 Roster Needs
The Minnesota Twins have been without a true #1 starting pitcher since Johan Santana last pitched for the team in 2007. In that time, they got a few excellent seasons from pitchers like Phil Hughes (7th in AL Cy Young voting in 2014), Ervin Santana (7th in AL Cy Young voting in 2017), and José Berríos (9th in Cy Young Award voting in 2021 with MIN & TOR). However, none of them was ever considered one of baseball's best. Of all the starters currently on the roster, none profile to be a true ace in 2023, and three will become free agents this coming offseason. So if the Twins double down before the season opener, they'll look to trade for a pitcher who will slot in at the very front of their rotation, and ideally with room to continue improving.
The Twins could choose to wait and find their ace at the trade deadline, or even target a free agent next offseason. Michael Wacha is the best available starter right now, but if that's not inspiring there are still other ways to upgrade the current roster. At both the Major and Minor League levels, the outfield is overstocked with left-handed outfielders. For a team that was fairly pedestrian against left-handed pitching in 2022 (.701 OPS, .307 wOBA, 101 wRC+), a right-handed bat for the middle of the lineup would be another welcome addition. An outfielder is most logical because over half of the outfielders' combined 7.8 fWAR came from Buxton in just 92 games (4.0 fWAR) last season.
_________________________
Year 1 C.E. (Correa's Era)
Pitching
One challenge the Twins will face when evaluating the trade market for an ace is finding them in the first place. None of the 2022 Cy Young Award vote recipients in either league were traded before the season, or at the deadline. Starters like Milwaukee's Corbin Burnes or Arizona's Zac Gallen would surely require a king's ransom. Besides, those teams feel they have decent odds to make the postseason in 2023, so unless the return is immense they'd probably prefer to keep them. Younger arms are frequently moved for their own hauls, but if the Twins make a trade prior to Opening Day, it should be someone the team envisions developing into a Cy Young contender rather quickly. Buxton and Correa will anchor the team's offense through 2028, if not longer, plus after 2023, three of Minnesota's starters hit the open market, so team control will undoubtedly be a factor.
Down in Miami, the Marlins have several young starting pitchers the Twins might think could someday lead their rotation. Pablo López has been connected to Minnesota since at least last year's trade deadline, but other enticing options are Edward Cabrera, Jesús Luzardo, Max Meyer, and Trevor Rogers. All of whom (but López) are 25 or younger and under team control through at least the 2026 season. The Houston Astros, Los Angeles Dodgers, Texas Rangers, and New York Yankees are among the other teams with controllable hurlers Minnesota could target.
Offense
A decision to wait until the trade deadline, or even next offseason to target a free agent pitcher is an option too, as there are still other ways to upgrade the current roster. The outfield is overstocked with left-handed outfielders, both at the Major League level and on the farm. Given their struggles against left-handed pitching, a re-shuffling seems inevitable. Although the free agent market has been picked over, a veteran like Jurickson Profar could balance the lineup for a bargain, but relying on his production is its own risk. The alternative is to trade for a starting-caliber bat, which exist in greater supply than aces.
Minnesota doesn't appear to be in on Bryan Reynolds, who wants out of Pittsburgh, but the switch-hitting center fielder would upgrade the lineup and offer defensive insurance if and when Buxton misses time. In Chicago, the Cubs could also be interested in moving Ian Happ before he hits free agency next winter. Like Reynolds, Happ is a switch-hitting outfielder and could fill in at center if needed. Another intriguing name is right-handed bounceback candidate, Tyler O'Neill, who could be traded out of St. Louis following a down year to make room for their next wave of outfield prospects. If the Twins wait to make any significant upgrades to their starting rotation, rounding out the lineup could be enough to keep the team in playoff contention until the trade deadline.
_________________________
Irresponsible Year 1 C.E. (2023) Projections
2023 is guaranteed to offer a fresh look at the next era of Twins baseball. Back in November, the team debuted an entirely new set of uniforms, and now committed $300MM to Byron Buxton and Carlos Correa. The next step for the front office is to build a contending roster around them, and in the meantime, we can do our best to predict who begins the season in these new threads.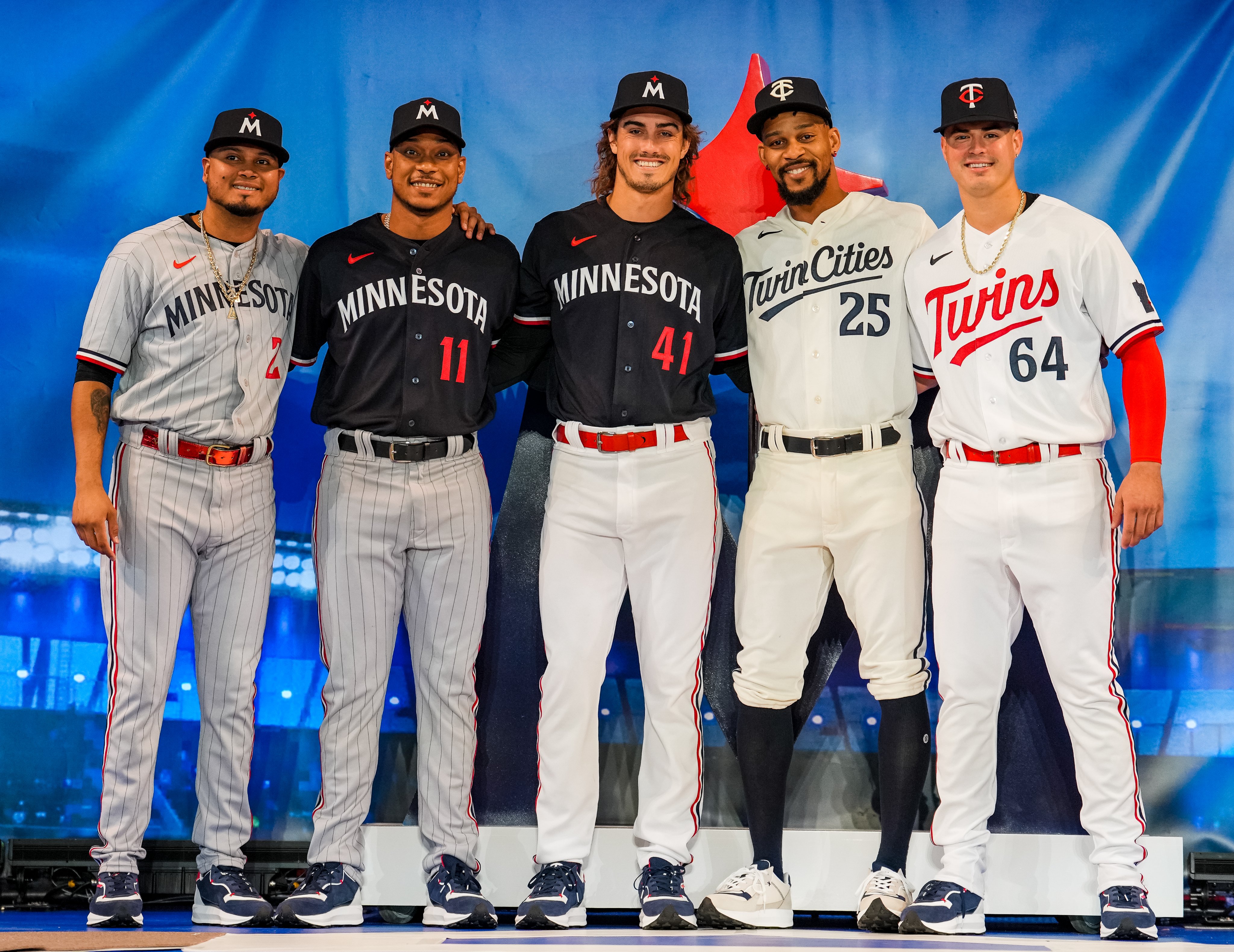 Trades
Despite the ever-increasing likelihood that the front office waits until the trade deadline to add to the starting rotation, we'll assume a deal is struck before Opening Day for the sake of this exercise. We'll also make a move for a right-handed hitter so both the offense and the pitching are addressed.
First, the Twins acquire left-handed starting pitcher, Jesús Luzardo, from the Miami Marlins. In return, the Marlins receive a package centered around left-handed hitting outfielder, Max Kepler, and right-handed hitting prospect, Austin Martin.
Next, the Twins acquire right-handed hitting outfielder, Lane Thomas, from the Washington Nationals. Headed back, the Nationals receive a right-handed pitching prospect, Josh Winder.
The newest additions are somewhat modest gambles but were obtained without moving 2022 AL batting title winner, Luis Arráez. Best case scenario: the Twins elevate Luzardo's game to another level and Thomas gives the team above-average production against lefties. Median expectations: Luzardo pitches 100 mid-to-back-rotation innings, and Thomas hovers around league average as a platoon outfielder. These trades aren't terribly risky but the upside would benefit a team trying to return to the postseason as soon as this year.
Steamer Projections
Baseball projections are notoriously tricky, and a variety of sources draw a variety of conclusions. Frangraph's Steamer in particular seems skeptical of the Twins this upcoming season, but to be fair, none of the past two (or three) seasons were impressive. Now, including the mock trades above, the roster appears capable of winning in the American League Central.
Position Players
Pitchers
Optimist's Breakdown
The way it's constructed here, this roster could win upwards of 90 games. Where the Twins could most easily outdo the projections is from a pitching standpoint. Mahle is a strong candidate to bounce back. Entering his final season before free agency, he's primed to pick up where the shoulder issues derailed his season. On offense, if Kirilloff, Larnach, or both manage to break out in 2023, the option becomes available to flip one of them at the deadline for a Game One postseason starter. Just like with Mahle, good health is vital for Kirilloff, who returns from wrist surgery, and Larnach, returning from core muscle surgery.
Though there's no guarantee, Royce Lewis could rejoin the lineup in the latter half of the season. In 2022 he performed about as well as anyone could have hoped before tearing his ACL a second time. The team will likely let Lewis rehab in Triple-A St. Paul to start, but after debuting as he did, they'll be anticipating his return.
Pessimist's Breakdown
Imagining the poor fortune this team had recently, it wouldn't be hard to see this roster putting together a third losing season in a row. Primarily, health and consistency are the main factors that will contribute to the Twins' success. Already, there are question marks around Maeda's ability to bounce back from Tommy John surgery, so the 146.0 projected innings stand out. And it almost goes without saying, but Buxton has only played even 100 games once in his career: 140 in 2017, at 23 years old.
Waiting in the wings for their chance at some innings are Cole Sands, Louie Varland, and Simeon Woods Richardson, but all of them have had little more than a sip of coffee at the Major League level. And Gilberto Celestino can still back up anywhere in the outfield, but not very well, and his bat doesn't make up the difference. Barring any unforeseen circumstances though, they're all likely to start the season in St. Paul.
Realistically Though
All in all, the offense is clearly the team's strength, and the bullpen might surprise some. But the pitching has plenty of room for upgrade, and with three starters set to become free agents, there's flexibility there to bring a rotation leader aboard. These Minnesota Twins are certainly Wild Card contenders and could win in MLB's weakest division. A floor of 81 wins and a ceiling of 91 wins would seem reasonable, but so much is riding on moves the front office hasn't actually made yet.
_________________________
New Year, New Look, New Twins?
Derek Falvey and the front office have signaled to this Twins team and their fans that the next six years will be a competitive window. Byron Buxton and Carlos Correa are already leading an offense built for October, so the deals yet to be made will likely be the ones that determine how soon the season ends. They've come this far in the first half of the offseason, so here's hoping they make the right moves the rest of the way.
---
Featured Photo: @Twins on Twitter